Podcast: Play in new window | Download (Duration: [1:07:00] — 61.3MB)
Subscribe: Apple Podcasts | Google Podcasts | Spotify | Email | RSS | More
Back in May I published a podcast episode entitled Spending Control: How's That Working Out For You?
A recent move required all kinds of seemingly extraneous spending. Okay, maybe not extraneous, but aggravatingly excessive from what I wanted. There's moving, truck rentals, fuel, boxes, landscaping, appliances, window coverings, blah, blah, blah.
Well, I'm currently embarking on getting The Yellow Studio version 4.0 assembled. And with two residences there are just some costs that can't be helped, along with a few that could be helped…but we're trying to be strategic about it. For instance, we've got some furniture at place A and some furniture at place B. When family visits place B we need some things – like a place to sleep for one or more kids – that we may not need when place A and place B morph more into a singular place. Even though we're going to keep a place A and a place B they're not forever going to look like they do now. We knew for a year or so we'd kinda sorta be scrambling, but being a bit of a spreadsheet nerd I can report that we've not spent all that much money in redundant items. But still – there are days when it feels like I just want to cut up the credit cards, unplug from the Internet and see if we can go 6 months without buying anything!
I've spent about $400 in clothing, including some new shoes, shirts and pants. I've spent about that much in the past 6 years total, not including buying winter beanies on sale (I got quite a few $20-30 beanies for $5 a piece once the winter weather went away). I don't budget $100 a year for clothing. Gone are the days of buying suits on sale. Or dress shirts. And ties.
A few hundred bucks on things like vacuum cleaner, mops, brooms.
A few hundred bucks on step ladders and a bigger ladder (for cleaning gutters out).
About $500 on things like a leaf blower, water hose, a nice (world-class) nozzle, a rake, etc.
A few hundred bucks on some outdoor back patio furniture, but it's made of that fancy polywood which doesn't fade, crack or deteriorate.
On and on it goes – a few hundred bucks here, a few hundred there. Pretty soon, it starts to add up.
Now, we're not spending money we don't have, but that doesn't lessen the pain of it. We're not trying to burn through it as fast as we can. We're just finding ourselves needing some things in place B and some things in place A. And some things we need in both places.
The big ticket stuff has been (in this order): appliances (refrigerator, washer and dryer), landscaping at place B and minor construction work for Rhonda's sewing space and The Yellow Studio 4.0. These involved a few thousand dollars each. But the ROI (return on investment) for these is also among the highest because these things are all long term benefits. We won't likely need to replace any of the appliances within the next 10 years or more. Rhonda's sewing room mods and my studio mods are going to last longer than 10 years.
We've spent about $1000 on fixtures/furniture for her sewing room and The Yellow Studio v4.0. We've likely got another few hundred bucks to go to finish both spaces out. Again, these are long lasting items that we'll certainly get our use out of.
Let's talk about these 3 activities and see what we can learn from our foolishness – and wisdom.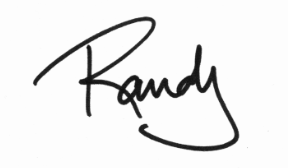 Please tell a friend about the podcast!
• Join our private Facebook group
• Email me
Help Me Reach My $1,000 Goal
I plan to start vlogging from Hot Springs Village, Arkansas because the place is spectacular.
The scenery will make for a great backdrop. Plus, there are many places I'd like you to see.
To help, click the link (or the image below) to donate
B&H Photo E-Gift Cards (use RandyCantrell [at] gmail [dot] com).
Thank you!