Podcast: Play in new window | Download (Duration: [23:45] — 21.7MB)
Subscribe: Apple Podcasts | Google Podcasts | Spotify | Email | RSS | More
Luke chapter 12
13 And one out of the multitude said unto him, Teacher, bid my brother divide the inheritance with me. 14 But he said unto him, Man, who made me a judge or a divider over you? 15 And he said unto them, Take heed, and keep yourselves from all covetousness: for a man's life consisteth not in the abundance of the things which he possesseth. 16 And he spake a parable unto them, saying, The ground of a certain rich man brought forth plentifully: 17 and he reasoned within himself, saying, What shall I do, because I have not where to bestow my fruits? 18 And he said, This will I do: I will pull down my barns, and build greater; and there will I bestow all my grain and my goods. 19 And I will say to my soul, Soul, thou hast much goods laid up for many years; take thine ease, eat, drink, be merry. 20 But God said unto him, Thou foolish one, this night is thy soul required of thee; and the things which thou hast prepared, whose shall they be? 21 So is he that layeth up treasure for himself, and is not rich toward God.
2023 has been an angst filled year for almost everybody I've encountered. Is that because I'm old? Is it because more of us are about to turn 65 than ever before? Experts who track such things say that in 2024 more Americans will turn 65 than ever before. Maybe that's got something to do with it.
Daily conversations seem focused on income, saving, investing, spending, and acquiring. Some are focused on preparing for a better relationship, but with a focus on financially being in a better place that may foster more success with that relationship. All with some goal in mind. For some, it's a quest for a more grand lifestyle, but for most, it's something more…different. It's a desire move. To start a new, different career. To find or deepen a relationship.
Little doubt that income, saving, investing and spending are big, big topics for all of us.
For some, they're all encompassing because of the importance placed on them.
For others, they're important and assume a prominent place because of the impact they seem to have on just about everything in our lives.
For some, they're more practical. These are matters are a means to an end. But even then, they can sometimes bubble to the top of the food chain because our world is so focused on them.
How rich are you?
How do you define rich?
Health. Does that factor into the equation? Are you doing anything to give yourself an advantage with your health?
Love. Is that part of the math? How do you measure it? Who is the object of your love? What are you doing to be more lovable? What you doing to give more love?
God. Is He part of the formula? Is He an overthought? Is He even a thought at all?

Suppose to live to be 100, then you die. What do you think happens next? Do you think that's it, that's all. It's over? Or do you think you will continue to live in another realm, a new dimension you've not yet experienced?
Compared to eternity a single century isn't even a blip on a radar. It's a single grain on sand on every beach on earth. But in this moment, it seems as though it's all that matters. That's how the rich farmer viewed life in that parable. He was wrong. Wrong for being too focused on accumulating weath. Wrong for thinking he had enough time to relax and enjoy himself. Deadly wrong in leaving God out of his plans for becoming rich. We don't want to make that same mistake.
Click the images below if you care to hear more about God's Word.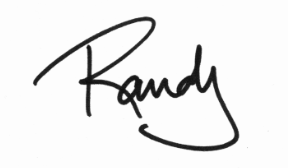 Please tell a friend about the podcast!
• Join our private Facebook group
• Email me
Help Me Reach My $1,000 Goal
I plan to start vlogging from Hot Springs Village, Arkansas because the place is spectacular.
The scenery will make for a great backdrop. Plus, there are many places I'd like you to see.
To help, click the link (or the image below) to donate
Sweetwater Gift Certificates (use RandyCantrell [at] gmail [dot] com).
Thank you!