Podcast: Play in new window | Download (Duration: [1:02:15] — )
Subscribe: Apple Podcasts | Google Podcasts | Spotify | Email | RSS | More
Welcome Inside The Yellow Studio. It's yellow because it's yellow. Duh.
Truth is, I love yellow, orange, red and hunter green. Those are among my favorite colors. I don't have just one.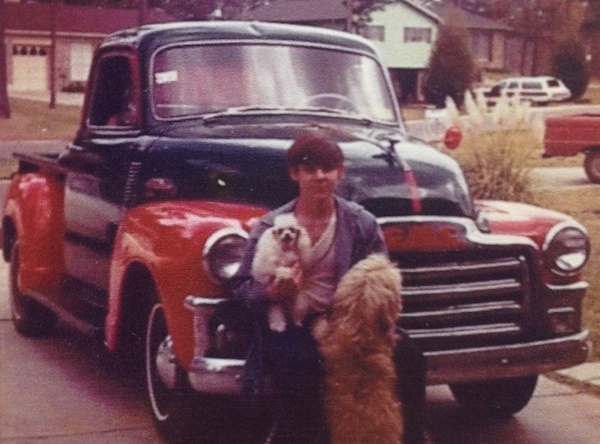 When I was 15 – yes, people, when I was young, living in Louisiana…you could get your driver's license at 15 – I had a 1954 GMC pickup truck. It was an old truck some farmer had abandoned in a field.
My maternal grandfather bought it for $150 and got it running, then paid somebody a little bit to recover the seat in new vinyl. It was a "3-on-the-tree" transmission and I drove it back from Oklahoma, where my grandparents lived, all the way back to Louisiana.
No air conditioning. No radio. Bare bones classic truck in faded hunter green.
I loved it. So much that when I got it home a buddy and I painted it hunter green with orange fender flares. With a brush! And it looked good. Of course, it looked better if you were standing a few feet away. 😉
During high school I had great fun with that truck. My first "real" car was a Pontiac Lemans. It was "Sundance Orange" – that's what GM called it. So orange was always a big player for me. So, why not The Orange Studio?
I never considered walls being orange. Frankly, it just seemed too dark and I wanted something lighter. I had a moment of clarity when the TV show HOUSE aired. His boss, Cuddy, had yellow walls in her office. Mustard yellow. The moment I saw Cuddy's office I told my wife, "That's the color I want to paint the walls." She and Dena, a close friend, painted it after finding the right shade of yellow. So that's how the name came to be.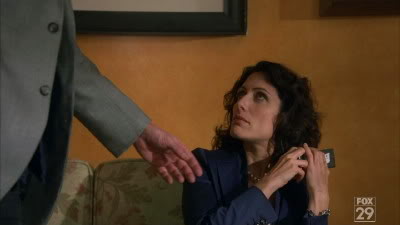 Here are some details about the actual physical space:
– It's a room about 13′ x 14.5′.
– There's an adjoining bathroom.
– It has a small closet, filled with too many cables and other audio paraphernalia.
– It has 2 large windows with wooden slat shutters on the inside.
– It has an overhead florescent light, which rarely gets turned on.
– I have a 19″ Chinese lantern with an LED bulb inside that hangs overhead and serves as a poor man's video light.
– There are 4 full height bookcases behind my desk (out of seen most of the time) filled with books.
– There are 3 other 5′ high bookcases in the studio, also filled with books.
– There is one 4′ high bookcase filled with books, and a Polk Audio HD clock radio, plus a 3 monkeys lamp (hear no evil, see no evil, speak no evil).
– There is a CD carousel in the corner that houses 2000 CD's with more stashed here and there.
– There's one Hon 2-drawer lowboy filing cabinet (lateral files or regular – it can configured either way).
– There's 3 chairs that can sit around the "broadcast table" which is actually a conference table.
– The floor is carpeted with a light green low plush carpet.
– The ceiling has popcorn texture circa 1980's (yeah, I hate it but it's a royal pain and major mess to change it).
– The room has one HVAC vent without a vent fixture to prevent any rattling. Air just drops into the room.
Here's a list of the cool stuff (these are not affiliate links; I do have an affiliate list for most of my resources here):
• Herman Miller Mirra chair
• Apple iMac 27″ with i7 processor (16GB RAM / 1TB Hard Drive)
• Apple iPad Air (128GB with ATT capability)
• Ambrosia Wiretap Studio ($69  – I love it, but it doesn't work on the latest Mac OS and you can't get support, so do not buy it)
• Audio Hijack Pro by Rogue Amoeba
• Twisted Wave (my DAW of choice)
• Dialog by Wave Arts (my audio plugin of choice)
• Ambrosia Soundboard (sound cart software; this is $49)
• Sound Byte by Black Cat Systems (my main sound cart software; the interface isn't as pretty as Soundboard, but I still rely on it more)
• ID3 Editor (to create ID tags)
• Transmit by Panic is my ftp program of choice
• Call Recorder by ECamm (the software I use to record Skype calls – when I don't use Audio Hijack Pro)
*Watch an episode of Mixergy.com with Andrew Warner to see how this software records video Skype calls
• Edirol R-09HR digital recorder
• Broadcast Tools ProMix12 broadcast console/mixer
• Zoom H6 multi-track digital recorder
• Yamaha MG124C mixer
• Audio Technia AT2005 USB/XLR mic
• Heil Sound PR40 microphones (they're my oldest pieces of gear)
• Heil Sound SM1 Shock Mounts
• Heil Sound PL2T Booms
• Heil Sound RS1 boom 12″ extension mount (for one mic; the other mic uses the C clamp)
• VAC pop filters for each PR40
• Heil Sound foam pop filter (I have one of these in case I want to take a PR40 out in the field to use; never happens, by the way)
• Giant Squid Cardioid Stereo mics (haven't used them in forever 'cause they don't work with my digital recorders)
• Electro-Voice RE50B microphones (I have two of these for field use, but they work equally well in the studio)
• Rode NTG-2 shotgun microphone (it's a condenser requiring phantom power, but has battery power capability built right in)
• Aphex 230 Voice Channel Processors (one for each PR40 mic)
• TC Electronic Finalizer Express (a final processor that handles everything going through the board)
• Telos One Phone Hybrid
• PreSonus FP10 Firewire Interface (awful customer service; I would not buy these again)
• PreSonus FireStudioProject Firewire Interface
• Panamax power management
• Aphex Headpod 454 Headphone Amp (now called a HeadPod 4)
• Kensington Keyboards
• Sennheiser HD25-MKII headphones
• Kodak Zi8 HD video camera (made obsolete when the iPhone cameras began to set the standard)
• Audio Technica ATR3550 corded lapel microphone
• Logitech 1080p Webcam Pro C910
• Webcam Settings (an app that is terrific for managing webcam settings)
• ScreenFlow by Telestream (screen capture and video recording software)
• Camtasia For Mac (a great alternative to ScreenFlow)
• iMovie by Apple (also for some video recording)
• Apple QuickTime Pro (can record audio, video or screen capture)
• Camera Stabilizer (this is great; buy one if you don't have one)
• Vonage VOIP phone service (this feeds the phone hybrid Inside The Yellow Studio)
• Apple AirPort Extreme (the old flat square version)
• Various hard drives back it all up (I've got two 3TB external drives)
• Toshiba 42″ HDTV on the wall – maybe my most used piece of gear 😉
• Lots of my gear came from the fine folks at BSWUSA.com (shout out to Kelley Sullivan; she's been terrific to deal with through the years)
• Other pieces of gear came from Sweetwater.com (another shout out to Patrick Schaefer; contact him directly at (800) 222-4700 ext 1319).
• My two podcasts are HIGHER HUMAN PERFORMANCE (the rebranded podcast over at Bula Network) and of course, this one, LEANING TOWARD WISDOM.