Podcast: Play in new window | Download (Duration: 45:35 — 41.7MB)
Subscribe: Apple Podcasts | Google Podcasts | Spotify | Email | RSS | More
I launched my webcam, put on headphones and sat behind the microphone to record "An Oral History." Parts 1 and 2 were recorded on March 11, 2011. Part 3 was recorded on January 16, 2017. Part 4 was recorded on June 23, 2022. I gave my children copies of Parts 1, 2 and 3. I haven't yet shared Part 4.
Fifteen to twenty years ago I first crafted a document I named, "When I Die." In it, I outlined, in some details, what I most wanted to happen when I die. I would regularly change and edit the document, often driven by the death of somebody. The deaths of close friends would spark greater editing. Life events then began to dramatically impact the document. As my life changed I'd edit the document. I changed the document drastically in the fall of 2018 when I went through some dark times. Since then I've changed it more slightly – tweaking it. I just finished making minor refinements to it this morning, sparked mostly because of the death of "the last man standing."
I made this post on Facebook on July 10, 2023…
The Last Man Standing

He was among a select group of older men who helped shape, influence and challenge me to become better. Always better.

Johnny Elmore, Ronny Wade, Barney Owens and Don King were the giants in my life. Trusted advisors I could call about anything. Everything. And I did call them. I leaned on them because they were stalwart men I could count on.

The Lord's work was always their top priority. My spiritual best was unquestioned. For wise counsel, caring challenges, or correction, I found none better than this group of men. They knew God's Word and how to apply it to our lives. They hopefully saw me at my best, but most importantly, they helped when things were at their worst.

Loving the Lord and His Church was THE common bond, but all four shared a wit, wisdom and humor that resonated with me since I was very young. They were fun. Funny. And it mattered. Men who could laugh at themselves, and others. Men who were slow to "should" me ("you should do this or that"). Instead, they were men open to question. To question the answers we may have thought we already knew. To answer the questions we may have not yet dared to ask. Truth seekers, each one of them. Truth tellers, all of them.

I loved them all very much. For their knowledge, experience, insights, wisdom and candor.

Don was the last man standing in my small, but vital circle of influence. At Ronny's passing I told him so. We talked about how as life rolls along we lose our mentors. I told him I may have to "get younger at that position." But there's no getting younger at that position. There's only the acknowledgement and gratitude that I had them for as long as I did. And I tried to make the most of it without being too intrusive. I came of age under the tutelage of these men. They were watchful protectors over every significant event and decision I made.

In just a matter of months three of them were gone. Barney. Johnny. Ronny. I told Don I hoped we'd have many more years together in the journey. I said, "I'm unprepared to go it alone without at least one old man in my life…tag you're it!" We chuckled…unaware of how little time we had. But in spite of his health challenges in recent years as his outward man began to perish, I was confident that Don's inner man was being renewed day by day. That's a confidence I had in all four of the old men in my life. It's why I was always anxious to hear their wisdom, listen to their counsel and make my decisions accordingly.

I'm thankful to have sat in the presence of these four giants who each helped me stand when I might have crumbled. Men whose influence is sure to outlive them. I loved them all. And felt loved back by each of them.

The following audio was recorded in my house on Friday afternoon, April 19, 2013 when Don and I recorded a conversation about building a good Christian home – a recording I made for a handful of young men I was hoping to serve at the time. This is a snippet I'm happy to share publicly. I pray Patsy, Kris and Lance – and all of Don's loved ones – take comfort in knowing that by sharing their beloved husband and father, many of us were made so much better. I share his sentiment in this audio clip – I didn't want to disappoint any of these giants in my life.
Pictured in the video: Ronny F. Wade and Don L. King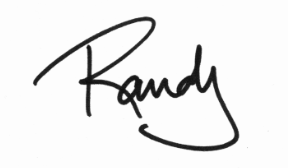 Please tell a friend about the podcast!
• Join our private Facebook group
• Email me
Help Me Reach My $1,000 Goal
I plan to start vlogging from Hot Springs Village, Arkansas because the place is spectacular.
The scenery will make for a great backdrop. Plus, there are many places I'd like you to see.
To help, click the link (or the image below) to donate
Sweetwater Gift Certificates (use RandyCantrell [at] gmail [dot] com).
Thank you!