Podcast: Play in new window | Download (Duration: [47:36] — 43.6MB)
Subscribe: Apple Podcasts | Google Podcasts | Spotify | Email | RSS | More
Tom Petty and the Heartbreakers only played this song 60 times. Tom played it by himself just once. I guess after writing the song Tom figured it really was time to move on. At certain points in life, a song like this could serve as a theme. We reach a point where we need a change. Or where we want one. Sometimes, a change is kinda sorta forced on us by circumstances. We need to leave something behind and start something different. Something new, hopefully, better.
The older we get the more we encounter the need to move on. Sometimes it's a physical need. It's always psychological. Emotional (that just means we have feelings about it – it doesn't mean we're necessarily dramatic about it).
Our lives are largely defined by routines. Okay, sometimes our routines become ruts, but mostly our routines serve us. They keep us sane and on track. They prevent us from having to add a million little unnecessary decisions, giving us the opportunity to do many things on auto-pilot without much thought. They help us combat anxiety. Routines are wise tools.
Until they no longer serve us.
Or until they're detrimental.
A routine can be different than the morning rituals you may be thinking about. A routine can be the current state of your life. The ways things are – and the way they have been for a while. There's no time limit required to qualify something as "routine."
Nothing lasts forever. Well, to be more accurate – most things don't. That includes the circumstances of our life, which are part of our routines. It's the current state of things in our life. Current is a description that would indicate the present, which implies there's a past and a future. Things change. Sometimes we move on. Or we should.
How can we know when it's time to move on?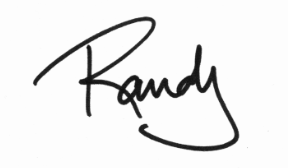 Please tell a friend about the podcast!
• Join our private Facebook group
• Email me
Help Me Reach My $1,000 Goal
I plan to start vlogging from Hot Springs Village, Arkansas because the place is spectacular.
The scenery will make for a great backdrop. Plus, there are many places I'd like you to see.
To help, click the link (or the image below) to donate
Sweetwater Gift Certificates (use RandyCantrell [at] gmail [dot] com).
Thank you!