Podcast: Play in new window | Download
Subscribe: Apple Podcasts | Android | Email | RSS | More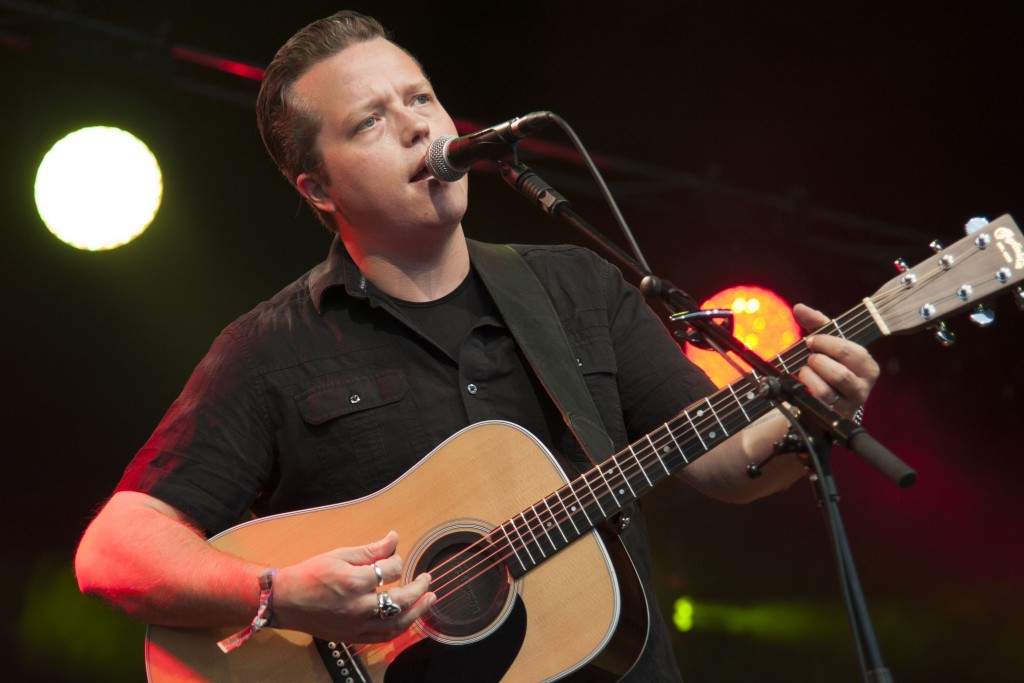 I first learned of Jason Isbell when he was with the Drive By Truckers. It was somewhere around 2004. I paid closer attention to him in 2007 when he ventured out on a solo career. He was one of the darker artists, writing about heavy things. And I know they're not popular things, but like John Prine, I was lured into the heavy fog of his reality. I enjoyed it.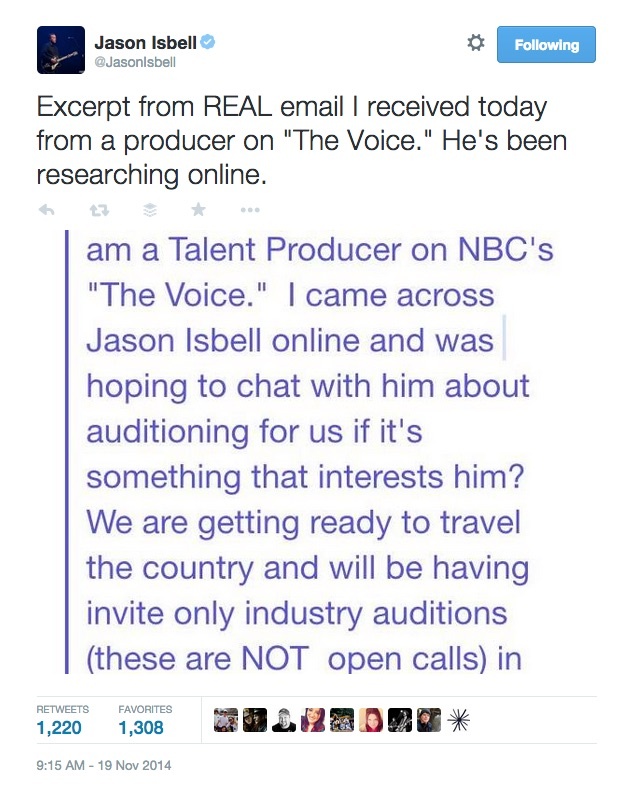 He broke through to new heights with his most recent record, Southeastern. That record earned him 2014 Americana Music Awards with Album of the Year and Artist of the Year. Jason gained critical acclaim after years of playing, writing and a stint in rehab fostered by his now wife and a few friends. Darkness has a birth place and Isbell had to come to grips with his so he could move on. Southeastern is the result. It brought him success he didn't think was possible and he's still aware that his type of music won't be Luke Bryan popular. Jason doesn't sing party anthems.
Back in February he was interviewed by Brian Koppelman for The Moment podcast. He's a singer/songwriter with heavy emphasis on the songwriter. Not that he's not a good singer, but it's clear his point of pride is in the songs he writes. Last November his Tweeter feed went crazy when he posted a portion of an email he got from a talent producer of NBC's "The Voice" inviting him to audition for the show.
I can't be sure where the quote came from, "I want it to have the chance of being great." I thought it was from Jason's interview with Koppelman, but I'm not sure. I am sure he feels that way about his songs though. In fact, I've heard many creative people express that same sentiment. Every great songwriter expresses it. So do artists, writers and other creative people. The very best ones want to give their craft the opportunity to be great.
Jason Isbell's creative outlet is writing songs. He wants to get it right. He wants to make it great. So he keeps on working.
I don't think the sentiment is the exclusive domain of typical creative work. I think it's valid for you. I think it's valid for me. Anybody.
Replace the word IT – "I Want It To Have The Chance Of Being Great" – with work. YOUR WORK.
It begins with desire. Desire strong enough to drive the effort.
The other morning I'm listening to my favorite morning drive sports talk station – KTCK, The Ticket. It's really more "guy talk" than sports talk. Two of the three hosts play music on the side. The third guy is talking about how he'd like to be able to play the guitar. I can relate.
The guys who can play tell him, "Anybody can learn to play the guitar. It just depends on how much you want it. If you want it badly enough you'll spend the time to learn." And there's the elephant in the room for any accomplishment. For doing anything well enough to make it great. How badly do you want it?
In my day job of coaching executives and leaders I never hear anybody say, "You know, I don't really care if I perform very well or not." Everybody says they want to be a high performer. Most of them feel like they already are. Sometimes they're right. Sometimes they're wrong.
Popular notions try to teach us that working smarter is more important than working hard, so over time we diminish the value of hard work. And few things have ruined success for people than that lie. It drives people to find or buy short cuts. People are constantly searching for somebody to show them how to be "smarter" by teaching them how to do it in the shortest amount of time. We're living in the Age of The Hack. Hack your calendar. Hack your productivity. Hack your health. Hack your life.
The interesting thing about that word – hack – is how it has changed meanings over time. Originally, we used it to mean "to chop or cut down in a rough manner." Or maybe we meant, "To cough noisily." Or perhaps we really meant, "To withstand or put up with a difficult situation."
But when the computer age hit we quickly added a definition, "To gain unauthorized access to (a computer system, e.g., a website, or network) by manipulating code." That sparked the definition to morph slightly by meaning "To accomplish a difficult programming task." But it didn't stop there…it continued to morph into something even less great, "To make a quick code change to patch a computer program, often one that, while being effective, is inelegant or makes the program harder to maintain." And so began the transition into the mainstream – now that we were onto something that was effective, but inelegant.
"To apply a trick, shortcut, skill, or novelty method to something to increase productivity, efficiency or ease."
Now, when we use the word HACK, that's mostly what we think of. There are tons of websites devoted to the craft. Books, podcasts and videos abound teaching all kinds of hacks.
The hacks themselves aren't inherently destructive, but the whole notion of THE HACK can be. We've lulled ourselves into thinking everything can be hacked. Maybe so, but don't we lose some chances for greatness along the way?
To be fair, I don't think all hacks are created equally. For instance, just yesterday I saw a home improvement do-it-yourself hack for cleaning that crud that builds up around a faucet. It was a mixture of lemon juice, distilled vinegar and some other stuff. It was a hack people could use with items they may already have in their kitchen, as opposed to buying some chemical cleaner. It's a hack, but frankly it's easier to just go buy cleaner, but not everybody wants to incorporate more chemical cleaners into their lives. And some people would rather spend the time to mix their own concoction than to spend the money for a high dollar cleaner.
Our lives are filled with hacks that I don't think diminish our opportunities for greatness. I have a program that I've had for years called Text Expander. I'm a lifelong Mac guy – been on a Mac since 1984 when it was first released. This little program is a typing hack. It works the same way macros do in a word processing document, except these macros work anywhere. They're keyboard short cuts that accelerate productivity by saving you the time to type something over and over every time you need it. It's a very handy hack.
Presets on your car radio are hacks. They prevent you from having to manually tune to a station. You just set the stations you want, press and button and your radio goes right to that station. It's a hack, and it's a good one.
The challenge I think – and the problem – is that we're so surrounded by hacks of all kinds, that we've fallen into a mindless trap of thinking there must be a hack for everything. Why put in the work learning something or doing something when we can spend time finding the best hack for it.
A few years ago I became intrigued with street musicians, buskers. In my college days I spent quite a bit of time down in the French Quarter sitting on the curbs watching and listening to bands and street performers. I'm very familiar with the practice, but they've always fascinated me. Now, enter YouTube and you can see street performers from all over the world. Many of them are exceptional.
A few years ago I stumbled onto a guitarist who just shreds an electric guitar. He's learned just about every riff imaginable I guess. He's very good and very accomplished, but as I've watched him I've noticed something missing. Something very important. Two things actually: soul and originality. He's mechanical. He's like a high performing robot. He can hit all the notes, flawlessly. But all the hacks he's learned to copy those notes have left his performances soul-less and uninspiring. He's a novelty and nothing else.
He could be great I suppose, but he's not. I doubt he ever will be because the shift in his head that would have to take place is enormous. He obviously is very driven to get the notes right, but he's not driven at all to find his own voice through the guitar.
The world is full of musicians who are technically spectacular, but their performances have no feeling. No soul. Ray Charles was spectacular, not because his piano playing or singing were technically perfect, but because you sensed he was feeling every note. He wanted it to be great. He put in the time to be great. And it was.*
"If it's worth doing, it's worth doing well." We've all been taught that by somebody. Or we've heard some version of that.
All this hacking though has resulted in spending more time looking for the short cut than in doing the actual work. It's ironic how much time people will spend trying to save time and work, when they'd have been better served just doing the work. We're stepping over dollars to pick up pennies. It's foolish and 'round here we're all about wisdom.
Can you manufacture desire? Or ramp it up?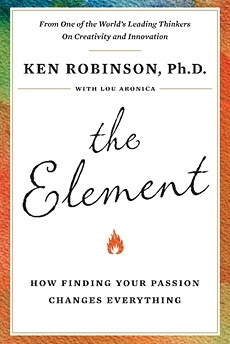 Sure. Now it's true that we're likely most attracted to the desire that just happens. Sir Ken Robinson's book, The Element: How Finding Your Passion Changes Everything is a wonderful book. He defines the "element" – you know, when we say, "she's sure in her element" – as the place where natural aptitude and passion intersect. Passion is desire. When it comes to our life's work, it's uniquely our own.
Jason Isbell's passion is writing songs. He wants to write great songs that convey how he feels so the listeners feel the same way.
Ray Charles' passion was performing music that moved people.
It's clear both of these guys were blessed with a natural aptitude for their chosen path. But I wonder if that's just how it looks. Read about Ray's life and you come away realizing this guy desperately wanted what he wanted. Did that desperation fuel his desire? Of course it did. I'm not discounting his talent. You can't. But life is full of examples of talented people who squandered natural ability. Athletes like Ryan Leaf come to mind. Musicians like Amy Winehouse, Jimi Hendrix and Janis Joplin – who all died too young because of drugs or alcohol.
Maybe it's a chicken and egg conundrum. But does it really matter which came first – desire or natural aptitude? Maybe. And if I had to bet on one, I'd bet on desire because desire will drive us to do everything we can to make IT great. Natural aptitude alone might lead us to be lazy and complacent.
Ray Charles left home at 14. Think of it. A blind black kid in 1945 moving after his mom dies. He leaves the Florida School for the Deaf and Blind in St. Augstine, Florida because he's kicked out of school. Some friends of his mother take him into their home in Jacksonville. He doesn't even own a piano so he camps out on the piano at the local union hall. But he can't find enough work so off he goes to Orlando when he's about 16.
At this point he's just about destitute. Opportunities for a blind person – much less a young black blind person – in post War World II America aren't extensive. Now he starts to write arrangements. Why not quit and lean on the good graces of others? Because Ray wanted to accomplish something. He had in mind somebody he wanted to become.
Before he was 20 he figured out that the biggest hits played on radio came from cities up north. In 1948 he and a friend went to Seattle. That's where he met a teenager – a 14-year-old – Quincy Jones. For a year he played a 1am to 5am shift at a local club. He was still writing arrangements, but now he had a few years of practice under his belt. He wrote one arrangement for Cole Porter and another for Dizzy Gillespie. They were successful and prompted a move to Los Angeles in 1950. He was about 20, but he's spent years fighting the fight to give it a chance to be great. He was driven to make music.
I was born with music inside me. Like my ribs, my liver, my kidneys, my heart. Like my blood.
Ray Charles had a quality all greatness requires – tenacity.
Without it, there's little chance for greatness. And for good reason. Because things aren't likely gonna work out well the first time. Or the second. Or the third. Greatness doesn't happen overnight in spite of all the hacks we may incorporate. If hacks provided greatness, then lots of people would experience it. But they don't. Most of us aren't great. Most of us don't produce greatness. I suppose most of us don't put in the work to be great. We don't give it a chance.
Maybe it's because we're busy doing other things. I've had some ongoing philosophical discussions mostly with guys over work and the commitment to work, an occupation. The conversations usually go something like this:
Me: "Life is about the choices we make. I'm not judging a person's choice to be fully devoted to their work. It's just not my choice."
Them: "But don't you think there's value in 'going all in' on it?"
Me: "Sure, but there's a sacrifice, too. You can't have it all so something's gotta give."
Them: "But if you want to be the very best don't you think that sacrifice is necessary?"
Me: "Maybe it is. Even so, I can't go 'all in' to the expense of faith and family so that's my choice."
On and on these talks go with names used as evidence, mostly titans with wild wealth. Forget that humans were left in their wake. They were GREAT at business. And that's the other point of it all…how do you define great? What is great? What is greatness?
I've always conceded that most greatness was singularly focused. Michael Jordan is known for being a great basketball player. Eric Clapton is known for being a great guitar player. Johnny Carson was known as a great TV talk show host. Richard Pryor was known as a great comedian. Examine their personal lives and you'll find plenty of non-greatness. Same with Ray Charles. And Jason Isbell admits his shortcomings in his personal life.
So I wonder if the desire – the drive to be great or to produce great – must be so strong that people forget everything else, anybody else?
There are exceptions to every so-called rule. Paul Newman and Joann Woodward were both wildly successful Hollywood actors who remained married for 50 years until his death in 2008. They were both great actors, critically acclaimed universally. But look more closely. People don't remember – or don't know – he divorced his first wife. He left her for Joann Woodward. With his first wife he had his only son, Scott, who died in the late 1970's due to a drug overdose. We've all got shortcomings in our life. Does greatness demand it?
Permit me to pull things together slightly because what I've just done is what we all tend to do. We confuse great work with our own greatness. Maybe that's the issue, or one of them. Michael Jordan played great basketball. Whatever his shortcomings were – and still are – as a person, didn't prevent it. Same for Ray, Eric, Johnny, Richard, Jason or Paul. Same for you and me.
Now I'm not encouraging you to avoid trying to be a great person, however you decide to define it. But what about your work?
I'll speak for myself.
Faith matters to me. Christianity is important. I want to be great in the sense that I want to be faithful, dutiful and diligent. I don't want to be great in the sense of having notoriety. But I want to be great by doing great work when it comes to my faith.
Family matters to me. I want to be a great husband, a great father and great grandfather. That requires great work. Sometimes I fail at it, just like I do with my faith. The work isn't always great and as a result I'm not always great.
Faith and family can't be hacked. The very act – or attempt – to hack them shows a lack of greatness. Or even a desire to be great. Commitment is the only path to greatness with faith and family. Commitment takes time, energy, effort and just about everything you've got. Desire trumps natural aptitude. You can acquire the aptitude if the desire burns hot enough.
Work matters to me, but it's different. Mostly, it's different for me now – at this stage of my life – because it's more of a means to an end. It wasn't quite that way when I was younger. I wanted to be somebody. I wanted to achieve things. Now, I want to survive. 😉
Mostly, I want my family and friends to survive. Mostly, I want to be in a position to do for others. Yes, there's some selfishness to it, too. It makes me feel good. It makes me feel needed. So it's not 100% good heartedness. I get a lot from giving. I get a lot more for giving then I ever got from getting.
But as I type these words and prepare this podcast I think about THE WORK. I think about my executive coaching. I think about my church work. I think about this podcast. I think about YOU and how this podcast impacts YOU. And I ask myself, "Am I giving it a chance to be great?"
The shortest formula for greatness is doing one's best, but that's not terribly accurate. Some people's best just isn't good enough. Some people's best isn't even average. And there's that natural aptitude – or even acquired aptitude – rearing its head again. Jason Isbell admits that he once thought he was doing his best until he realized he wasn't. What about YOU? Are you feeling like you're giving it your best? How do you know?
One way we can know is by seeing if our work is great or not. I know we need affirmation and confirmation. We want others to appreciate our work, to acknowledge that what we're doing is great. But I have to tell you. I can go over to Apple iTunes and look through the various podcasts where I see thousands of 5-star reviews…and I can listen to 30 seconds of an episode and say to myself, "I don't get it."
Is something great because it's popular? If so, then The Bachelor is great TV. No, I can't agree with that. You don't either.
Is something great because it impacted just one person? I've written my wife some letters and notes that I'm proud of. I hope they impacted her, but I don't know that I'd label them as "great." She's the most important person in my life and I hope they touched her, but I'm not sure that qualifies.
Is something great because you feel good about it? Because you're proud of it. I think we're starting to get somewhere with that line of thinking, don't you? But what if we're deluded? What if we think we're better than we really are? How are we to know?
Is something great because somebody else tells us it's great? I confess that I've stepped down from delivering a sermon or a speech and known it wasn't great, only to find people lining up telling me it was. I never believed them for a second. So that's not it.
I want to end by changing the question – mostly because I have no idea how we know if something is great, and I'm not so convinced it matters anyway. A better question might be, "What am I doing to give it a chance to be great?" What am I doing to give myself the chance to be great?
Am I spending all my time trying to find a suitable hack?
Am I spending my time learning and practicing?
Am I spending my time envious of others?
Am I spending my time in wishful thinking?
As with so many things in life, I think the wisdom is found in what we do with our time every single day. Greatness is most often found in the work of people who are simply sticking with it, producing consistently. It reminds me of the Old Testament story of Naaman the leper in 2 Kings chapter 5.
Naaman is a commander in the army. He's a powerful man with authority. News comes to him that there's a man of God who might be able to heal him of his awful disease, Elisha. Down to Elisha's house he goes, with an array of men and servants. Dignitaries have to travel in a style befitting their position in life.
When he arrives at the prophet's house, a servant of Elisha greets him and tells him he needs to dip 7 times in the Jordan river. Jordan is a muddy river. Two things seem to insult Naaman. One, the prophet doesn't personally greet him. Instead a servant of the prophet does. Two, the healing isn't going to happen with some spectacular waving of the hands by the prophet. Instead, he's going to have to go into the dirtiest river around.
It appears he's going to refuse the remedy until servant approach him with an argument he can't answer.
Verses 13 and 14: "And his servants came near and spoke to him, and said, "My father, if the prophet had told you to do something great, would you not have done it? How much more then, when he says to you, 'Wash, and be clean'?" So he went down and dipped seven times in the Jordan, according to the saying of the man of God; and his flesh was restored like the flesh of a little child, and he was clean."
We all want to do some great thing…some thing we've got worked out in our mind as being wonderful, majestical even. In reality, the greatness of our work is often found in the simplest of things. Unlike Elisha's work, our work isn't miraculous so our work can take weeks, months and years…maybe even decades. But greatness can come if we just give our work a chance to be great every day.
And to be honest with you, I think it's relatively easy to work toward greatness.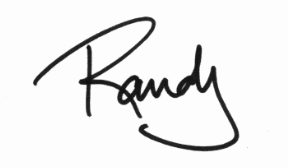 * Books about Ray Charles:
• Brother Ray: Ray Charles' Own Story by Ray Charles
• Ray Charles: Man And Music by Michael Lydon

How Can You Help The Podcast?
Leave us a review at iTunes
Pick your favorite way to support us financially
Join the conversation at our Facebook group
Tell your friends. Promote the shows on social media.