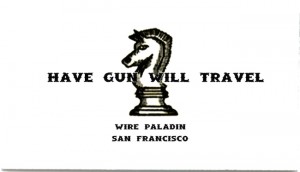 Have Brain. Won't Travel.
My dad loves westerns. He was a faithful viewer of the CBS show, Have Gun Will Travel. Richard Boone was Paladin, a gun for hire. He had a terrifically simple business card.
Well, I don't have a gun. And I hate to travel. So I've got a different motto…Have brain. Won't travel.
This is where you benefit. Of course, you already know how you benefit by the podcast. I know it's stunning can't-live-without content.
Rather than try to convince you how spectacular I am (besides, it'd be redundant for those of you who already appreciate my awesomeness), I'll just give you a few bullet-points to push my "for profit" agenda:
You can go here to read my professional ABOUT page, but it probably won't help you much
Instead, I'd suggest you check out this episode right here at LTW, #4030 (it's about my personality type; I'm an INFJ)
I don't professionally do any "by the hour" work, except here
That's because you're in a special group — listeners to this podcast
And because this project is special, it's about us helping each other
Besides, I've got bills to pay and this will benefit you while helping me accomplish that goal
So here's the deal. It's an hourly deal affordable to as many people as possible because I know how lonely it can be. And I know how difficult it can be to find the right person – just the right person – to help. I'm sorta like Wile E. Coyote, except without the travel. Genius? Well, that just depends on how bright YOU are, doesn't it? Just listen to 3 episodes and judge for yourself if I'm the guy capable of helping you.
It's not complicated. And it's not expensive. But it's powerful because I figure together, you and I can do more than budge a needle further away from EMPTY and more toward FULL. We can probably make this thing go lots faster!
Here's what you get:
A one-hour Skype call
A recording of the call
Two follow-up emails
One special follow-up personal audio message from me to you (to cheer you on, encourage you and address things in our emails)
Only $197*
* You can also buy 2 hours at once and I'll give you the second hour at almost half price, $100 (total $297) You can use the hours consecutively or at separate bookings.
Have Brain. Won't Travel.
To launch the process, just complete this short form. I'll email you a PayPal invoice. Upon receipt of payment I'll send you an email so we can schedule our call. I promise to complete the call within 10 business days of receipt of payment or I'll fully refund your payment.