Podcast: Play in new window | Download
Subscribe: Apple Podcasts | Android | Email | RSS | More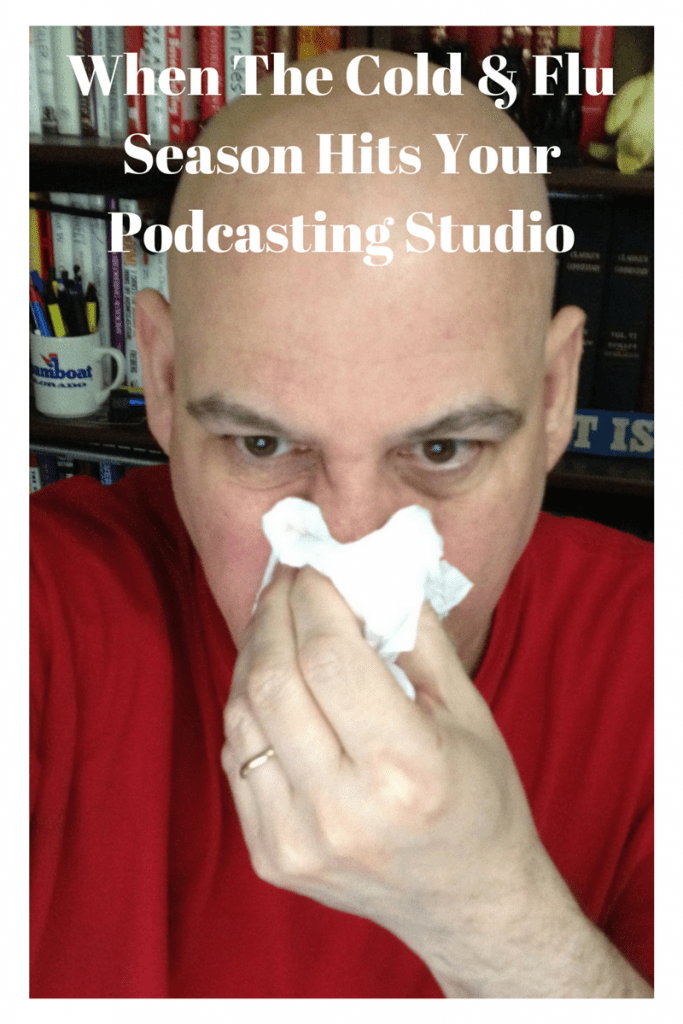 It happens annually inside The Yellow Studio. A bad cold. Chest congestion. Head congestion. Coughing. An already baritone voice lowers an extra octave. Or two.
I used to just record through it. There's plenty of evidence. Both audio and video. But it's a new year and I vowed I wouldn't do that any more, but here I am behind the mic again. Sick. With a bad cold.
I don't know if I've ever officially had the flu. I mean, the real McCoy FLU. I do enjoy an annual cold though. A doozie of one. Tightness in my chest. Clogged head. Coughing like a tuberculosis patient. Blowing my nose every few minutes. I have vast experience as both a podcaster and a cold sufferer. And I'm in north central Texas. Imagine if I lived in an Arctic climate. One good winter would likely kill me.
A North/South Problem
I started shaving my head over 15 years ago. Winter demands a beanie. Even indoors sometimes. That's the north problem.
The south problem is cold feet. Literally.
I wear socks when I sleep, even in the summer. Winters are especially tough.
I can more easily keep my head warm. But keeping my feet warm is challenging. And don't go thinking something major may be wrong with me – like diabetes – I've had extensive blood work and other tests throughout my life to rule that stuff out.
Of course, these aren't really causes of colds or the flu. When my mom warned me to cover my head in the winter – even back when I had a full head of hair – she'd say, "You'll catch a cold." No, I might get cold, but cold weather doesn't give you "a cold." People do. We spread germs. And viruses.
Keeping warm is important though because comfort matters! In the battle between comfort vs. discomfort…I'm always fighting for comfort.
A Social Problem Best Solved By Becoming A Hermit
Every year I travel to south Alabama to see friends and attend an annual New Year's church meeting. And almost every year I come away sick as a mule. Serves me right for leaving the house. Social media has dangers, but nothing that can match physically social dangers. Shaking hands. Hugging people. Being near others. It's the stuff colds are made of.
Another problem may be the sealed houses we occupy. Once germs get inside, it's not easy to get them out. I'm thinking of hitting up Gonesh, my incense provider of choice, and seeing if we might do a joint-venture where we engineer some incense that can serve as a germicide. I'd burn that year round.
I know people who refuse to shake hands with people. Me? I'd just soon steer clear from seeing people altogether. That way, I can avoid the Howie Mandel awkwardness of refusing to shake hands.
Mandel has mysophobia (a pathological fear of contamination/germs) to the point that he does not shake hands with anyone, including enthusiastic contestants on Deal or No Deal, unless he is wearing latex gloves.
No, I'm not going to wear Latex gloves. They make my hands sweat. I know because I've tried on a pair nearly every time I'm in a doctor's examination room waiting for a tardy physician. A guy has to entertain himself, right?
Besides, I'd rather void people entirely. It's easier. And more pleasant.
I'm Experienced. I'm An Expert. Here's What I Do.
Step One
Drink lots of water. I always drink a lot of water. Most days I drink about 136 ounces. I rarely drink less than that. Think of it as an ongoing, daily bladder exercise regime. Flushing toxins is not a problem when you're drinking high volumes of water. Venturing too far from a toilet is.
Step Two
Rest. This is much more problematic for me. Insomnia is a lifelong friend. When I was younger I was a night owl. A major league night owl. About midnight I began to come alive, like a vampire sans the blood lust.
In more recent years going to sleep around 10pm isn't so hard. Staying asleep is. My sleep cycle is 60-90 minutes, then I get up for while. Actually, sometimes for hours. Old habits are hard to break.
I need to improve this part of my life, but periodically life seems to self-adjust. Nature seems to kick in about once a month. I'll end up hitting some nice sleep around 5am or so and I'm not able to move until 11am or noon. I'm sure it's my body saying, "Lay here. Don't move." I obey.
Step Three
Stay warm. Again, it's comfort. If I'm really chilled, I'll start a scolding hot shower and stand there for as long as I can. Or until my wife shouts about how high the water bill is getting. There is a medicinal effect of the hot steam on my clogged sinuses. That's what I tell myself anyway.
Step Four
People love NyQuil. It's basically cold medications with Benadryl (or whatever the generic version is). NyQuil works best for me when I'm not sick. But when I've got a bad cold I don't find it terribly helpful. Then again, my metabolism can be pretty resistant to drugs that others find pretty relieving. For example, Hydrocodone does NOTHING for me. Never has. I could eat them like M&M's and feel nothing.
Alka-Seltzer Cold Plus works for me. Knocks out the headache. Opens up the breathing. And tames the cough somewhat. All bets are off when bedtime comes though. Laying down just prompts way more coughing. I've considered climbing into a sleeping bag and hanging it from a wall hook like a mountain climber.
Step Five
Mentholatum is the ointment of choice for a raw nose. My grandmother thought it would cure most things. She may have been onto something. I keep a small jar of it by my bedside year round. I kinda like the smell of it, too.
Step Six
Keep going. I know people who shut down. I've never been able to do that. In a prior life – working 80 hours a week just didn't afford it. If I could sleep when I'm sick, then I might be tempted to try. But since I have trouble sleeping when I'm feeling well, it's next to impossible when I'm sick. My strategy is to go 'til I drop.
The one adjustment I'm making this year, as a podcaster, is that I'm not going to podcast until I'm mostly over it. I'm not a podcaster who works many shows in advance. I don't have lots of shows "in the can."
The Bottom Line
I'll be back when I'm back. I figure by the end of this week I'll be feeling much better. That'll give me time to develop a couple of show ideas I'm working on.