Podcast: Play in new window | Download
Subscribe: Apple Podcasts | Android | Email | RSS | More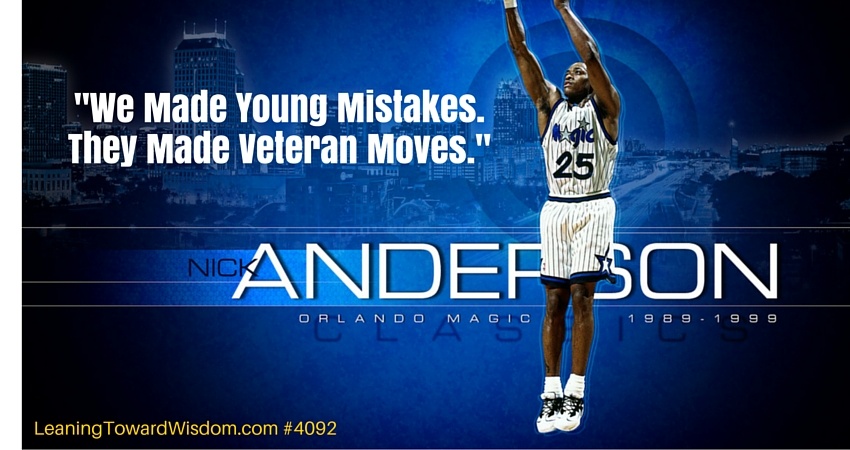 June 7, 1995 was a terrible day for Orlando Magic fans. It was a far worse day for Nick Anderson, the first drafted player for an upstart NBA franchise, selected #11 in 1989. Game 1 of the NBA Finals against the Houston Rockets. Ten and a half seconds left and Anderson goes to the line for 2 free throws. If he makes just one, the game is sealed. He misses both of them, but gets his own rebound and is fouled again. He goes back to the line. It's a big time do over. Anderson steps to the line, visibly tense. Two more opportunities to put the game away. But he missed them both…again. It was a 4-missed-free-throw outlier for Nick Anderson. And it couldn't have happened at a worse time.
The Magic lost 120-118. Houston won the championship in a sweep, 4 games to zero.
Scapegoating is easy. Fans and perhaps teammates reflected on Anderson's blown opportunity to sink just one free throw out of four to win game 1. All that what if-ing began. What if he had made one of those shots?
Rarely is scapegoating valid. It's not likely very fair, but when we're disappointed we don't care about fair. Or valid. We just want somebody or something to blame. Somebody other than ourselves.
Truth is, the Houston Rockets had a stable of veteran players while Orlando had been built of mostly young, first-time NBA players.
Nick Anderson, the villain, grew up in gangland Chicago. By the time he arrived at the NBA he had overcome more adversity than many of us see our entire lives. In the grand scheme of things, missing a free throw in one game – albeit a very big game – wasn't the toughest thing he had endured.
Years later – 20 years later to be exact – Anderson said, "We made young mistakes. They made veteran moves." And there it is. Not just the title for today's show, but a truth born of years of reflection.
Sadly, Nick Anderson was never the same as a professional basketball player. His confidence shot, the weight of his mishap growing increasingly heavier…he was never again the same player. The #11 pick in the NBA draft in 1989 tumbled in performance. His free throw percentage dropped consistently after 1995 and by 1999 he was gone from Orlando. He kicked around the league for a few more years, but he was done. Doomed by the images in his head of missing a critical shot.
Mistakes are easy. Recovery is hard.
Nick Anderson the player couldn't find his confidence once it was lost. As he approaches the 21st anniversary of the ordeal, he's now able to look back on it with wiser perspective. And he's helping younger players in the process. Such is the case of hard lessons learned. We suffer for them while others benefit. There's reward in that. BIG REWARD.
Anderson's mistake was on a big, big stage in front of an international audience – the NBA Finals. The severity was elevated because it was a fundamental skill of basketball, shooting free throws. Then add to it the solo task where all eyes are on just one player, the guy standing at the line. Pile onto it, for good measure, that he had 4 (FOUR) chances to make one. Poor Nick experienced the perfect storm of awful.
"It's in your head," isn't comforting to anybody who has IT in their head. The endless video loop played in his head over and over and over. It's still likely playing in his head, but hopefully not as often. Oh, what might have been? That's the weight of it. The thoughts of what might have been if he'd just sunk one basket.
Mistakes, poor play and failure. Sometimes they happen at the worst possible time. Stupidity has an uncanny ability to jump up out of nowhere. Sometimes it defines us. Well, to be more accurate – we let it define us. Poor Nick Anderson had help because fans, sports casters and maybe even teammates defined him by it. You and I usually fail in complete anonymity. It just feels like we're doing it in front of a packed house at Madison Square Garden.
Courage boils down to willingness. Those of us who are more willing can display more courage. Because we're willing to try. Attempting is one thing. Succeeding is something often very different.
Nick Anderson made 4 attempts. He had to step to the foul line and make those free-throw attempts. It wasn't enough.
That's discouraging. Everybody knows what that feels like.
We like to think that our courage to attempt will be good enough. Otherwise, it may quickly become too discouraging…prompting us to just quit. It happens on that days when we don't want to get out of bed. Days when we'd prefer to not make the attempt, rather wishing we could just throw in the towel.
The blame of failure weighs heavy. Even the risk of shouldering that weight can make it feel like gravity multiplied overnight. Now, in the morning we feel glued to our mattress, our only comfort in the covers we want to pull over our head. Blame is the risk we run when we attempt something. But what's the option? To try or attempt nothing! That's no life.
Those who blame Nick Anderson the most are probably the fans, people who have never had, or been given the chance to stand at an NBA free-throw line ever. Not once. They couldn't likely hit a free-throw during a half-time exhibition, much less during an NBA Championship game when the game is on the line. The best many of us could do would be to wet ourselves. Thankfully Nick didn't do that. He at least hit the rim.
We expect so much. Of others.
Less of ourselves.
Except when the game is on the line. Then we expect to be perfect.  Or at least 25% perfect – making 1 of 4 free-throws.
Forget that the team had the ability and opportunity to avoid taking the game down to the line quite that close. One more 2 point bucket would have avoided the entire scenario Nick Anderson found himself in. But the team failed collectively to sink one more 2-point bucket. Just one. One more score would have diminished all that pressure on Nick's shoulders as he stood at the line.
But forget that. Now it's all on Nick. We need Nick to come through. We expect him to come through. And when he didn't — whew! We can feel better about ourselves because it was him at the line, not us.
Now Nick has the ghosts living with him. And boy we're glad it's not us.
Over the weeks, months and years it's been a grind for Nick. The mind plays tricks on us. "If only" is among the worst endless loops that plays in our heads.
If only I'd gotten that job.
If only she's stayed with me.
If only I'd been given that chance.
If only I'd taken advantage of that chance.
If only they'd selected me.
If only that hadn't happened to me.
But those things didn't happen. And it changed things for us. At the time it felt like things might end like that. I'm sure Nick felt like it was the end. It got in his head. It consumed him. Wrecking his confidence, occupying his mind and his life. In time his NBA career did end. As a player.
Now he's the community ambassador of the Orlando Magic. He speaks to lots of kids. I guarantee the experience has given him a perspective and an ability to serve kids. The man understands adversity. And the weight of failure.
He's joked before about telling kids that they have 10 seconds left to make one of four free-throws. "I can't shoot it for you because I already missed four," he said. At least now he's got some sense of humor about it, but I'm sure it's mostly a coverup.
He told a reporter for the Orlando Sentinel, "I don't think I can ever get over it. But you learn. I've had to learn to handle it. It's like that Magic Johnson Dove commercial where he says he's comfortable in his own skin. I'm comfortable in mine now."
"Success is not final, failure is not fatal: it is the courage to continue that counts."

                                                                                                               – Winston Churchill
One of the most quotable men in history endured years of fretting about, and dealing with world-wide wars, depression and many burdens in life. He didn't miss four free-throws. His actions and decisions impacted more than one city's basketball team.
How do you carry that weight? Because Churchill saw the future first, like all great leaders. That vision compelled him to attempt things and to sometimes succeed. He failed plenty. That's what happens with men and women of action. Like baseball players stepping into the batter's box, the most at bats — the more strike outs are likely. But if we don't step into the opportunity, we have no chance to get a hit.
I'm not naive that sometimes failure isn't an option in the sense that we simply must get it right. Surgeons live with that pressure every day they perform. Lives hinge on their ability to attempt it, and succeed at it. You have to do the same thing every time you drive a car. Your life and the life of your passengers depends on you getting it right. Mostly, these things do go right. Airline pilots, surgeons and drivers get it right more often than not. So do those minimum wage workers at the fast-food drive through windows. They get our order 100% right most of the time.
It's not like any of us can shy away from life's everyday pressures.
"Success is stumbling from failure to failure with no loss of enthusiasm."

                                                                                         ― Winston S. Churchill
No loss of enthusiasm? That's hard. Churchill said it, but he didn't obey it. Biographers report he was very prone to bouts of being blue. Life and his own challenges would sometimes put him into a funk. It was hardly a life with no loss of enthusiasm. It's still great advice.
Reducing our time in the funk may be key. Being in a funk is one thing. Staying in a funk, or deciding to take up residency there is something quite different. At some point we need to find our way back toward optimism. Not that bright-eyed, rosy glassed kind, but that realistic kind. That kind that understand failure is a universal experience where there are no exemptions. The kind that helps us embrace the belief – yes, the BELIEF – that everything will be alright.
NBA experts seem to universally think that if Shaq had remained with the team, and had Penny Hardaway not injured his knee — and had these 2 superstars remained on the team together, Orlando would have likely had not one NBA championship, but multiple ones. But it never happened. Nick Anderson had nothing to do with Shaq's big ego, or Penny's injury. Nor did he bear the complete responsibility for the score of that game being so close at the end. All the players on the court that night were responsible.
Anderson was likely right. The Houston Rockets that year had some veteran players who better understood the situation and how to handle it. They made veteran plays. They performed just slightly better under pressure while Nick's Orlando Magic team, driven by young upcoming superstars made mistakes prone to less experienced players.
In spite of all their good fortune to get two stud players: Shaq in 1992 and Hardaway in 1993 (both technically number 1 picks)…the team got swallowed by the cracks. It wasn't one guy's fault. It was Nick Anderson missing those free- throws, it was the team not playing well enough to avoid that situation…it was Shaq's leaving for Los Angeles because his ego couldn't handle sharing the spotlight with Hardaway…it was Penny's knee injury. Things happened that many of them – maybe all of them – regret. Shaq later admitted he should have stayed in Orlando. Penny certainly wishes his knee had held up. Anderson certainly wishes he'd sunk just one of those free-throws.
The bottom line is that these guys were young, less experienced in pressure situations and lacked the wisdom necessary to see a bigger picture. They made young mistakes and suffered failure at the hands of a team that had survived their own young mistakes in years past and now made veteran moves. The goal – our collective goal – is to recognize our situation, our strengths, our opportunities and our challenges in real-time. Then, to be able to effectively execute up to our full ability.
"Don't spend time beating on a wall, hoping to transform it into a door. "

                                                                                                          ― Coco Chanel
Recognition is one thing. Talent and the ability to put that talent to work is the real difference maker. First, see the wall, then find the door. Next, find the knob and turn it. When we can do both, we make veteran moves and we win more often.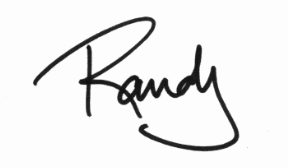 How Can You Help The Podcast?
Leave us a review at iTunes
Pick your favorite way to support us financially
Join the conversation at our Facebook group
Tell your friends. Promote the shows on social media.