Podcast: Play in new window | Download
Subscribe: Apple Podcasts | Android | Email | RSS | More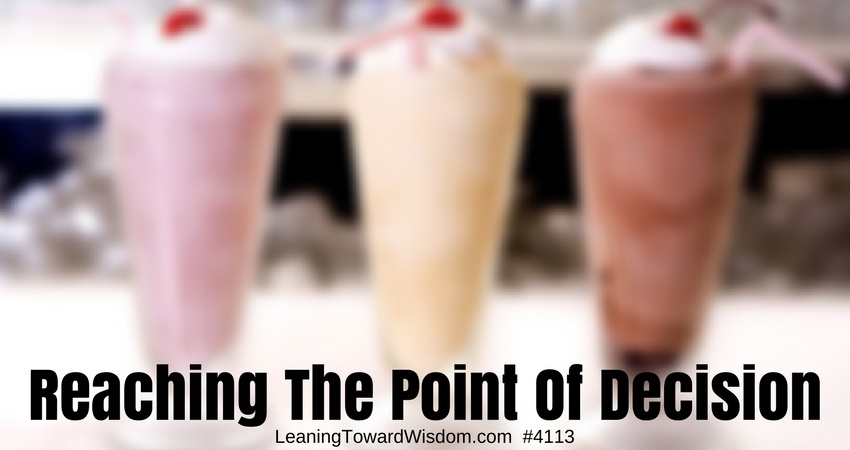 Strawberry? Vanilla? Chocolate?
I love 'em all. I'll take one of each, please.
Wait a minute, what?
They're 2700 calories each. I've been on a restricted calorie diet now for weeks. I don't even allot myself 2700 calories a day.
That means I could decide to take a bite of each. Three bites. How many calories would that be? Couldn't be more than 500. Might be worth 25% of my calories for today. Three bites? I don't know. That's a tough decision. What if I took three bites of one flavor? Or two bites of one flavor and one bite of another?
Or there's another obvious decision – just don't take any bites. Save the calories. I could eat an entire bowl of oatmeal for 500 calories. Boy, there's a terrific choice – oatmeal or a shake?
Through the years I've read considerable stuff (that's the official word for it) about decision-making. I've seen the 3-second rule where you take action within the first 3 seconds because if you don't, you're liable to get stuck. I've seen all sorts of game theory kind of advice on how to analyze the pros and cons of a thing. I've what-if'd things til I was as blue in the face as Tobias on Arrested Development.
You'd think decision-making would get easier over time. That we'd become adept at it with practice. And we might if every decision was the same. But they're not. Hit me with the choice of three ice cream shakes after I've stuffed myself with tacos and I'll have no problem making a decision. NO. But ask me when I'm craving something sweet and my stomach is empty and I'll be tempted to devour every single one of them. Circumstances change. And with them, so do our decisions.
As a long time retailer I've studied people's behavior for as long as I can remember. Especially when people shop. Those impulse items at the grocery store have long held my fascination. I've watched as those items have changed through the years. Years ago nearly all grocery shopping was done by mom. Mom had the kids in tow. Kids pay attention to crap hanging on a peg no higher than they are. They grab things like little junkie brightly colored toys hanging mere inches off the ground on a display. They hold those up to mom and plead, "Can I have this?"
Over time those items on the impulse display became increasingly more practical and generic as both men and women, with or without children went through the checkout aisle. Things like batteries, lighters, cough drops, eye drops, aspirin, batteries – those things began to keep the staple things like gum, mints and candy company.
The items changes because people were making different decisions.
I still watch as people survey all those items scanning for the prospect of picking something up. You can almost hear them talking to themselves inside their own head, "Do I need AA batteries? Hey, look TWIX. Boy, I love TWIX, but I don't need those. But man, they're awfully good."
We can be vexed by the smallest decisions. A $5 shake (yep, if I'm doing a shake I'm going for the super jumbo deluxe size). A $2 pack of batteries. Or a $2 candy bar.
Which leads to numerous thoughts about pricing decisions. How we price things as business people, or as sellers…and how we view prices as consumers or buyers. Those are serious decision points where companies spend millions attempting to get it just right. Price it too high, and you lose business. Price it too low and you leave money on that proverbial table where all the money goes! On the table. I'd be good with that if I owned the table, but I always seem to be stuck only with a chair. No table.
I've been guilty of under pricing way more than I've been guilty of over pricing. In fact, just recently I lost some business because I was too low. I knew it when I did it, but given the scope of the work – it just seemed right to me. Fair. The prospect wasn't wanting anything that I found tremendously challenging. But I blew it. I came in at a fair price based on how I value my time. In fact, it was ample. About $600 an hour, even though I never charge by the hour.
Well, there were a couple of issues. And I knew them both. Well.
One, there's the budget. What has the person allocated to spend. Go to the grocery store with your budget and if you save a few bucks you may be tempted to spend some money on those TWIX bars. A wise investment if you ask me. But go to the grocery store with a budget and discover there's something you forgot on your shopping list. Something you really need like eggs or milks and suddenly you're now over budget, but you do it anyway. Those TWIX bars in the checkout aisle don't even get a glance from you. Businesses work a bit different in that they have a budget, but that budget is often based on the second thing.
Expectation. What they expect to pay. This is largely the result of the market. In business we often talk about "what the market will bear," which simply means "how much you really get for it." A thing – product or service – is only worth what people will pay. It doesn't matter what you think it's worth. What matters is what people will pay you.
I blew it in both areas…and I knew it when I priced it. This is where being a contrarian hurt my chances to get the client. Was it a tough decision for me? Not at all. But it should have been. I should have likely given it more thought, but it felt right, seemed more than fair and the service I was proposing – the one the prospect needed and requested – wasn't complex or deep. This is where my anti-guruism never serves me. People will make a decision to buy, sometimes based on the perceived value of getting higher end service. The kicker is I don't know who I lost to, but it doesn't matter. They're not better than me (at this particular chore). And I'm going to guess they proposed a charge at least 3 times what I did. THREE TIMES!
Yep, I should have spent more time in the valley of indecision ruminating the strategy. Lesson learned.
So, as you can see decisions are everywhere and they impact everything in our life. Because the sum of our life really is nothing more than collection of our decisions. People can argue saying it's our actions that count, and that's true. But you're actions are mostly congruent with your decisions. I'm not likely going to decide to do one thing, then do something different. If I do, then it really means I changed my choice. I made a different decision.
There's a paradox in decision-making. And finding our way to that point where we actually make the decision. It's hard to go it alone. We sometimes need to include other people to help us make sure we're seeing things clearly. The paradox is knowing we need to make the choice and knowing we could use wise counsel, then being tempted to care too much what others think and making a choice that isn't our own.
We need to care. Just not that much. And I'm talking about what others think and feel.
I care deeply what one other person thinks. My wife. But I don't always care deeply even what she thinks because I have to make what I think is the best decision. I didn't ask my wife what she thought of my now rejected proposal. She would have said, "I don't know." Because I've had that conversation many times with her in the past. And sometimes she doesn't care. She's indifferent because she feels it's outside the scope of her expertise or knowledge. It'd be like her asking me what I thought about some doll outfit she was sewing. She knows better than to ask me. I have no opinion about it because I know nothing about it. Nor am I terribly interested in it. She's not terribly interested in my business pricing strategy.
Indifference isn't much help when you're trying to decide. Or when you're trying to reach a point where you can decide.
And the more you care, the harder it can be to decide…depending on the choices. Which is why car buying advice for years has included the wisdom of not falling in love with a specific car. Always be prepared to walk away if you can't get the most favorable price. Otherwise, you'll over pay. The car retailing industry has been built on hoping you'll fall in love with THAT car so they can influence you to pay whatever it'll take to drive it off the lot. They're not the only ones. Real estate works exactly the same way. Fall in love with THIS house. When you do, you'll pay asking price (maybe more). Care less and realize there's another car and another house that would be equally (maybe more) satisfying, and you'll have the leverage to make a wiser choice. But it can be hard because we like (and love) what we like.
I love TWIX bars. And Dr. Pepper. They're tempting.
Stick a Pepsi and a Three Musketeers bar in my face…and it's an easy decision to walk away.
Such is the delicate high wire act of decision-making.
By now I should tell you what prompted today's topic. My professional life. BIG choices. BIG decisions. What do I want to do? What should I do? Where can I provide the highest value?
Not easy decisions. Not for me. I'm not one of those people who always wanted to "fill in the blank." And there are other considerations, too. There's my marriage, and my wife. There's my kids and grandkids. There's my biggest work – non-paying moneywise – at church. There's my schedule and how available I need to be for the various roles I'm serving. Important roles. I didn't always have to consider the things I now have to factor into a decision. That makes it harder.
Months ago I decided to was going to work toward creating some virtual, online peer advisory groups of small business owners. Many people in my life couldn't see what I could see. No matter. They were tasked to make the decision. I was. It's my career. My occupation. My life. Not theirs. And that's where I want to end today's show. Focusing all of us on our responsibility to own our choices.
It's not that other people don't matter. They do. Very much. But the choices you make have to belong to you. Decide something solely because you think it's what somebody else wants you do to do. And you'll likely fail miserably. Largely because it's not your choice. You don't own it. You need a greater investment in your decisions if you're going to make them stick, and make them successful.
One of the worst things we do to each other is we nay say when somebody makes a choice that may be different from the one we would have made. And I'm not talking about a choice necessarily between wisdom and foolishness. I'm talking about really subjective choices. Isn't it funny how such a choice can be labeled wise or foolish depending on how much it matches our opinion. If I think dropping out of college to start a business is a smart thing I won't likely think it's foolish for somebody to do that. But if I think education is the path to all that right and profitable, then I'll think you're an idiot for dropping out. Beauty in the eye of the beholder and all that.
Vision is a big deal. Your vision. But also the vision of the people around you. You've heard it said that in the land of the blind the one-eyed man is king, but not necessarily. In the land of the blind the one-eyed man can also be a freak. Abnormal. The guy made fun of because he's not like everybody else. Why, if he was smart he'd poke out that eye and be like the rest of us. There's something to that and we all know it's true.
Just because others can't see what I see doesn't mean I'm wrong. It doesn't mean I'm right either. It just is what it is.
According to various sources – and it's based on the quantifiable number of peer advisory companies that serve CEOs – less than 1% of all CEOs take advantage of sitting at the same table with other CEOs so they can learn, grow and improve. There are many reasons for this, none of the least of which is that so few CEOs even know about it. But this isn't about the reasons it's so rare. It's about my decision to play in that arena, even though it's a crazy small arena globally. It's about what I see in myself, in the market opportunity and in the work itself.
I'm using myself as an example to help you in whatever decisions you're currently facing. Or the ones you may soon face.
It starts with YOU. For me, I had to acknowledge that I wanted mostly to be myself. I wanted to leverage my natural aptitude and personality traits. Other people tell me all time, "You should…" It's helpful to know what others see in me, but they're not me. I have to live with me 24-7-365. They don't. And almost 100% of the time they'll use that phrase, then end it with something that really interests THEM. But it doesn't interest me. Just because others see some capability doesn't mean I'm going to care about making that choice.
Know thyself, said Socrates. It's not easy, but it's doable. It requires honesty and bravery. Honesty to know what you're not so you can better understand what you are. Bravery to face it. And bravery to tell other people to shove off because you see something they may not. And bravery to own it, even if you fail.
The point of the decision comes when you must do it. It can arrive before that, but not usually. That's why deadlines work. We universally delay until we're forced to make a choice. I wish I had some easy, quick tip of wisdom about this, but I don't. I think we should take whatever time we need, and no more. That sounds smart, but it's really stupid because how do we know we've had enough time?
Here's what I've come to understand. There is a priceless value of time. And the high price of delay is that you're doing nothing while you're deciding. The best outcome is to make the RIGHT choice quickly. The worst outcome is to make the WORST choice slowly. I want to make the right choice as quickly as possible.
There's a rub. There's always a rub.
You can do it over. More often than not, we can fix it.
I see an enormous opportunity to impact the lives of just 14 business owners with my new venture – ThePeerAdvantage.com. Will it work? I don't know. I won't know until I've exhausted myself trying. But at some point I'll have either succeeded or I'll have failed. I've got some barometers and people in my life who will help me gauge it. Mostly, I've got a strong desire to do the work. Yes, I hate the client acquisition part of it because hawking myself is crazy hard. My humility hurts me. Just like my humility with pricing cost me a recent engagement. I priced it too humbly. I'm like you and many other people – I can easily undervalue myself. Give me an hour and I'll be spot on in helping you establish your market value and in developing a strategy that will take your business forward. I've been doing it for decades. But not for me, the personal me! That's a whole different ball game involving a completely different decision-making process. Because there's a different level of involvement. It's personal. Very personal.
So about a week ago I made a new decision. One I've made before, but had a hard time sticking with. The decision was to view what I'm doing professionally through the lens of service rendered and value provided. Is the service I'll render through THE PEER ADVANTAGE valuable to those I seek to serve? No question. In fact, I believe it's so highly valuable that it'll change not a few lives, but every life that is involved. I believe every member of THE PEER ADVANTAGE will be positively changed by being part of it. In a word, I believe it'll be transformational.
Is it valuable? I think it's grossly underpriced. The details don't matter for this conversation, but I'll tell you it's ridiculously low priced and now I'm worried about that. I'm fearful that I'm not thinking clearly based on how I know prospects can set an expectation. Give something very valuable to people without cost and they won't value it – no matter how valuable it may truly be. Charge them an arm and leg and they'll think it's far more valuable. I think for a business owner operating a multi-million dollar business charging tens of thousands of dollars is a bargain, but I also know value has to be established and proven. So the decision to charge more is a difficult one. This is where my practical, business approach doesn't always help me. And I'm aware of that. So I lean on others to give me feedback. Knowing that I alone have to decide. But there's something else in play in my decision. Return on investment. I'm intent on delivering at least a 10 time return. That is, for every dollar a client pays me, I want them to get 10 back. Or more.
My choices reflect who I am and how I feel. Not just how I think and what the strategies tell me is smart. And it's that thinking that will kill us sometimes. We are what we think. All of us. If I think my value tops out at $600 an hour and I price myself accordingly, then I guarantee I'll earn no more than that. Shifting that thinking upwards is hard. Quick, right now, name an annual income amount that you think would represent the top of the mountain amount for YOU. Got it?
Was it $65,000? Was it $150,000? Was it $10 million?
If you're like most of us you mentioned something you felt was realistic, but a stretch. Likely an amount you've never earned before but an amount you could see yourself making. Maybe not tomorrow, but some day. It's that "some day" dream we all hold.
Now, I want you to realize that that proverbial 1% of people often lambasted is comprised of people who earn about $400,000 a year or more. It's not the people who make millions. Yes, those folks skew the numbers for sure, but $400,00 puts you in the top 1% worldwide. That's $1,096 a day. For most of you, that's a number you can't imagine. That's almost $33,000 a month.
How many people earn that much? I don't know but it's millions of people. It's not a handful. Millions of people earn that much or more. And no, they're not all surgeons and professionally skilled people. In fact, I'd venture to guess that most of them aren't those things. Most are in a variety of pursuits and businesses. But what matters is what you see. What matters is what you believe.
If you believe that the top of the mountain for you is $65,000, then that's your top. That's your limitation. And your decisions will mirror that vision and belief. If I believe that $600 an hour is a fair price for my time, no matter what — then there's my limitation. I lost out to a person who likely charged $1000 more an hour (based on an hourly rate, but that's not these things were proposed – I'm just using that to give you a reference point for my argument). Am I really less valuable at what I proposed? ABSOLUTELY NOT. Fact is, I think I'm better than whoever likely got the gig for a much higher rate. But they made the decision to charge what they knew they could get. I made a different decision.
And it cost me. Your decisions are costing you, too.
Let's learn from them and do better in the future!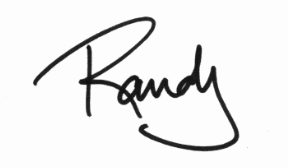 How Can You Help The Podcast?
Leave us a review at iTunes
Pick your favorite way to support us financially
Join the conversation at our Facebook group
Tell your friends. Promote the shows on social media.