Podcast: Play in new window | Download
Subscribe: Apple Podcasts | Android | Email | RSS | More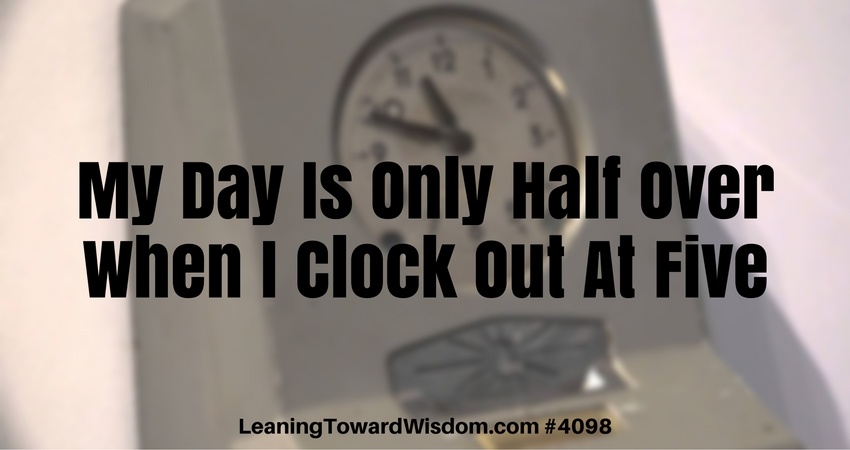 Time. It doesn't slip away. It rushes out the door like our air conditioning on a hot Texas summer day when we leave the door open.
Obligations and responsibilities. When you're a kid you think it's a burden to study for that exam. You sweat bullets when you're unprepared, wishing you were free from the pressures. Then time goes by and you long for that kind of pressure again. Life moves along piling on the weight of figuring out a career, earning a living, paying bills, raising kids, paying more bills – it's the never ending quest to accomplish and accumulate. The 2 curses of our lives.
Accomplish. Accumulate.
No wonder our day is only half over when we clock out at five. Or IF we get to clock out at 5. I never was able to clock out at 5. Truth is, I never clocked in or out. Not since my very first job. I've spent my life in what are called "exempt" roles, leading businesses where I put in whatever time was required. Early in my career it meant 80 hour work weeks. Almost all my life it meant 65 plus hour work weeks. It's hard enough when your day is only half over and you clock out at 5. It's way harder when you day is only half over and you never get to clock out.
It's that proverbial too much month left after the monthly paycheck arrives. A losing proposition. But this isn't about clocking in or clocking out. It's about those two curses that haunt all of us. Even the most successful among us. We're all chasing more. Or different. We'll get around to talking about contentment later.
For now, who among us doesn't wonder or wish for just a few hours more?
Now you know the reality of it though, don't you? If you had a few hours more it's unlikely anything would change. You romanticize that it would, but it really wouldn't. We all do it. We say, "Man, if I had an extra thousand bucks I'd (fill in the blank on whatever it is you think would make a big difference in your life)." We do the same thing with time.
It's not like a road trip where our GPS tells us how much longer we've got before we reach our destination. Five more hours of highway until we're home. Our problem is we don't know where the place we love is really located. Gabe sings of going back home to the place where he loves. Sure, most of us love home, but when we're talking about the traveling of our life – our work and our personal life – we don't always understand the place we love. We're looking for it. Some of us are obsessively searching for it.
Faithful in little. Faithful in much. 
But the contrary is equally true. Unfaithful in little. Unfaithful in much. Waste the time you've got and I can assure you that you'll waste any more time life might give you. We fool ourselves into thinking tomorrow we'll behave differently. Make wiser choices. Maybe. Not likely.
Sometimes things happen that make us do what we don't want to do, or even what we need to do. Enter another phrase for us to think about.
Compelling reasons.
It can be a woman who compels the pen of a songwriter.
I hope you don't need a drug abuse intervention, but I suspect we all could use a good intervention about something. We clock out at 5 and our day is only half over, but we vow it'd be different if only. You may not say it out loud, but the noise in your head is likely filled with lots of "if only" statements. You could clock out at noon and have 5 extra hours and it's unlikely things would be any different.
CBS Sunday Morning had a story about luck. One lady being interviewed vowed she was lucky. She attributed it to her optimism. She's convinced her outlook – and other optimistic people – attracts better luck. She may be right. As I watched it I wondered, "Even if she's not right, what could it hurt?"
Look on the bright side.
Some challenges have a bright side that's easy to spot. Others hide it so well it would take a forensic pathologist hours to find it. But what if you were determined. What if you refused to let the dark side of any issue dominate your thinking? What if you could focus on some past events that seemed so awful in real time, but now — they seem funny? Or educational? Let's do it right now.
Think of a time of panic or a problem. Maybe a big fat problem. Yeah, I know — too many leap to my mind, too. Well, cut just one from the herd. Think about that one. One that's long past.
Remember how you felt when it first happened? Go there. Remember.
Now, fast forward to the end, when it was all over. I mean really over. Resolved. In your rearview mirror.
Go there. Remember.
Big difference in the two feelings, right? What did you learn? Can you see the value of the trouble? Think about what you may have never learned if it hadn't happened.
Was there some success or accomplishment that happened because of what you learned? I'm betting there's a good chance you said, "Yes." What was it? Go there. Remember.
Now don't tell me there's no benefit to looking on the bright side of even a dark moment. You may not overcome every problem, but you can endure it. It makes sense – it's wise – to remember that all will be well.
Time alone isn't really the issue. Our choices, our decisions and our actions. That's really what we're talking about. My day is only half over when I clock out at five is a 2-half approach to time and our life. It implies we may have spent half our day in necessary, but unfulfilling effort. But more importantly, it implies we've still got a lot of work ahead of us. Work that we may not be looking forward to any more than we looked forward to what we did earlier in the day. The weight of our responsibilities or duties can seem to fill every moment of every day. For some, I'm sure that's true. I doubt that's true for you though.
Duty is important. Without we're irresponsible and foolish. I know the 4-hour workweek is a romantic notion, but I think it's too leisurely to help us build a good life. Hammock time never built a high achiever! World-class surfers don't sit on the beach drinking fruity drinks. They get in the water where sharks are – and where the waves can kill them. They paddle out where the waves are big. They fall. A lot. Until they don't fall as often. Searching for that intersection between their learning – their skill – and their natural aptitude. We can't all be world-class, but there's really only one way to find out. Try.
If you want something done, give it to somebody who is busy. 
No, don't do it yourself. I mean, you can, but if somebody else can help – and be involved – then involve them. I'll warn you though. It's counter intuitive to ask somebody who is busy. "They don't have time to do it," you think. But we've all leaned on somebody who has all the time in the world and found out it will never get done. They're not in the habit of doing anything. Hence my earlier comment about hammock time!
Lethargy begets more lethargy. Ditto for just about everything you can imagine. Complacency. Efficiency. Dedication. The key is for us – each of us – to find our way toward wisdom, efficiency and effectiveness. Because it's really about making a difference. In the morning, the afternoon and evening.
Habits.
There's another word. Why we do what we do is mostly driven by habits. I don't fully know why we do what we do, but there are plenty of books on the subject. I've read plenty and I still don't have much of a clue. We fall into routines that do something for us. Make us feel good. Are convenient and easy. Whatever.
21 days to establish a habit is what "they" say, but I'm not sure that's even true. I just know that routine keeps us sane. Imagine having to decide the mundane things every single time. We'd all go nuts. Instead, we live big chunks of our life on auto-pilot and that's a good thing. I don't wake up wondering if I should brush my teeth now or later. My habit is to do it now. Otherwise, I might stand at the sink in this endless debate with myself. Talk about a time waster!
But other habits aren't quite as positive. Like my love of bread. And cheese. Or driving fast. Lifelong habits are not just hard to break, they're impossible to break if you're not compelled to change them. And right now, I'm not. So that's me in that silver bullet car driving too fast while eating a grilled cheese sandwich! And listening to rock 'n roll.
Accomplish. Accumulate.
We're back to these two main ideas because that's what fuels us and makes us wish for more time. We say we'd spend more time with family or any number of other seemingly noble pursuits, but when we have the time we don't fully engage so I know that's a lie. Good intentions and all that.
No, there's something we want to get done. Some project we want to start. Or finish. Some hobby we want to participate in. Some new car we want to buy. Or a piece of furniture. Or that new Apple iPhone 7. Doing something we want. Getting we want.
Mostly we have to fight the entropy – gradual decline into disorder. It happens to everything. Especially our lives.
We have to constantly clean our houses, mow our yards, shave our beards and all that other stuff we often hate. If we don't keep it up, things go south in a hurry. Yet we find ourselves mostly in the same place year after year. Your life today probably looks very similar to your life a year ago. Maybe it's better. Maybe it's worse. But the degree of difference is probably slight. That's because quantum leaps are hard. They're not impossible, but they take a lot of work. An anchored ship stays mostly in the same place. The engines burn a lot of fuel to get moving.
When night falls and our day is only half over, it means we've been spending our time with something. Maybe we've been working hard. Or maybe our hustle has been insane. I'm betting your time has been spent mostly doing the same things you've always done. It's back to those habits. You've likely had the same ones for quite awhile.
Quick. What's the last NEW habit you formed?
Did you think of one? I'm betting you had a tough time. You may not have thought of a new one yet. Are you still thinking about it?
Did you come up with one? Great! If not, keep thinking…how far back are you gonna have to go to think of a time when you started a new habit.
I'm thinking of 10-12 years ago when I started going to the gym. I'm completely embarrassed, but I have a hard time thinking of another one. ONE habit in a decade! Boy, I'm just full of change, huh?
Your life doesn't look much different, does it? Misery loves company. We're all mostly in the same boat. What are we doing? If our day is only half over when we get off work, then where is our life going?
Every day we have the same bundle of hours. 168 hours in a single week. We spend 25% of our time working. Okay, maybe we spend 30% or more. If you're a great sleeper and manage 7-8 hours a night, then you're spending about 34% of your week sleeping. That leaves us roughly 60 hours – or 36% left for whatever. You don't break it all down, do you? Please don't tell me you're that organized 'cause I'm sure not.
Over a third of our life is up for grabs. Enter frittering, my word for wasting time. And we're right back where we started with those two A words: accomplish and accumulate. Here's an article about our lifetime by the numbers. It's pretty interesting.
It doesn't have to be business related. It doesn't even have to be financially motivated. Or even involve money. It seems that's where too many of us focus though. Sadly, I figure that'll leave many of us too far from home. I'm certain that's not the way toward wisdom.
What do you want to accomplish? I'll share two words that drive me these days. Well, to be fair they've always driven me, but more so as I grow older and realize the window is closing quickly on my life.
Impact.
Significance.
Money won't do it. Money is an important resource so I'm not minimizing it. I'm just not prepared to make it a focal point because it's not a top tier purpose. We all need money to live, but I question whether more money beyond supporting my family is a worthwhile investment of my time. Impact and significance – for me – aren't necessarily enhanced by more money.
I'm increasing my energies into impact and significance. Over at GrowGreat.com – my business-oriented podcast – I released an episode about it.
This week I read an article about LinkedIn founder Reid Hoffman. According to the article, he'd studied philosophy at Oxford and was preparing to pursue his PhD when something changed his mind.
"I started thinking about what it would take to write a PhD. And I'd be lucky if maybe 50 people read it. Simply writing a PhD or academic book was unlikely to play much of a role in helping shape people's lives as I wanted."
He observed that software architects were influencing more people so he learned to code. He got a job at Apple, then at Fujitsu. After that, he founded an online dating service, but it failed. Then he joined PayPal where he made his fortune after it sold to eBay. That's when he started Linkedin.
Hoffman developed a formula for impact and significance:
Number of people touched x depth of impact x time = social impact
He measures it for himself in social impact. Volunteering and other activities can consume most of your days when you're reached the financial independence Hoffman has. I prefer a broader view of impact by simply using the term, "impact." If it's social impact you want, great. You label it whatever you want. I think his formula is spot on.
That formula — number of people touched multiplied by the depth of the impact multiplied by the time equals social impact — is focused on three components. Each component has its own variables. Some people really care deeply about the number of people touched. Hoffman succeeded wildly by creating a business-oriented platform in Linkedin with 450 million users. That's also why Microsoft is buying it for $26 BILLION.
The depth of the impact of Linkedin varies by user, but the global impact has been significant. Linkedin is about 13 years old. There's your time element. I'm not really sure how you'd measure social impact, but I'm certain Mr. Hoffman may be able to.
This is where I think we each have to devise our own formula with the focus where it suits us best. Not that the formula is changed, but the focus of the elements is. What would you emphasize? I'll tell you mine, but I'm changing the formula just slightly. Mostly, because it's how I want to spend my time, that final element of the formula. So when I clock out at 5 and my day is only half over — I won't be miserable and feel empty.
The number of people touched X the depth of each relationship with the people touched X the time I spend doing it.
That's my current version of the formula. Current because I know these things can change. My kids are still in their 30's raising little kids. Right now they're pretty focused on a different formula. Life stages alter that formula.
The world turns and with it, our hopes, desires and ambitions. What we want to accomplish and what we want to accumulate changes during our seasons of life. Our clock changes things. What we do during the first half of our days isn't likely how we'll spend the latter. So maybe it's not about looking at the downside and thinking, "Man, we've still got half the day to go!" Maybe it's more about looking at our day being half over – only half over – and still we've got time to invest however we want. For whatever impact we'd like to chase.
It circles back to achievement. I've thrown 4 terms at you today: accomplish, accumulate, impact and significance. Two verbs. Two nouns. Roll 'em all up into one big ball and you get our life.
Whatever we accomplish – our personal or business achievements – is partly who we are. But it's just part.
Whatever we accumulate – our education, our learning, our wealth, our wisdom – that's another big part of who we are. But again, it's just part.
Whatever our impact – the service we render, the people we influence, the changes we provoke, the difference we make – still an even bigger part of who we are maybe. Again, not the entire story though.
Whatever our significance – the lives altered, the purpose we fulfilled – now we're capping it off. The puzzle pieces are coming together nicely to give everybody a picture of our life.
Your days are all you've got. It's all any of us have.
The choices we make in how to spend those days are the most important choices we make. Maybe the first half of your day doesn't feel so much like a choice, but it really is. Sometimes we feel trapped, but it's mostly those limits we've put on ourselves in our mind. I'm not talking about not working – at a job or a business or whatever we do to earn a living. How we choose to do that is up to each of us. I know we don't always feel like we've got a choice, but we do. Maybe our education or life's circumstances warrant a more practical choice than what we'd really enjoy. It's still a choice. I think a wise choice. I'd never criticize a man or a woman choosing responsibility to feed a family over whatever their personal ambitions might be. Still, it's a choice!
Don't resent your choices. Change them. Don't surrender your responsibilities though. I know today's title provokes notions that the first half of the day is spent doing work that not's fulfilling, or not as fulfilling as we may like. But I think today's title also provokes notions that the second half may be no better. That after we punch out at 5pm we've still got a whole nother half day staring us down.
But I don't want to end with you thinking like that. Instead, I want you to consider the hours left to do something even more significant. The power of your life is how you spend your days. Every day. The first half of the day doesn't fully define you. Nor does the second half. Your life is comprised of both halves put together.
That's true for today. It'll be true for tomorrow! Chase the day by making the wisest choices you can.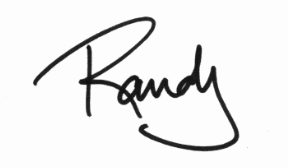 P.S. Contribute to the show by gifting Apple iTunes gift cards. Buy the music. Support musicians. I do.

How Can You Help The Podcast?
Leave us a review at iTunes
Pick your favorite way to support us financially
Join the conversation at our Facebook group
Tell your friends. Promote the shows on social media.