Podcast: Play in new window | Download
Subscribe: Apple Podcasts | Android | Email | RSS | More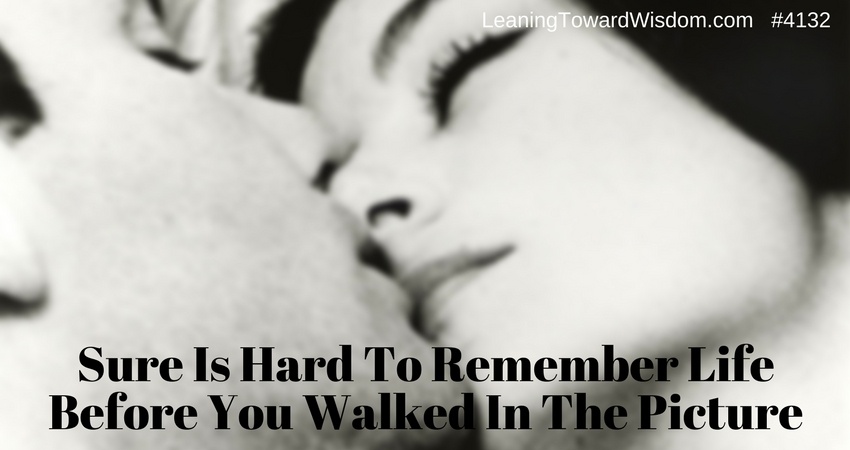 Get your mirror out. You're going to need it.
Today's show is based on the first lyric, "Sure is hard to remember life before you walked in the picture."
The second verse is very clever phrasing:
I was messed up, wondering, broke down, stumbling
Running for my life
Was heartbroke, hard up, a long string of bad luck
Searching with no end in sight
Somebody walked into the picture and changed your life. Maybe it happened recently. Maybe it was decades ago. A single person. One other human being.
For you, it marked the beginning of something wonderful. Over time, it's difficult to remember a time when they weren't that special somebody in your life. And if not enough time has passed to create that sensation, you don't even want to think about life before they walked in.
You may not have been messed up, hard up, or on a long string of bad luck. But compared to how life is with this person, it sorta felt like those words could have described your life. Because this person's impact on your life was profound.
But this isn't restricted to a person – a who – that walked into your life. There are other things to consider.
Faith. Those of us who make faith a priority may feel the same way. It's hard to remember life before faith.
A passion. It could be the love a bricklayer has for his craft. Or a person who restores old cars. Or an artist. A writer maybe. A musician. A business person. Anybody who has figured out, or stumbled into the thing for which they feel ideally wired. As Sir Ken Robinson defines "the element," it's where our natural aptitude and our passion intersect. Find somebody who is in their element and you'll likely hear them claim it's hard to remember life before they found it. It changed everything.
Insight. In the past decade, I've learned more about myself than any other decade of my life. Since I was a child I felt different. Not in a superior way – just different. It used to drive me crazy. Well, actually it sometimes made me wonder if I might be crazy. Most people didn't see things I saw. Or they didn't see things the way I saw them. You bet, it's enough to make you feel like a freak. And not in a good way. But in the last number of years, I've intentionally dove more deeply into myself. Coupled with growing older (I suppose), I've come to come conclusions that likely weren't meant for me to quite understand before. How can I know? Exactly. I can't. So why not just lean into it now that it's here.
People. Faith. Passion. Insight.
I suppose there could be other things that enter our lives and change us more completely than something minor. But let's concentrate today on these 4 things: people, faith, passion, and insight. No, there's nothing I'm suggesting by that order. To each his own. For me, faith is first. The next one would be tough because as tempted as I may be to say "people," I'm equally tempted to say, "insight" because I think it's pretty important for us to have a good understanding of ourselves. So just go with me on today's journey as we begin with PEOPLE.
People.
Before we talk about romantic love and finding that very special someone with whom to share our life, let's consider the other people who surround us and make a positive difference in our lives. Of course, parents are likely the first ones we think of, but I'm aware that some of us (I hope it's only some and not many) had rotten parents. From alcoholic parents to neglectful to abusive. Not all parents are created equally wise.
I'm sad for people who didn't have the benefits of supportive parents. It doesn't give any of us a free pass in our own poor behavior. Nor does it excuse us from failing to be all we be. Yes, having good parents is a big advantage, but as we grow up and mature, we can make our own choices and overcome whatever negative impact our parents may have had on us. Equally true, those of us who had good parents can fail to make wise choices as we grow up and mature. Just because our folks were supportive and somewhat wise, doesn't mean we will be. We're all able to decide for ourselves how we'll live and what actions we'll take.
But parents don't quite fit the bill for today's show because you physically can't remember a time before them. They were there right from the start. Ditto for siblings and other family members. It's great to be surrounded by supportive family. And it's great to have their support right from the start! Oh, and let's not forget the powerful impact grandparents have (says the grandfather of five). 😉
Today we're focused though on people who came into our life – however that happened – and changed our lives for the better. In our earliest childhood years, it was likely a teacher. Perhaps our first teacher. Mine was Mrs. Arnold at Hayes Elementary School in Ada, Oklahoma. It was 1963/64.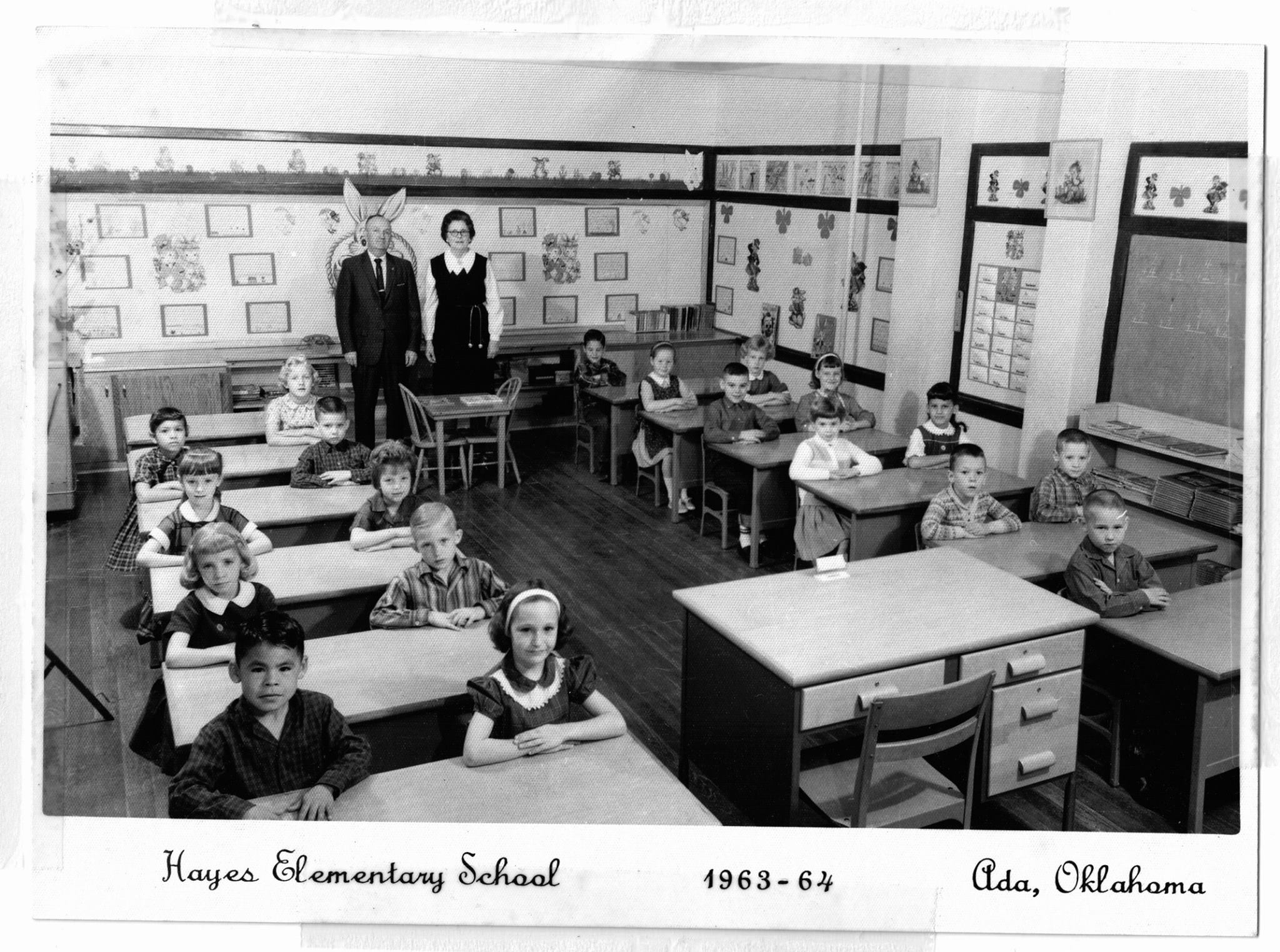 I had other adults who influenced my life before her, but I'm thinking a teacher was likely the first person who impacted us in ways that forever changed us. How can it not be a first-grade teacher? The people outside our family who teach us to read and write. Who harness our ability to work together with other students, something we've likely not had to do before except in kindergarten.
As a side note, some adults at church were among the first powerhouses of influence in my life. People who made it hard for me to remember life before they walked in. Some were folks who attended the congregation where I attended in Ada. One, in particular, was an elderly lady my parents would sometimes pick up for worship. Ollie Cook. I still remember how she smelled. Floral best described how Ollie smelled. Always. A very kindly dispositioned woman, so far as a little boy could tell, Ollie would take in laundry for ironing (ten cents a piece says my mother). I loved her. She was, in a word, pleasant. I wish I had gotten to know her better. But we moved away, I grew up and got married. Ollie made (by her own hand) a comforter that she gave to us for our wedding present. We've taken care of it and still have it. It's one of those "priceless" possessions that wouldn't likely garner much money on eBay. No amount of money could buy it.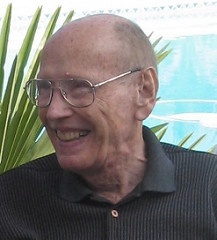 Lynwood was another old person in my life as a child. But perhaps a bit like Ollie, I can't remember not knowing him. He was friends with my folks at my birth. But I still have to mention him – in hopes it helps spark some memories in you of the old people who influenced you as a child. He was not pleasant like Ollie. He was gruff, stern and downright frightening. I wrote quite a lot about him, which I reposted here years ago (most of what I wrote about him was originally written for my oldest grandchild, Max). I won't rehash it here, except to reiterate that Lynwood was one of the pivotal old men in my life who made me what I am. I've long believed that everybody – boy or girl – need some old men in their life. Today, I'm that old man! 😀
As you're thinking of the people – likely the old folks – who first impacted your life, let's talk about the value they provided. Discipline is among the first things that leap to mind. I was born in 1957. You can see by my first-grade class that I was born during a time that was quite "old school." Today, I can't tell you how thankful I am for that. Yes, we got spanked. No, not beaten, but spanked. I'm thankful for it, too. The world was better when kids learned respect for authority and clearly understood there were negative consequences for acting foolishly, or rebelliously. Disagree all you want, but my generation knew nothing about "time out." We got in trouble, got corrected, then it was over. Those of us with attentive parents got correctly more quickly, and we learned more quickly, too. It's just how it works. Look at me and my first-grade classmates. Find the hellion in the group? Hint: you can't because we didn't have one.
Old people, including my family, taught me the value of being honest, facing the realities of what you've done (when you messed up), apologizing when it was warranted (and sometimes even when it wasn't), and a host of other interpersonal skills that I see lacking sometimes in too many people. It doesn't make me angry. Nor does it give me "good old days'" syndrome. It just makes me sad for people who didn't have enough old people in their life who loved them enough to teach or train them. I was blessed. I had old people in my life who forever changed me for the better. My failings aren't because they didn't try, or because they failed. It's strictly the fault of the willingness of the student. Me!
Faith.
I won't linger here. Not because I don't want to offend anybody. I don't care about that. 😉 But because I'm suspect this isn't nearly as universal as the others. In fact, I know it's not. Because not all people are religious or spiritually minded. I'm an unapologetic Christian. Working harder to become a more faithful disciple of Christ is a priority for me. My work in our congregation is important – it's the most important work I do. It's not an occupation. There's no money or revenue involved. It's a vocation.
While I can attest that I don't remember a time when it wasn't in my life — my family worshipped 3 times a week since before I was born (and it's all I've ever known). I can hardly remember life prior to my baptism (July 17, 1968). No decision was bigger. None made such an impact. I made it early in my life and have worked to grow and grow and grow. Sometimes failing to grow as I should, but mostly trying to get it right. This July it will have been 50 years. I'm still a work in progress (at least I hope it's progress).
Faith, if it's more than lip-service (and for many, it's not) will change you. If it doesn't, then what's the point?
Passion.
I don't frequently use this word. Probably because it's overused. And because I think it's over-rated among people who think it's the end all, be all.
The first definition of passion in the dictionary is…
strong and barely controllable emotion
This definition contributes to why I don't use the word more often. It's overused, over-rated and incorrectly applied.
Pursue your barely controllable emotion. Does that sound like something wise? 😉
I know, I know. That's not what people mean when they use it – "Pursue your passion." Another dictionary gives this as the first definition…
any powerful or compelling emotion or feeling, as love or hate
Okay, I can go with that and maybe change my opinion. Probably not, but maybe.
I'm practical. So I'm going to go with that last definition. For now. But I'm focusing only on the what you love part, not the what you hate thing.
Some passion – something you fell in love with – walked in your life and changed things. The big one for me (and you likely know this already) is music. But I don't remember life before music. Well, not entirely. But sorta.
When you're a kid you're not in control of the music in your life. Whatever your parents listen to…whatever older siblings listen to…other people controlled the radio and the records that got played when I was a little kid. That meant pop or top 40 music when we were in the car listening to the radio. When I was growing up cars only had AM radios. I can't remember when FM began to really take hold. And at home, on the stereo console (a big piece of furniture that had a radio, a turntable and speakers all in one cabinet) records by The Lettermen and Ray Charles seemed to dominate. Maybe it spawned my fondness for harmony and soul.
My pre-teen years were the only time I ever bought 45 records (records that contained a song on each side and cost under a dollar at the time). Mostly it was an economic decision. And because I was forced to listen mostly to top 40 pop music, the 45's tended to be hit songs I was hearing on the radio.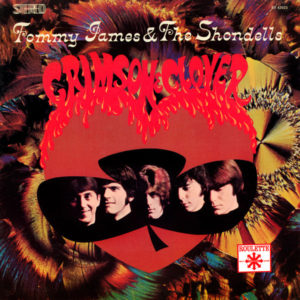 One of the first albums I remember buying was Tommy James and the Shondells, Crimson & Clover. It was early 1969. By that summer, we were landing on the moon. No, I didn't, but the United States did. We watched it on our black and white TV. That was a pretty big year!
I played that record almost non-stop the entire year I think. I have no idea what album I bought next. Give me a break. I was 12.
The famous Led Zeppelin III album came out in 1970, but I was still too young to know about those guys. Neil Young's After The Gold Rush came out, but I wasn't aware of him either. Simon & Garfunkel released Bridge Over Troubled Water in 1970. Because it got a lot of radio play, I was aware of it. But I don't remember buying it. Maybe I did, but more likely my older sister (by 6 years) did. I just don't remember.
I do remember music becoming increasingly important to me about the age of 11 or 12. My interest kept escalating.
Something likely happened in 1971. I was approaching 14. Joni Mitchell Blue was being played quite a lot by my sister. It was her record. That established my strong love for singer/songwriters. That year I did become aware of Led Zeppelin. They released IV and I'm fairly certain I bought it. Yep, it's the record that had "Stairway to Heaven." That year I somehow stumbled onto a guy I would really fall in love with musically, Marvin Gaye. What's Going On came out in 1971 and I bought it. The Who "Who's Next?" came out that year, too, but I wasn't so much a fan at that time. It took getting a drivers license before I'd jump on that bandwagon.
1971 was also the year my passion did involve hate. L.A. Woman by The Doors came out that year. I couldn't stand The Doors. To this day, if a song by The Doors comes on the radio, I'm switching the station immediately. I've hated some music in my life, but you'll have to search pretty hard to find a band I hate more than The Doors.
I'll spare you from my lifelong musical journey, but when music I loved entered my life, it did change things. Mostly, it provided a soundtrack for my life. It accompanied whatever was happening in my life at the time. It's like a timeline with sound. If you're interested in hearing more about that I've got two episodes I recorded that will take you on a pretty nice journey. The first was done back in 2014, entitled "You'll Never Forget The Music Of Your Youth." That was episode 4018. The second episode was done in 2015, "Why I Covered This Paperback Book When I Was In High School." That one was episode 4055. If you're into music you'll enjoy those shows. I hope. Let me know.
I listen to A LOT of music. I know it's not normal. But it's how I've rolled for as long as I can remember. I was in the luxury retailing business (consumer electronics) when the Sony Walkman was introduced. That changed things bigtime. But before that, 8-track tape players in cars (then later, cassette decks) changed things. Music was increasingly going with us, no matter where we went. That meant more opportunities to listen to what we wanted. I loved the control. To play what I wanted to hear (or what we wanted to hear when there was a carload of us), was an enormous advance. That fueled the passion even more.
I got my drivers license when I was 15, something you could do at the time in Louisiana. And I had a car, a gift my dying grandfather gave me – a brand new 1972 Pontiac Lemans. Before that I had an old GMC pickup truck that I painted hunter green and orange. I posted a picture of me sitting on the front bumper of that truck in an episode where I gave folks a tour of The Yellow Studio. It's episode 4048.
Sadly, my pickup had no radio at all. No stereo system. It didn't keep us from singing though. The music started to matter early. It still matters. A lot.
What matters to you? And I don't mean something you got infatuated with for a time, then moved on. I mean something that walked into your life and stayed. Something you can't imagine not being in your life. Have you wondered why that thing captivated you? I have. Mostly, I 've wondered why my love of music was focused on listening to good music, rather than on trying to learn to create it. But I've talked about that before. I'm perfectly happy hearing very talented people create the music I love. That's my passion.
By now it dawns on me that some of these things are singular. Other's aren't. People. That's not singular, but my marriage is. There have been many people who have influenced my life, but none trumps the one woman in my life. I believe marriage is 'til death parts us.
Faith is singular. I don't have multiple faiths or beliefs. My faith has a single focus on the Bible and the New Testament – the focus is on Jesus Christ.
Passion isn't singular. We can love many things. We can hate many things. It may be singular in that one may trump the others – sorta like music does for me. Few things are woven through my life more than music.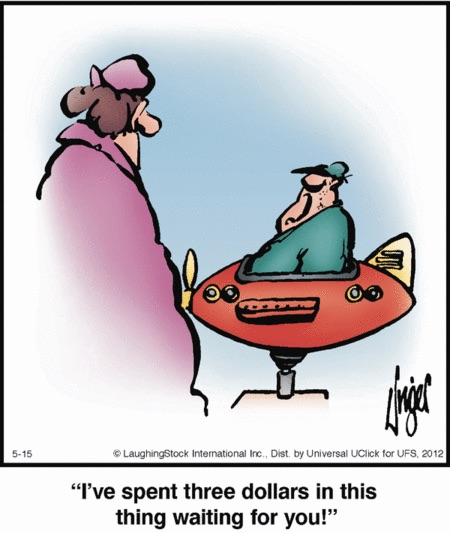 Cartoons is another one though. It's the reason for Saturday's Smile. My affection for cartoons likely began with Bugs Bunny and all those terrific Warner Brothers cartoons. I loved Mel Blanc, too (once I learned an actual person was voicing all those characters). I also loved Johnny Quest. 😀 Just so you know.
Oddly, I never read comic books. I didn't like them. My best friend, Stanley, loved them. Devoured them. I never got it.
And I didn't read the comics in the newspaper…except the single panel cartoons. I was pretty fascinated by a single piece of art and a single caption — and their ability to make me smile or laugh. It seemed like really difficult work. I later learned it is. Which drove greater appreciation for the craft.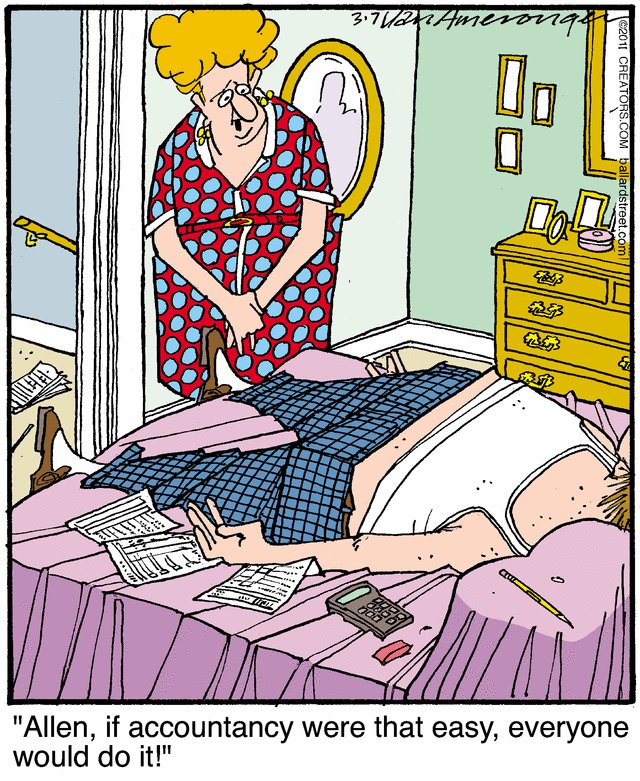 Herman and Ballard Street have been longtime favorites. Far Side and B.C. were also some favorites back in the day.
I started drawing pretty regularly while I was in junior high. The habit intensified during high school, where classmates thought I'd end up doing something in art. They were wrong. It's like music. I appreciate the good stuff, but I stopped caring so much about creating it.
Writing was another passion. Not making up stories, but observations. I often enjoyed recording what I was seeing, watching or hearing. That'll explain this LTW podcasting thing, huh? It's the merging of all 3 of these passions into a single entity. Music, cartoons, and observations. That about sums up LTW.
I single these 3 out because these have been part of my life for as long as I can remember. I struggle to remember (and I'm not saying I can) a time when I didn't love these things. These are the passions have been sustainable for a long, long time.
What are yours? How do they manifest themselves in your life? Do you find them irresistible? How so?
Insight.
This is really where the rubber meets the road. It's all about you. More importantly, it's about you knowing more about you. Self-awareness. Interspection, which is defined as…
the examination or observation of one's own mental and emotional processes
Not the easiest work to do. Among the most worthwhile though.
Preferences and passions are what they are. We like what we like. We dislike what we dislike. Sometimes there's just no explaining it and any attempt to dissect it would be a waste of time. Why does one person prefer vanilla over chocolate? Who knows? It's beyond figuring out. It just is.
But when we examine ourselves…we derive the biggest benefit from figuring it out. It makes us better. That improves our ability to positively impact other people, too.
Socrates said, "The unexamined life is not worth living." Yet, many people neglect the effort.
Life before anything significant walked in started before we entered first grade. You may remember life earlier, but most of my memories go back to kindergarten, perhaps a year before.
One of the first assessments I remember taking was the Myers-Briggs when I was in college. I don't remember the circumstances of it. I just remember getting the results. INFJ. All I knew was that I stood for INTROVERT. And I remember thinking, "Introvert? I'm not an introvert!" That was that. I didn't read anything about it. Nor did I understand what it meant.
After a few decades, wisdom kicked in. Okay, I like to think more wisdom kicked in. 😉
By the time I'm pushing 50 a few "truths" have revealed themselves to me. One, my empathy is extraordinarily high. That difference I was sensing as a little kid was partly due to my empathy. It never meant I could fully understand where somebody was coming from, but it meant my natural tendency was to try. And it was easy. Natural. I gave it no effort. I could easily feel what others were feeling, and in real-time. Like most people, I also realized that our super-powers can also be our kryptonite. I didn't have to work at empathy, but I did have to pay attention (I wouldn't describe it as work) so my empathy didn't hinder my ability to serve somebody. For instance, if somebody was grieving over a loss…it didn't help for me to feel what they felt and become just as wrecked as they might be. I had to maintain some sort of boundary (for lack of a better term) so I could help the grieving person. Again, this was never hard, but it did require some intention that empathy didn't.
I learned that my empathy was my best explanation for why forgiveness was so easy for me. Fact is, I do not have to work at forgiving people. But, forgiving myself can be very hard. Strengths can become weaknesses. Bitterness, resentment and bad feelings aren't problems for me. Now before you applaud too loudly — I've got many, many weaknesses. But let's not focus on those! 😀
The second thing I had learned about myself by now was my other main super-power. Intuition. This was a bigger revelation because it explained more about why I felt so different from most people. Now let me explain what I mean by intuition. I don't mean ESP or gut feel. I don't have a supernatural power. Just a superpower. What I learned is that my intuition is based on observation. It's often unexplainable to others though.
I see things. I notice things. I don't look for them. I'm like that little boy in the movie, Sixth Sense. "Everywhere I look I see dead people." Thankfully, I don't see dead people, but I see people. It's got nothing to do with me paying attention. If my eyes are open and my ears, too – things pop out to me that I'm not looking for. I'm not sure when I became aware of this. I suspect it was an awareness that happened over time. But boy did it explain some things.
The little boy I once was – who felt freakishly different (again, not in a good way) – at some points felt like maybe I was nuts. And I mostly wanted to be like everybody else. People who didn't notice what I noticed. There were times I'd question if I really noticed it because others didn't see it at all. Was I imagining it? As I grew older I knew I wasn't imagining it. I knew others just didn't see it. It became one of those "if I had a dollar for every time" somebody said to me, "Huh. I never noticed that before" then I know I'd have thousands of dollars. Literally.
It doesn't matter where I am or what I'm doing. I see things. I notice things. No effort. Not trying. They leap out at me in ways I can't explain.
I see a couple in a booth at a restaurant. It's evening. I remark to others at the table where I'm seated, "That guy is about to ask that girl to marry him." People turn and gawk before I can warn them not to look. "How do you know?" I've noticed their conversation. He's talking to her and reached into his jacket pocket. He's got the ring box tucked under his right leg. I saw him put it there while he's leading up to it. Moments later, he gets up, walks around to her, gets on a knee — and now everybody is looking because it's obvious what he's doing. People say to me, "What were you doing? Scoping them out?" No. I was just sitting there minding my own business when this activity jumped onto my radar. It has happened more than a few times to me over my life. Conversely, I've also seen couples that I knew were breaking up so it's not like I'm sensitive only to good news.
I can see a complete stranger engaged in conversation with a few people walk away and I know something happened in that conversation to upset them. No, I don't have ESP. I can't read minds. I don't know what upset them, but it's plain as can be that they're upset over something that happened because I saw their countenance change while they were in that conversation. Again, it ends up with people questioning me (if I share this insight), "How can you tell?" I can explain that. What I can't explain is why I noticed when nobody else seemed to. It's not like I'm focusing in on these things. Or searching for them. There's just a level of observation I employ naturally that most people don't. I can't help it because it's not something I'm consciously doing. I'm just living my life.
That explains my lifelong fascination with human behavior. While operating businesses I always saw the behavior of employees, customers, and the market. And being strategic in what I observed. But the observations were happening around the clock in every context of my life. Without effort.
These were things I came to understand simply by trying to figure things out on my own. But these two insights were among the most helpful to me. Ever.
Through the years I took the DISC profile, StrengthsFinder, and various others. In DISC it has changed through the years, but mostly it's always been High S with high D and I right behind (not a big gap between any of them really) and Low C. For those unfamiliar with DISC – it stands for Decisive, Interactive, Stability and Cautious. It measures natural and adapted, meaning how you behave as a default (the natural way you roll) and adaptive is how you behave when you're aware, or when you're being observed. Mine is fairly consistent except my S (Stability) goes way down and my C (Cautious) goes up in adaptive. But again, it varies depending on when I took it. Understandable because as we age, and as our experiences change – these facets of our life change, too.
StrengthsFinder results have also varied over time. Mostly, they've involved (in this order) Relator, Responsibility, Strategic, Belief, and Intellection as the top 5. Can't say I take issue with any of those. Truth is, I don't really take issue with any of these assessments. I maintain a reasonable degree of skepticism and cynicism. Meaning, I take them with a grain of salt and use them to help find the puzzle pieces so I can get a more clear picture of myself.
I was approaching 50 by the time I took the Myers-Briggs again. By this time I had done some casual reading about it. There are many things I read about INFJ that resonated with me, but I wanted to make sure the assessment years earlier was still valid. At least as Myers-Briggs determined things. So I took it again. Same result.
I kept reading a bit about INFJ and Myers-Briggs. Not books. Mostly blog posts and articles, taking each one as information, but not accepting everything as truth. I was just gathering information to make up my mind. Still wondering if the "test" had me pegged, I took it a third time (within a year of having taken it the second time). INFJ. Same as all the previous times.
Now I stepped up my research. Still not reading any books or Myers-Briggs material. Mostly blog posts and magazine (online) articles. I also started looking at various forums and Facebook groups. And I watched some YouTube videos. Concentrating on the ones that dealt with the INFJ profile. I'm still pretty skeptical, but I confess that it resonates with me big time as I look at myself. I was 51 when I first learned what INFJ even stood for:
I = Introverted  •  N = iNtuitive  •  F = Feeling  •  J = Judging
Here's a summary I saw back in 2010 about INFJs. Like much of what's written, it resonated with me. Bigtime.
Beneath the quiet exterior, INFJs hold deep convictions about the weightier matters of life. Those who are activists ­­ INFJs gravitate toward such a role ­­ are there for the cause, not for personal glory or political power.
INFJs are champions of the oppressed and downtrodden. They often are found in the wake of an emergency, rescuing those who are in acute distress. INFJs may fantasize about getting revenge on those who victimize the defenseless. The concept of 'poetic justice' is appealing to the INFJ.
"There's something rotten in Denmark." Accurately suspicious about others' motives, INFJs are not easily led. These are the people that you can rarely fool any of the time. Though affable and sympathetic to most, INFJs are selective about their friends. Such a friendship is a symbiotic bond that transcends mere words.
INFJs have a knack for fluency in language and facility in communication. In addition, nonverbal sensitivity enables the INFJ to know and be known by others intimately.
I won't dive into all the nuances of it (you can download a 5-page INFJ recap here if you're interested), but I encourage you to take assessments. Use as many free online tools as you can find. Why not? Don't put 100% confidence in any one of them, but rather use them all to see if you can come up with a composite of who you really are. The more clarity you can get about yourself, the better.
Be dissatisfied with the explanation, "Well, that's just how I am." Why are you that way? And I don't mean in the sense that you're looking for an excuse or a crutch. "I'm a mess because my dad was a drunk," isn't profitable insight. Get over it. Lots of kids had rotten parents. You aren't your parents. It may mean you had (or have to) overcome more than most, but so be it. Get busy doing the work, if you haven't already. Use the tools that are available. In addition to the assessments we've talked about there are others that are coming to the forefront. Hexaco and Core Map, to name two more. My personal opinion is that the variety of these kinds of "tests," provides us a multi-dimensional view we might not otherwise be able to get.
All of this explains why my career is shifting in the current direction. Deep conversations. Deep relationships. That's what I mostly seek. Significance is major. Trivial is a waste of time. So is small talk.
What about you? What about your pursuits? Your career? What about your relationships?
Consider the things that aren't difficult for you. What are the things you find yourself able to do without even trying? There's likely something deeper going on there. It's a hint to your super-powers. We've all got them. The shame is to live life without knowing what they are so we can more intentionally leverage them. That's why all this is important to me. At my age, I want to leverage everything I can because I'm on the back 9. Shoot, I'm on the back 4. 😀
But no matter how young or old you are. There's no time to waste. Seize the moment, not the day. Our days are made of moments.  Make the most of yours.
Think about these areas – and others – of your life. What are the things that walked into your life…and now you find it hard to remember life before they arrived? How did they change your life?
Let's end with one final word, GRATITUDE. Whatever things walked into your life and made it better…be grateful. No matter what's going on with you right now, there's always room for more gratitude. Turn it up!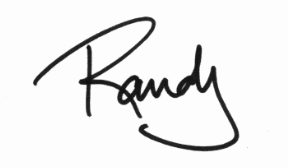 How Can You Help The Podcast?
Leave us a review at iTunes
Pick your favorite way to support us financially
Join the conversation at our Facebook group
Tell your friends. Promote the shows on social media.