Podcast: Play in new window | Download
Subscribe: Apple Podcasts | Android | Email | RSS | More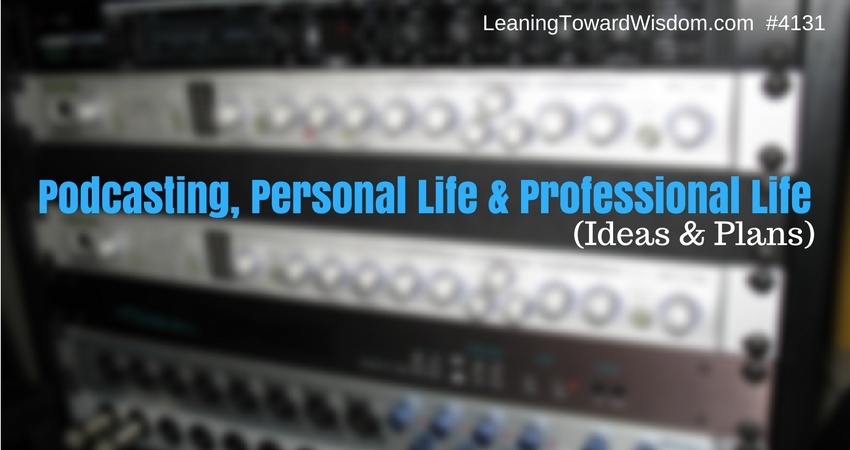 Leaning toward wisdom is about trying to improve our ability to make the best decisions in real-time. But it requires forethought. We can't simply wake up in a new world every day and think we'll do what's best without having a preordained compass, convictions, objectives and more. Parents talk to their kids about various vices and dangers in advance. We want our children to grow up knowing what they'll do in certain situations before those situations ever arrive. Ditto for you and me in our personal and professional lives.
Let me tell you what prompted today's "special episode." About a year ago I began to produce a podcast with Leo Bottary, "Year Of The Peer." Mostly, we recorded and released a show each week. These were interviews with a variety of people on the importance of surrounding ourselves with people who will propel us forward. People who will help us. People who will let us help them. It's the opposite view of the "self-made man or woman." We all owe somebody! The tagline of the podcast said it best – who you surround yourself with matters!
I'm pushing forward this year with Leo migrating my role from producer to co-host. We're still noodling out the details of how we want to improve that podcast. It's morphing increasingly into a professional pursuit, not merely a passion project (which is how it started). I'm determined to do my best to make that podcast everything it can be because the message is that important to me.
Late last year as I was thinking about this year and the things I wanted to accomplish, I began to consider my two podcasts: GrowGreat.com and this one. Leaning Toward Wisdom was my first real podcast. Meaning, it was the first show I started where I go on iTunes and other podcast directories, and where I incorporated the RSS feed (and all those things the technical experts declare are the true definitions of a podcast). I started LTW back in 2002, but I had put my first audio files online back in 1997 using a handheld digital audio recorder that recorded in some funky Microsoft audio format. I could see the value of audio online early on. And since I'm a communication nut, I was leaning hard in that direction right from the start of the Internet. By 2008 I had begun podcasting for my business. LTW has never had a business component. I've always done LTW purely for the enjoyment, fun, and passion of it. But over at my professional website – BulaNetwork.com – I began to podcast (not for money or to find a way to monetize the podcast) as a bit of a marketing effort. Mostly, it was a way for people to get to know me quickly. As a business person, my goal was (and still is) simple. The quicker prospects can get to a YES or a NO, the better. No business can survive on a MAYBE. We want our prospects to raise their hands and say, "Hey, I'm who you're talking to. I'm interested." Or, we want them to quickly say, "No. I'm not interested." Either way, it's good for both of us. The "professional" podcast was meant to help my prospects figure out whether I was their cup of tea or not. That's still mostly what I use it for. I don't earn a single dollar directly from the podcast. Nor do I ever see doing that. Because it's not my purpose or goal.
Meanwhile, over in Europe a new opportunity cropped up because of my work with Leo. There is a community of business people who are quite intent on "scaling up." That is, if their business is generating 1 million a year, they may want to grow to 10 million. Or the 10 million business may want to scale up to 100 million. As you may imagine, growth has challenges. The people, assets, and systems you might employ in your million dollar business are quite different from the business that is 10 times your size. Like podcasting or any other skill, it requires some learning. As business people, we have to learn how to grow. There is a terrific global scale-up community that is focused on helping each other learn and figure these things out. I'll be doing some live streaming shows in that space as I broaden my own professional services, which all focus around helping business people grow, improve and transform.
I started with this professional stuff because that was really what prompted my thinking about this podcast. And wondering where I wanted to take it. And how I wanted to get there.
LTW is a passion project. Just as it was from the start. Nothing has changed. Honestly, I still love it more than I love any other podcasting I do. Yes, I love them all, but I love this one the most. Hands down.
I'm ready to step up my game here. If I'm going to step up in these other podcasts, then why would I not do it here where it matters most (to my heart)? Exactly. I wouldn't ignore LTW. Not if I love it as much as I claim. And I do. Love it as much as I claim. So kids, it's time to amp it up.
What Does That Mean?
I have no idea, which is why this special episode. I want your help. This site has long had a survey up in the navigation, but let me share the link here. CLICK HERE for the survey.
It will only take you a few minutes. And you'll be helping me immensely. Thanks, in advance.
Over the past few years I've heard from many you via email. Some of us have Skype'd. I've always valued the interactions and the feedback. As any podcaster will tell you, the feedback we can get is often very contradictory. For instance, some people tell me how much they enjoy the longer form. The fact that they feel they can spend 90 minutes or so strolling with me through some ideas. It gives them time to ponder. And they know that provoking thought is mostly what LTW is all about. At the same time, others can say anything over 30 minutes is "no go" for them. Other people tell me they never visit the website so "show notes" or blog posts mean nothing to them, while others tell me they love the long blog posts because they'd rather read than listen to the podcast. For those people, I'm more of a blogger than a podcaster (which has always seemed weird to me, but who am I to argue?). Some people regularly tell me how they appreciate being introduced to musicians they never knew existed. Other people tell me they fast forward through all the music.
So what's a podcaster to do?
In a phrase. Figure it out. For yourself. That means, it's up to me to find the best course, knowing that I not going to please everybody — because I'm not pleasing everybody right now. So why should the future look any different? 😀
So PLEASE click here and take a few minutes to let me know what YOU think.
Life. It's What We Make It.
Personally, my life is much like yours. Hectic. Boring. Both at the same time. Some days you eat the bear. Some days the bear eats you. We all suffer similarly.
This year – 2018 – I'm on a personal mission to get some things squared away. Meaning, it's time to find the right balance between sowing and reaping. I've gone on record (you've heard me say in the last few episodes), that 2017 was strictly a year of sowing for me. Professionally and personally. I did very little intentional reaping last year. That sounds bizarre and not quite accurate because I don't mean to imply that I wasn't blessed in 2017. I'm like you. Blessed every single day. What I do mean to say is that I set up 2017 to be a year where I wouldn't intentionally harvest any more than necessary because I was so convicted in my belief to sow. And to sow with tremendous intentions.
Like you, I can't quite disconnect my personal from my professional. Nobody can. That's a big reason why my work is turning toward The Peer Advantage (my business podcast title). I know CEO's and business owners wrestle with many things that impact their businesses. But they're personal things. Things they can't really talk about with anybody who can serve them without an agenda. Whether you're an employer or an employee, your work and personal life are intertwined. Some days it's hard to distinguish where one ends and the other begins. They just seem to weave in and out of one another.
I'm ready personally to grow LTW. That's never been the intention. I even said so in the last episode. I was being honest in that I'm not too concerned with how many people listen or pay attention. Growth for me is first measured in IMPACT, not the size of the audience. But growth does include audience size. A little bit. I mean, if LTW is having any positive influence on you, why wouldn't I want to spread that influence? I'm not trying to limit people helped, served or entertained — even though I am mostly interested in finding ways to go deeper with my existing audience.
My professional work and my personal life enjoy the same focus really. The following photos best illustrate it. Two words best describe it: connection and collaboration. The first photo is connection. It's vital. Necessary. Meaningful. But it's not always deep.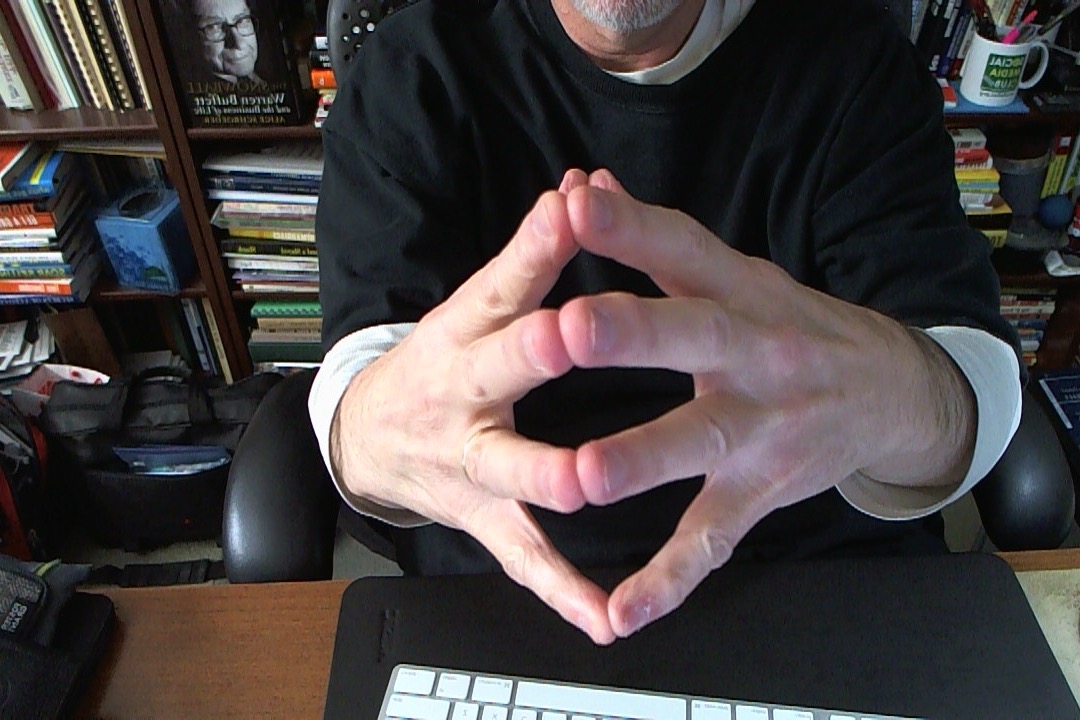 Collaboration is deeper. More meaningful. Involves more contact that mere connection.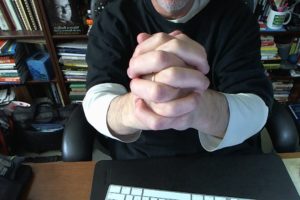 Not everybody wants connection. And of the people who want connection, not everybody wants collaboration. Some of us though, we want deeper connections: collaboration. That means we have to first connect, then work our way toward something more.
This is why I've long said if given the choice between door number 1 and door number 2, where behind door 1 are 300 people I can spend 3 hours with and where behind door 2 are 6 people I can spend 3 hours with — I'm rushing through door 2. Not because I'm disinterested in connection, but connection has a purpose for me. It's not merely about you knowing me or me knowing you. It's about a relationship. That may not mean we do business together. Or that we forge some deep friendship. But it means we both find a way (or ways) to serve and help each other. I call that collaboration and use it even in a loose sense.
That's the goal professionally and personally.
So Where Do We Go From Here?
Again, this is where you come in. I can't do this alone. Well, I suppose I could, but I don't want to – and frankly, there's not much fun in it. So let me end by asking you some questions that you can use for the comments section of the survey.
What can I do to make you look forward to each episode more?
What can I do to make each episode more valuable to you (value can be entertaining or whatever else you value)?
What can I do to make each episode provoke you to think more…and hopefully to act? Yes, that's my always my secret-not-always-stated "call to action."
What can I do to attract more listeners in the hopes more people will engage, and be impacted?
Let me end by thanking you for listening. Many of you have been "with me" for a long, long time. Without you, I'm just talking to myself. So thanks for preventing me from doing that. Thanks for keeping me company as I stroll through the forests, deserts and beaches in our joint quest to lean toward wisdom.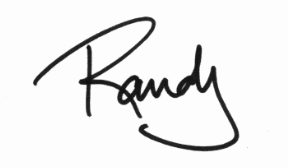 How Can You Help The Podcast?
Leave us a review at iTunes
Pick your favorite way to support us financially
Join the conversation at our Facebook group
Tell your friends. Promote the shows on social media.