Podcast: Play in new window | Download
Subscribe: Apple Podcasts | Android | Email | RSS | More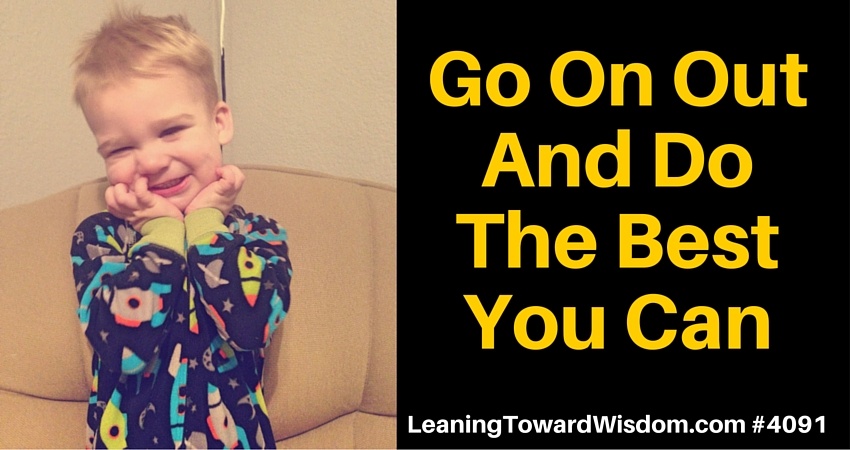 All you can do is all you can do.
"The scientific nature of the ordinary man is to go on out and do the best you can."   -John Prine
I'm an ordinary man. Very ordinary. Don't mock me. You're ordinary, too. That's not a bad thing. Not doing our best is a bad thing, but today we're going to work on that. That's right. Today we're going to try to fix that. At least for a little while. Who can be sure if it'll stick or not. I mean, that's the weird thing about inspiration. It doesn't last long. An hour from now you'll likely have already lost any traction I hope to help give you. If you're really tenacious and determined…you might be engaged with your new found inspiration from today's show for 4 hours. After that, it's like hydrocodone…you'll need a new dose.
That little kid in that graphic is my grandson. One of them. Cute, isn't he? I used him for today's episode for one big reason. Okay, two if you count his cuteness (and I do). The other reason is because he's just one representative of the most important people on the planet to me. You've got people like him. I hope you're blessed to have some little people like him. But if not, you've got some older people who matter a great deal to you. That's important to the show today because it's about us doing the best we can. It's really about why we go out and do our best. And why we sometimes fail to do our best.
You know what happens. It happens to you. Regularly. Just like it happens to me.
We lose focus. Our concentration slips. Selfishness kicks in. We forget these people who matter the most to us. Foolish choices – self-centered decisions – bring about bad behavior. Sometimes, shameful behavior. We don't do our best. Instead we do our worst only recognizing our foolishness after the fact.
We focus only on ourselves and even though we may be surrounded by people we love – and who love us – we're lonely in that moment of our stupidity. Not doing our best.
"Ain't hurtin' nobody," is a far cry from doing our best. Foolishness makes us consider it synonymous, but we all know better. The dad who hits the bar after work says it. Tell that to the wife and kids waiting at home. The mom who has to go out twice a week with the girls to party while some teenager baby sits the kids. Just two examples of failure to do our best by and for the people we claim to love.
Oh, you're wanting to focus on doing our best when it comes to accomplishments? No, that's not the point. Not today. See, we're ordinary people doing ordinary things. Sure, we're pretty good at some things. Not so good at other things. This isn't about excellence. Or proficiency. It's about living our daily lives and doing the best we can.
I'm presupposing that you're not world-class at anything. That's okay. We can't all be world-class. Doesn't mean we can't do our best.
That little boy up there doesn't care if I'm world-class or not. Fact is, he wouldn't know the difference anyway. Think about the world's best anything. Go ahead. Think about it. What you thinking about? An athlete? A doctor? A scientist? An artist? A musician? It doesn't matter. That person can be esteemed highly by society and everybody in the world, but back home some little face may not see it. The little face may just be constantly disappointed while the world looks on with admiration. Is that being the best a person can be?
There are too many days that I've been a bad boy. I've not done the best I can. Neglect. Procrastination. Avoidance. These are some of the biggest distractions we suffer.
We can tell ourselves that we're going to do better. Tomorrow. Or even later today.
But when the day is done, we've been a bad boy again. It becomes our way of life. A habit.
Failing to do our best is every bit the habit that doing our best is. Only worse. Much worse. The inertia has a direction. We're the captain, setting sails. Steering the rudder. It just doesn't feel like we're the captain. It feels like other people are. Or our circumstances are. Or our upbringing. Our best isn't possible because we've got too many people and too many things hindering us. At least that's what we sometimes tell ourselves because we enjoy excuses. It makes us feel like a victim. Things are beyond our control. That way we're not responsible. It's random luck – in our case, bad luck.
We're not ready to let go of the constraints, the distractions. We grow comfortable with our complacency. Do you ever wonder what it's going to take for you to get ready to give it up and start doing the best you can? Yeah, me, too.
The best – our best – is hard to compute. Knowing what we want to hang onto is much easier. And in the moment, it feels more comfortable than being challenged to improve to do our best.
Sometimes I hear a voice in my head saying, "I'm not ready." What it take to be ready? What do we need to do get ready? What's it going to take to figure things out?
Time alone helps. For awhile. Self-awareness requires time spent with ourselves. It's really not just time though. Intentional, purposeful time thinking about our life, abilities, challenges, opportunities and relationships is way more than just spending time alone with our thoughts. Most of us aren't in the habit of doing that. We're far more habitual about worrying and fretting. I'm suggesting we stop doing that. It doesn't help us. Whatever pleasure we get feeling sorry for ourselves is short-lived. Instead, set aside some time to think about, and write.
Write down what's going well in your life. List what you're thankful for – gratitude is something we can all incorporate more into our lives. I'm starting with the good because it's counter to how we usually operate. We jump straight to the problems, the worry points. Don't. Instead, focus on the upsides of your life. Embrace it for a good long while. Dwell on it.
I've found it helpful to not confuse alone time. If you've spent 30 minutes or more embracing gratitude and concentrating on what's going well in your life…avoid jumping straight to something else. Either keep going with those good vibes or end your time alone to do something else. I've found it ruins the work I've done to jump straight to thinking about my problems. Table that. Resist.
Don't rob yourself of the benefits of holding in your head all that good work you've just done – work to focus on the things going well. Just because your time alone session is over doesn't mean you're not going to benefit from the work. It's an investment in being your best. Like any investment account that delivers a return, your time dwelling on the good stuff will continue long after this session. The more often – and the longer we can hold a good thought, the more habitual it can be for us to think in ways that can fuel our improvement.
Confidence is a major benefit of this practice. Not just confidence in ourselves, but confidence in our lives. I'm not discounting skill or even luck, but in most things – not in everything, of course (like things very technical, or athletic) – inner strength or confidence makes an enormous impact on our best. Belief doesn't change until we put in the work. It takes more than some cute phrases written on our bathroom mirror, or some self-help audio.
Holding these thoughts – these truths – of what's working well in our life (even if it's things that don't seem entirely like our own doing) gives us strength. For example, my relationship with my wife is a top tier positive thing in my life. I don't really think of my marriage, or my wife, as an accomplishment – even though it sort of is. But thinking of how grateful I am to have her can't help, but make me stronger! And the more I think about how grateful I am for her, the more thankful I am for her. That's how these things work. Hold those good thoughts and you'll fuel having more of them. I guarantee you'll become stronger if you adopt this habit.
I know you're anxious to jump to your problems because you think by dwelling on those you'll figure out better solutions. If that's true, then why hasn't it always worked in the past? Because obsessing about problems doesn't often help us figure them out. That's why when we physically and mentally go somewhere else we experience some breakthrough thought. "I get my best ideas in the shower," is a common refrain. I don't know if it's true or not, but it's such a staple idea we all know what it means. It means when we stopped thinking about the problem, the solution came – or came to us more easily.
Of course, many of us think about our problems in the context of wishing things were better. Or feeling sorry for ourselves. Or moaning about our situation. Self-pity isn't a solid solution for doing our best. "He's a world-class complainer" isn't exactly what we hope others will say about us. I know some world-class complainers. They seem to enjoy it, but they're not fun to be around. Neither are you when you embrace the crutch of feeling sorry for yourself. It's a ridiculously selfish behavior, too. You scream at the world, "Look at me. Feel sorry for me." Some will. Most won't. Because we're all busy with our lives and trying to figure out our own problems. You think I don't have enough of my own that I need to know all the details of yours?
That's not productive toward doing our best. What can be productive is thinking about solutions. I know, it's much harder to do. Which is probably why most of us don't do it as often as we should. It's just easier to dwell on what's broken than to think of how to best fix it. So we start wishing and thinking "what if?" thoughts. We say to ourselves how wonderful it would be if this spectacular thing would happen, or if that thing would suddenly come our way. Suddenly our problem isn't being considered in the light of a real-world solution. Instead, we've embraced hoping something good would land in our lap.
I'm not using hope as the opposite of hopelessness. I'm using it in the sense of wishful thinking, that passive activity that occupies so much of our lives in the place of putting in the work.
Now it's time to get our brains engaged with ideas of what we can do to fix what ails us. But first, let's inventory what we've done up to this point to fix the problem. We want to do our best, but we're not doing our best. So what are we doing? What have we done so far to remedy this?
I don't care how systematic you are with this process. The value is going through the process! The process centers on first taking inventory of what you've tried so far because it hasn't worked. If it had you wouldn't still have the problem. By seeing what you've tried you're now open to consider what you've yet to try. Consider possibilities because that's all they are at this point. Until you try them, they're all possibilities. Don't talk yourself out of anything. Or into anything. Write them down. All of them. The things you've yet to try.
There's no way to know which one will work. Or which one might work best. This much is likely though – by trying something different you'll improve. Even if it doesn't work you'll learn something. This is about doing your best. The only way to find that is by trying things until you figure it out. Maybe it'll work. Maybe not.
Remember, this is about going out and doing the best we can. It's not about doing better than somebody else. Or about finding wild success. You can't likely control those — and many other things. You can control your effort. You can control how hard you work at doing your best.
You know I'm a hockey fan and we're now down to the final 4 teams – the Eastern Conference Finals and the Western Conference Finals. Each team has the talent to win the Stanley Cup. Only one team will win though. And it won't be because of the X's and O's of the game plan. They've all got a solid game plan in place or they wouldn't have made it this far. We're way past the competence phase of the game. Now, it gets down to more basic, fundamental things like fitness, health and will. You'll hear these NHL coaches talk about their team's effort.
Effort.
They don't just focus on that because it sounds good. They do it because it's true. And because they know it's the one thing that separates winning from losing — and because they know each player can control it. Players can't control lucky or unlucky bounces of the puck. Puck luck happens — just like all other forms of luck. Teams don't rely on puck luck to win the Stanley Cup though. Instead, they rely on all their experience, training and skill. Mostly, they rely on their own determination and will. They know if they out work the other team they'll likely find success. Along the way, they'll wrestle with confidence ebbs and flows, but if they persist in giving it all they've got…their confidence will find a height sufficient to play their best.
When you start to seriously, intentionally survey your life's performance examine your actions in light of three simple statements – each of them consisting of 2 words each:
I can.
I will.
I do.
That's how you'll find your path to do the best you can.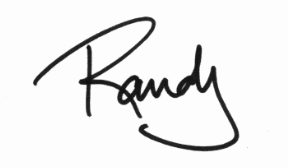 How Can You Help The Podcast?
Leave us a review at iTunes
Pick your favorite way to support us financially
Join the conversation at our Facebook group
Tell your friends. Promote the shows on social media.