Podcast: Play in new window | Download
Subscribe: Apple Podcasts | Android | Email | RSS | More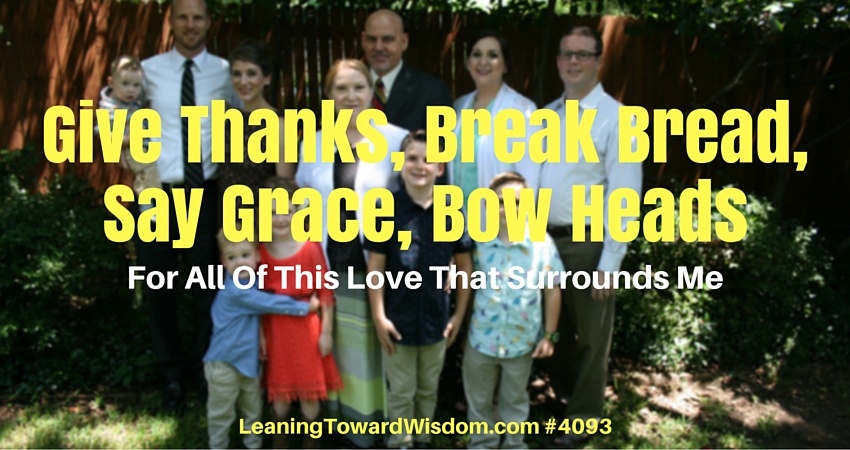 Some weeks ago over at the private Facebook group – you should join…just visit Facebook.com/groups/LeaningTowardWisdom – I asked people to vote on this question: Which word best describes your life…right now?
The choices were grateful, energized, anxious, calm, fulfilled, frustrated and depressed. Grateful was #1. Energized was #2. Anxious was #3.
Nobody who took the poll was frustrated or depressed. That's good. Maybe it speaks to the mental health of LTW listeners. I would hope. 😉
I wish I could figure out why it's so stinking easy to focus on what we don't have. Or on what we've lost. Am I overly cynical when I disbelieve people who say they have no difficulty moving past failures or loss? I just don't buy it because I can't imagine it. I'm an habitual over-thinker. The harder I try not to be, the worse it gets.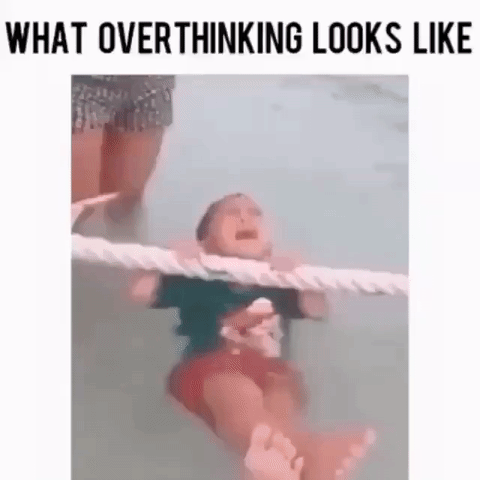 I'm posting this gif I found a few weeks ago. It made me laugh out loud. I shared it with some buddies who lament their own struggles with over-thinking. Admittedly, it drove home the point.
Sadly, if you're the little kid holding the rope — it's not so funny. And I wonder if it really is over-thinking or is it that he has no idea he's in shallow water, fully able to put his feet down and stand up?
Fears can overwhelm us. Desperation, too. Loss is a universal sensation. Why else would there be so many songs written about it? Or poems? Or books?
I'm supposing it's largely because loss and failure are more prevalent than gain and success. Even winners know what losing feels like.
I don't know where broken dreams go, but a hole in the moonlight sounds about right. "What can the matter be? What can I do? A hole in the moonlight where all my dreams fell through."
Boy, can we stare at that hole, huh? The moonlight? What moonlight? All we see is the hole!
I'm happy – grateful even – that some of you who took my little poll said the word that best describes your life right now is GRATEFUL. That means you're not overly focused on the hole. Or it could mean you're a pack of liars, but I choose to think better of you than that. After all, you listen to this podcast so you're smarter than the average bears.
Gratitude and thankfulness deserve more above the fold attention than they get. I'm not sure why they get buried in the footnotes, but maybe it's like parents who only see the D on the report card filled with lots of A's and B's. It could be a turd in the snow phenomenon. It's just too easy to see. Once you see it you can't help but focus on it. Maybe.
I know this. Lack of gratitude robs us. When we lose our willingness to be thankful we're not made better. Looking at others doesn't help matters. As I drive my old car with 108,000 miles on it and I see you cruise past in your new, shiny Telsa I feel like such a loser. I go home to my 34 year old house after passing by that new, clean neighborhood with brand new houses, filled with all the latest technology and energy efficiency. And I feel jealous.
I'm human. You are, too. That's as good an explanation as I can offer. That's why we so easily spot people better off than us. And why we avoid looking at those less fortunate than us. Who wants to look at people who don't have what we most want? No, we want to emulate people doing better than us. People who are better than us. Or we think they are. Besides, it's so easy to do because there are so many of them. Doesn't it feel like everybody is doing better than you? Why is that?
Statistically it's not true. Surely we're all smart enough to know that. According to the Daily Mail you need just $34K in annual income to be considered among the world's elite. According to the BBC the average income in the world is nearing $10,000. You're thinking what I'm thinking. Yeah, so what?
Do I compare my nice 34 year old home to people living in huts with dirt floors? Of course not. I'm not an idiot. I can't relate to those people.
What about the people who live in areas of the world where all they've known is war and conflict? I've never lived where warfare was going on. It's something I could only imagine and I don't use my imagination for such things.
Then there's food and water – those bare necessities of life. When I think about what I'm going to eat I head to the walk-in pantry and the refrigerator. If I don't see what I want, then I head to the neighborhood Wal-Mart and buy what I want. Or I go pick something up at a nearby food joint. Never once have I got up in the morning, sharpened my knife and headed into the bush to find some critter so I could feed my family.
Water? I actually counted the points of access at my house. There are 3 outside faucets. There are four outlets in the master bedroom if you count the shower head and the tub. There are four more in another bathroom. Two in the kitchen, not counting the ice maker source for water. Two more in another bathroom. That's 15, not counting the water coming into the toilet tanks. And let's not forget indoor plumbing where bathroom chores are taken for granted.
I've seen photos of women in parts of the world who go to some river, fill big jars with water and carry them back – sometimes great distances – to their village. Let's not get hung up in how clean the water is – or I should say, how unclean it is. My water is clean, sanitized by the city where I live.
If there's a medical emergency, we can all 9-1-1 and the city fire department will arrive within minutes. Nobody has to run barefooted for miles searching for somebody who may have a bit of medical know-how by virtue of having seen a host of problems. Medical professionals will arrive at my house.
If some intruder enters my house to threaten my family or my possessions, I can call 9-1-1 and the police will arrive to help me. The only time I don't take the cops for granted is when they're tailing me, making me nervous that I may get a ticket.
Welcome to life here in America. Land of the free, home of the brave. Okay, maybe once we were more free. We were certainly once far braver. Good thing bravery isn't so necessary today, huh? How brave do you have to be to live like we live?
I don't know exactly where you live, but I'm betting you're living a pretty dandy life compared to most of the world. Like me, you're not comparing your life to most of the world though. That's what negatively impacts our gratitude. It's also what fuels our jealousy and covetousness.
That's why today I'm choosing to focus on the lyrics of that opening song. Give thanks. Break bread. Say grace. Bow heads. It's not a bad 4-step process for embracing gratitude.
True confession. Every single time I sit down and begin to really list the things I'm thankful for – either literally, or just in my head – within mere seconds I realize how blessed I am. The wonder of it all is that I can just as quickly stop feeling blessed soon after I stop counting my blessings.
Colossians 4:2 "Continue stedfastly in prayer, watching therein with thanksgiving"
There's little doubt that I don't continue steadfastly enough. Nor do I likely watch enough. And if I fail at those, then of course, that "with thanksgiving" part is equally challenging. I do it when I intentionally think of it. Why don't I intentionally think of that when I see that shiny new Telsa pass me on the highway? Or when I'm driving through that nearby affluent neighborhood?
Because I pay closer attention to what I see. Don't you? Of course. We're all prone to it. The world economy hinges on it. Consumerism. Dissatisfaction with the current stuff. Craving more. Better, newer, fancier. Rarely is it fueled by necessity. Mostly, it's pure desire. Want.
It's not limited to stuff. Our careers suffer from it. So do our accomplishments. In every area. Contentment is seen as weakness. Complacency. Are they the same? Contentment and complacency?
I wonder.
All the noise in the world urges us to never be satisfied. Never stop hustling. Always be chasing!
Stop doing those things and you stop living. You'll just end up a miserable failure. A blob on the planet. Really?
What if that's completely untrue? What if living is really found in just the opposite actions? What if we devoted ourselves to that 4-step plan that serves as the title of today's show: 1) give thanks, 2) break bread, 3) say grace and 4) bow heads. What if that's when we are most alive?
Yeah, but if we do that we won't ever get that Telsa. We'll still be driving our old Honda Accord as it approaches 200,000 miles. And our 34 year old house will quickly become a 40 year old house. That's living? Boy, what will the neighbors think?
BINGO.
What will those Telsa owners say about us as they pass us on the highway? They'll push the button to lower their windows and laugh at us. That's not living. It's embarrassing.
Wait a minute. I don't know that guy driving that Telsa. I've never seen him before. Probably won't ever see him again. So why do I care? I don't know, but I do. Don't you? Of course you do. Admit it. Here we are claiming to lean toward wisdom and we're as shallow as a kiddie pool. Pitiful, isn't it?
And what about that sub-title to the show: "for all this love that surrounds me?" Mr. Telsa Driver ain't part of that group. He's not within a galaxy of the love that surrounds me. Good for me. Bad for him.
My tribe isn't what Seth Godin says. It's not followers. Or customers. Or people who hang on my every word. Sometimes members of my tribe pay no attention to me at all because they see me so frequently. They know me so well. They do with me what I do with them – take me for granted. We all do it. We love people. They love us back. They so surround us we sometimes take them for granted. We don't consider life without them because they're that important to us. My tribe is those 10 people around me in that picture at the top of the show notes. Half of those people – five of them – are little people who aren't even out of grade school yet.
Four of the grand kids are in the swimming pool in my backyard right now. Well, 3 of them are. Easton is shying away from the water. The rest are like frogs – pale, wrinkled little frogs with every floating device in the pool. They've never once wondered why I don't drive a more expensive car. Or why my house isn't newer. Of course, they are glad there's a swimming pool in the summer time. Have you ever been to Texas in the summertime? Who could blame them?
All the people in that photograph – those people who surround me – represent the love that surrounds me. Sure, there are a few other people, too. But these people are family. Sure, I know that even despicable criminals have families that love them, but I'm no criminal. And I want to behave myself (in part) because of these people. For these people. I don't want these people to love me in spite of my poor behavior. I don't want to disappoint these people by being a jerk. Or by being immoral. Or criminal. But I realize that some people who aren't worthy of love still get it from family. Talk about gratitude. If the family of the murderer is surrounded by love, how grateful should he be?
Well, I think family should judge. They should elevate us to be better. We should work hard to avoid letting them down. But if they'll love us even when we misbehave, then it stands to reason they don't much care what kind of car we drive. Or if our clothes came from Target or Neiman-Marcus. It just doesn't matter to these people in my photograph. I'm betting the people in your photos don't much care either. Which leads to the big question…
Then why do we care?
Pride. Ego. Selfishness.
That's why.
Our gratitude has nothing to do with anybody else. We let other people – complete strangers – have command over our thankfulness though. They influence our discontentment. Sometimes it's intentional, but mostly it's not. It just is.
2 Corinthians 10:12 "For we dare not class ourselves or compare ourselves with those who commend themselves. But they, measuring themselves by themselves, and comparing themselves among themselves, are not wise."
Here we sit at Leaning Toward Wisdom, talking about, thinking about, being reminded of — WISDOM. Yet we're busy comparing our lives with others. Sometimes complete strangers. Or people who really don't matter much. Unimportant people in our lives. It happens to all of us.
In the past months professionally I've let people I've not known very long impact my life negatively. Talk about ridiculously stupid. People who don't love me – they don't know me well enough to love me. Maybe they know me well enough to hate me. So why would it matter to me?
There are times it does matter. Then there are other times when I gather my wits about me and make up my mind that it won't matter. That's why they grow threatening and heavy-handed. It's what people do when we don't do what they think we should do, or when we don't give them what they want. Funny, huh? They care about us when there's something we can do for them…or something we will do for them. But when we do what we know is in our best interests, and it doesn't exclusively fit what helps them — they grow increasingly critical. That doesn't happen with the people who love us. They stay surrounded around us because they care about us, and we care about them. We serve each other. That mutual service overpowers false observations.
Head. Heart. We need both if we're going to be truly grateful. When I sit down to count my blessings I'm consciously thinking of the things I'm most thankful for. Head stuff. But not entirely. Why am I thankful for these things? Why aren't possessions at the top of the list? Because the heart is involved, too. Emotions. Feelings. Fueled by an intuitive knowledge of what really matters!
Your heart over-rides your head when you let jealousy, envy, self-doubt and fear enter your life. Head noise can get the best of us. It often does.
A moment. That's all it takes to distract us from being thankful. We start thinking of our want. Lack, failure, inadequacies, deficiencies and all the other short-comings in our life push and shove their way to the forefront of our mind where they can hog all the spotlight. Like a world-class diva our discontentment bosses around our gratitude, telling it to get lost. And gratitude is intimidated, obeying. Until we stop long enough to really think about what's happening. Diva discontentment is easy. Gratitude is hard.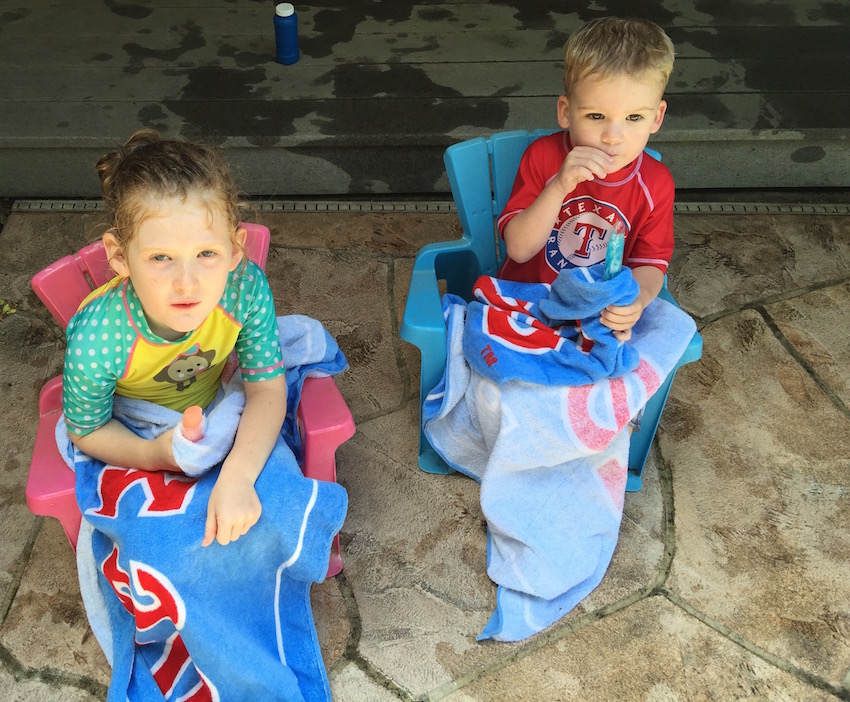 Today is the day. This is the day you're going to embrace gratitude and make it a priority.
Open your eyes. Look around at the people you love. And who love you. There they are. Sitting right beside you while you listen to me. Laying in bed next to you. Swimming in that pool in your backyard. Eating popsicles out of your freezer on a hot Texas summer Saturday afternoon.
I imagine we could add to the list sung about in the opening song, but why bother. It's a pretty good list.
Give thanks.
Break bread.
Say grace.
Bow heads.
Count your blessings. Share a meal and company. Thank God. Bow your head when you do. And keep your head bowed in humility, and in recognition of how blessed you are to have the people you do, the opportunities you do — and even for that old car and house. It's not a house. It's home.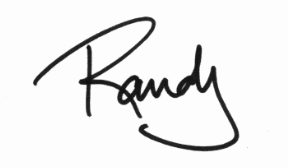 How Can You Help The Podcast?
Leave us a review at iTunes
Pick your favorite way to support us financially
Join the conversation at our Facebook group
Tell your friends. Promote the shows on social media.