Podcast: Play in new window | Download
Subscribe: Apple Podcasts | Android | Email | RSS | More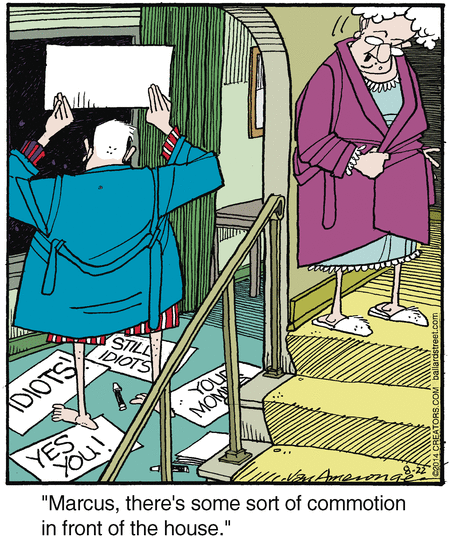 Ask Rhonda. I'm prone to cause commotions. Armed with markers and poster board, I can create quite an assault on the neighborhood. Especially drivers who don't belong in our neck of the woods.
Surrounded by ninnies is my lot in life. But I've talked about that enough…for now.
Today's show is the final Friday of the month so it's Free Form Friday. Here's just a snippet of what you can expect to hear:
I'm sick of positivity. I'm pretty positive it's killing us all.
Luck, fortune, the Law of Attraction and The Secret
"You can be anything you want to be" – the big lie
Control, something we all want more of, but something we should probably be thankful we lack.
Pitching, selling and marketing of empty promises
SaltyDroid.info is the anti-Internet marketing guy. Warning, he's profane!
Average is average because it's how most of us are defined.
My freshman economic professor taught us all how to retire as millionaires.
The secret formula for high dollar Internet marketing info products
How to be an expert about anything
People don't read books
How many people are going to achieve extraordinary success?
If a teacher teaches 7,500 kids over the course of a career, how many of them will be remarkable?
What's wrong with not being special?
Not getting into MIT ruined my life
"Everybody is a genius. But if you judge a fish by its ability to climb a tree, it will live its whole life believing that it is stupid." -Albert Einstein
No, Albert. Every isn't a genius!
Kindred Spirits: Harvard Business School's Extraordinary Class of 1949 and How They Transformed American Business by David Callahan
David and Goliath: Underdogs, Misfits, and the Art of Battling Giants by Malcolm Gladwell
Your life is a colossal failure if you can't reach millionaire status. No, you're a failure if you can't hit a BILLION.
It's Labor Day Weekend here in America. We take time off, go the lake and do anything but labor on Labor Day. That's how we roll.
Thanks to Jim Collison and Dave Jackson of Ask The Podcast Coach for complimenting this podcast.
Snarkiness is the fuel of life (that and Dr. Pepper)
West Nile is in the air. Well, the mosquitos that carry it are.
Saying, "I love you" to your kids
Land, ho!
Be safe this weekend as you neglect to do any meaningful work! Happy Labor Day Weekend!