Podcast: Play in new window | Download
Subscribe: Apple Podcasts | Android | Email | RSS | More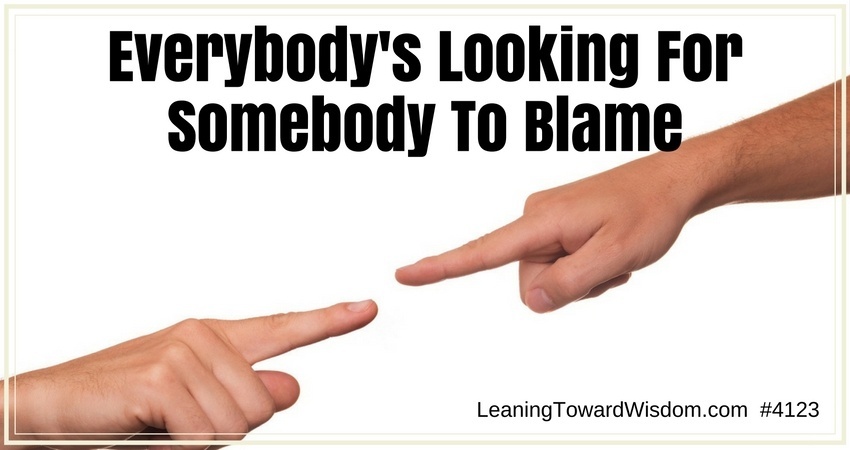 Why is accepting responsibility so difficult?
What is it about us that makes us crave the feeling we get when we assign our failures to somebody else?
Why is our lunacy driven to find somebody or something to blame…when the culprit is always looking at us whenever we stand in front of a mirror?
If you think we'll answer those questions in this episode, then you've grossly overestimated my powers. 😀
I can promise to provoke you to think and more carefully consider what you may be doing to yourself – how you may be sabotaging your success by working too hard to find an excuse when you could be working hard to learn. And grow.
The holiday season brings on tensions that may have been laying dormant all year long. Until now. Some family members start putting on pressure. They want certain things to happen and begin working to make their wishes come true. The problem is, they need other family members to comply with their wishes. And frequently, they'll do whatever is necessary to get the desired outcome. Subtle impositions become full-blown pressure-filled tactics that incorporate every passive-aggressive behavior possible. It's all about getting what they want, or feel they need.
I wonder how many hours of conversations are happening right now among friends and family who are anguished about the pressure they're feeling to do something they don't want to do. People unable to make their own choices because they just can't say, "No." People worried about hurting somebody's feelings. People getting worked up because they can't possibly please everybody, and they feel stuck in the middle. People who consistently sacrifice their own wishes. And who still lose.
Holiday cheer often morphs into holiday jeer. Just when you think things can get worse, then the finger pointing starts. Hello, a new low!
This isn't restricted to holiday tension among families though. And it's honestly not about that. It's not even so much about blaming as it is a word I've grown to really hate. Well, mostly I hate the action, not the word.
IMPOSITIONS
I confess to having a pet peeve against impositions. First, let's define the term so we're all on the same page.
the laying on of something as a burden or obligation
Now let's be completely honest and fair. We've all been guilty of imposing on other people. Because we can all be selfish and focused entirely on what we want. Sometimes. Maybe a lot of the times. Some among us are masters of the imposition…easily imposing on just about everybody in our life. Mostly without caring too much because we're so focused on what we want that we lack empathy for others. I certainly hope you're not one of those people. But I'll bet you've got somebody like that in your life, or you have had!
Don't cross oceans for people who wouldn't jump a puddle for you.
Let's cut to the chase and I'll tell you what's on my mind. Two people. Two generic people representing both sides of the same coin.
One is the imposer, always forcing themselves into your life. You know the type. The one constantly telling you what to do. Or the one urging you to do something they'd like you to do. Often because they think it'll be good for you. Don't you see? They're looking out for you. The problem is they can't very well manage their own life, much less yours. But still they try.
This person employs passive-aggressive tactics to manipulate you to do what they'd like you to do. No matter what's said, or done, they'll circle things back around to them because it's always about them. You're merely a puppet in their play and controlling you is the script.
The other person is the person who allows the imposer a target. Namely, it's everybody else. These people run the range because mostly, they're people who want to avoid conflict, want to get along and want to be kind. In short, the imposer knows who to target and who to avoid. They impose on people willing to let them impose. It's how they feed the beast. The other person contributes to the cause, and hates it – but is often stuck, feeling ill at ease and uncertain how to stand their ground. Mostly, these folks find it easier to simply allow the imposer to get their way.
If you don't correct them when they upset you, they will never learn how to treat you right.
Both people are blaming somebody.
The imposer blames people who won't go along with their impositions. They also blame the people who stand their ground and refuse to be imposed on.
If these people would simply comply and go along with their wishes, then their wildest dreams would come true. Their lives can become wrecked when others don't allow the imposition. They had it all worked out and now these people won't go along. It's just a mess for them now. And they will come out fighting.
Depending on the depth of their narcissism, they won't go quietly. They can't. It's all about them and fading into the background just isn't something they tend to do. They have to be shoved to the background, but they know who they can shove around. And they also know who may shove back. Hint: if your life is impacted by an imposer then congratulations! You've not yet shown them that you're capable or willing to do some shoving. So that's the role they'll serve in your life until you get tired of it.
The person imposed on blames the imposer. If they'd just leave me alone. If only they'd not involve me in their drama. Their life would also be better if not for the imposer.
Are you seeing a common denominator here? A pattern?
Sure. Both people behave very differently, but they're both unwilling to accept personal responsibility for their own outcomes. They may be coming from completely different places, but they arrive at the very same place. A place where they're finding somebody else to blame.
There's the fact. The truth.
Pogo's creator Walt Kelly first penned the sentence in 1971 that has come to define so many situations.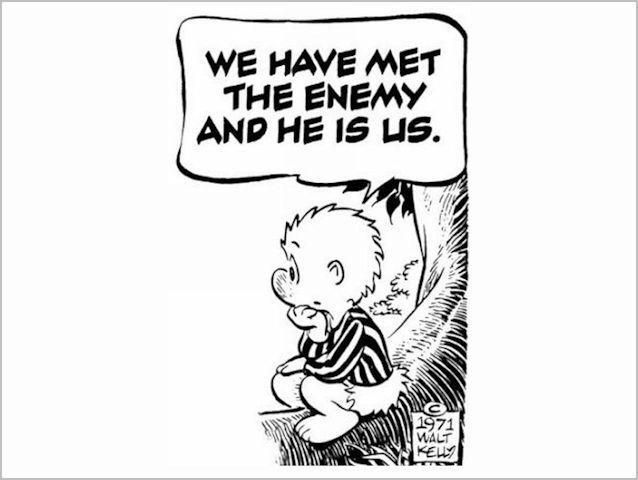 There's so much truth in what Walt wrote just 2 years before his death in 1973. You know I have a fondness for cartoonists. Pogo was right. Most often we already know who to blame, but it's not somebody else. It's us. But facing that reality is too difficult. Sometimes. Maybe all the time.
Far easier to point the finger at somebody else. 
Right about now let's shift the conversation to fixes. Our society has lost its collective mind in blaming people, situations, organizations, governments, and anything or anybody else. Personal responsibility and accountability are highly unpopular, but that's because we're surrounded by ninnies. Those of us committed to wisdom are doing our best (okay, sometimes we're not doing quite our best, but we're still focused on doing something about our plight) to lean away from foolishness. So in the spirit of this podcast let's direct our attention to what's possible if we're one of the people involved in the imposer dilemma.
You, yes you! The imposer.
Stop it. Stop thinking everybody owes you something. Approval. Praise. Adoration. Compliance. Agreement. Time. Attention. Conversation.
Try earning it for a change instead of expecting it just because you need it. And try remembering that you may be the center of your own universe, but you're not the center of anybody else's. Get over yourself.
I get that fears drive you. They can drive all of us. Unfortunately, your fears drive you to hurt others, not just yourself. All these impositions you make every single day just fuel your own self-centeredness and they wreck the lives of people around you. If that's your intent, then keep it up. You're doing great!
But if you don't intend to make everybody around you miserable, then let me suggest you do a few things. One, starting right now don't ask anybody for anything. That's right. Stop asking people to do things. That involves talking to you, going out to eat a meal with you, helping you with a chore, picking you up, dropping you off…NOTHING. For the next few days (at least) stop asking anything of anybody. Be self-sufficient.
If you're out and about with friends, don't suggest something to do, or someplace to go. Instead, just go along with whatever the group or the other person prefers.
This will feel like it's going to kill you. Because you've got strong opinions. About everything. During this "quiet time," squelch your opinions. Keep them to yourself. You won't be able to stop it entirely because you're weak. But you can still try. Then try harder. Catch yourself every time you're inclined to speak up. Warning: you'll be catching yourself every few seconds (minutes, at the longest). You do this constantly. You're just not aware of it because it's how you live your life. We all see it, but you're the ninnie here. This is our attempt to bring you over to the light!
Next, read a book. Pick one. I'll make a suggestion of one: Why Is It Always About You? The Seven Deadly Sins Of Narcissism by Sandy Hotchkiss. Pick some book to read. Now for the challenging part. Read it with YOU in mind. Don't read it pointing fingers at anybody else. Read it as though you were looking into the mirror, staring right into your own eyes. No, you won't likely see it at first, but if you'll keep looking and carefully consider your habits…the picture will soon become quite clear.
DISCLAIMER: Nothing will work if you're unwilling to put in the effort to improve yourself. And if you need professional or clinical help, then get it. I'm not a doctor so I'm not diagnosing any illness. I'm only discussing the selfish behavior of rude people who pose as being very sweet, nice and giving…but who are actually tyrants who impose their will on everybody around them. 
You're going to be tempted right off the bat to confront friends and ask, "I don't do this, do I?" That's your passive-aggressive nature. To ask questions in a way that shifts the blame on somebody else. Or to remind people that you've apologized for some transgression, then beating them over the head with, "What more can I do? Please tell me what I can do to make it right?" Again, it's your way of finger pointing so you can make sure you've got the white hat on at all times. Never mind that you're a first-class villain fooling nobody who is close enough to really know you. You're only fooling the people who don't know you so well. They don't count.
Remember, if you ask anybody to comment about YOU, then you're failing to complete the first step of NOT imposing on anybody for a period of time. Ask nothing. Of anybody. About anything. Part of this is a test to see if you'll even try to do it. The other part is to see if you can. Frankly, I'm betting against both because I know how you roll. You're just too self-absorbed to even try because it's easier to think you're great and everybody else is so mean to you!
But for the select few of you out there who may really want to improve (I'm hoping there's at least one), then congratulations! I'm honestly quite proud of you for giving this a go. Now I need to confess that I'm not a person prone to think therapy is the remedy for every condition, situation or challenge. Some choose to go there first. I don't. I choose to lean on our responsibility to man up (or lady up) and face our problems. But it's not lost on me that sometimes people need professional help. I've talked about this before so I must encourage you to consider it if you feel the need. Or if friends have sat you down and performed an intervention because you're making everybody's life miserable. There could possibly be some other signs that would indicate you need professional help to lift the burden of your own narcissistic habits.
Stop blaming others. Don't blame your parents. Don't blame your family. Don't blame your friends. Remember, look into the mirror. Get therapy if you want to dig up the reasons why you're a pain in the butt. Just know that you are. A pain in the butt. And be motivated to stop being a pain so you can be a better person. A person who isn't always imposing on others who simply want to live their lives in peace. Without you constantly pushing them to do what you want them to do.
I'm intentionally not showing you any sympathy because you don't deserve it. It wouldn't help you anyway. You'd just hear it as more attention, which is not what I want to give you. I'd rather help you lean toward wisdom so you can stop being a narcissistic ninnie.
THE IMPOSED UPON
Yep, you're a ninnie, too. Mostly because you still haven't gone back to listen to episode 4121 about drawing a circle in the sand around the things that matter to you.
You should go out right now and buy Dr. Henry Cloud's book, Boundaries: When to Say Yes, How to Say No To Take Control of Your Life. Then read it. And re-read it again. Until you fully get it.
I'm wise enough to realize there's often not a one-size-fits-all approach, but boy some of these things are pretty stinking universal. You want people to like you. You don't want to confront people. You sure don't want anybody to be upset with you or disappointed in you. So you let people impose on you at every turn in hopes they'll be happier because of your compliance. In the meantime, you're losing yourself. Hurting yourself. Sparing others and injuring yourself. Robbing yourself of energy you need to serve people you love and care about. Because you're busy being abused by the imposers.
For starters, let me remind you – or alert you if you've not been aware of this until now – that other people aren't thinking of you nearly as much as you may think. We've all got plenty of things occupying our minds. We've got all our own insecurities and head trash. You're fretting over me liking you and truth is, I'm busy thinking about myself to be too worried about how I feel about you. So why not decide to develop a more accurate point of view about how others are behaving. Stop making it about you. That makes you more like the imposer than you're comfortable with, right? Well, there you go. All the more reason to stop thinking the way you're thinking.
Now question yourself. Question your thinking. Question your emotions. Stop and look carefully to see if they're mostly in your mind. Be honest. If you are, you'll quickly (or not) discover they're how you decided or choose to think or feel. You're fretting about something that you generated in your mind. Likely, your imagination. You imagine things to be a certain way and suddenly, that's how they are. You're convinced of it. Rather than be convinced of it, start questioning it.
Forget about being perfect. I know you want things to be just right. You want every interaction with a person to be ideal. You want life to be pristinely perfect. Get over it. Get over yourself. Nothing about life is perfect. It's perfectly messy. And that's fine.
Where your quest for perfection kills you is in how you think others feel about you. Christ was perfect and they killed him. You're not perfect and I doubt anybody is trying to kill you. Some might wish you were dead, but that's different. Making sure people think you're perfect is fool's gold. It's not real, even if you think you've achieved it (and you never do). Truth is, people feel about you based far more on them than on you. Sure, behave like a jerk and people will think you're a jerk. But we're not talking about you being a jerk. We're talking about you simply choosing to live your life and make your own choices without feeling like you've got to please somebody else – namely, the imposer.
Become well acquainted with yourself. Shakespeare's famous line from Hamlet rings true as ever…
This above all: to thine own self be true,
And it must follow, as the night the day,
Thou canst not then be false to any man.
You can't be true to yourself if you don't know yourself. First things first. Get in touch with who and what you are. Discover what you really are and what you really want. And what you need. Your life consists of your relationships, your education, your career, your pastimes and whatever else is in your life – those things inside that circle you've drawn around yourself in the sand. Yes, they're subject to change, but only as you decide to change them. It's not about letting others impose on you. It's about you pursuing what is most important to you.
It's also about being intentional in who you surround yourself with. Not everybody deserves a spot in your life. The people who respect who you are and who appreciate you for who you are, they're likely suitable candidates to be in your life somewhere. But the people you may be trying to hang onto who are constantly imposing on you…you're going to have to ask yourself why you're even interested in letting them have any real estate in your life. Take a close look at the people in your life. What role do they serve that is positive? What role do they serve that's negative? Now make whatever adjustments you must to get people around you who make you better, and people who allow you to make them better. It's not just about being served, it's also about serving others. Hint: you're not serving the imposer when you enable them to continue their bad behavior.
Close profitable friends can and will help you. Lean on them. These should be the people who love you enough to care about you in a way that will challenge you to grow. They don't want to impose on you. Rather, they want you to stand up for yourself because they have your back. They believe in you. Don't shy away from their help.
You're going to have to become your own friend. Maybe you've been so busy trying to get everybody else to like you that you don't even like yourself. Well, you need to get busy fixing that. By better knowing yourself you'll be more equipped to get in touch with what you like and what you'd like to change. This isn't about becoming something you're not, but it's about growing. Improvement. Transformation. GIT.
Your life is about becoming the best you possible. It's a lifelong work with no vacations. We don't often live up to it, but sometimes we do. Be okay with knowing that others may not like you so much — come on, you don't even like yourself some days. Mostly, focus on being okay with yourself. I'm not talking about accepting your destructive or poor behaviors, but I'm talking about the essence of who you are. The strength of wanting to be liked morphs into a weakness that cripples you so you need to see it and deal with it. Don't think that to protect yourself you have to become a jerk. Not true. You're not a jerk and nobody is going to make you become one. But you can't look at standing up for yourself as "being a jerk." That's where you have to shift your viewpoint from incorrect thinking to wisdom. And you have to find a place in your heart where you like yourself no matter how others may feel about you.
Many years ago I read that Jack Welch would often tell executives, "Control your own destiny, or somebody else will." From then to now it's still among my favorite sayings. Mostly because it's so true.
As people search – without effort – to find somebody to blame they also are screaming that they're not in control of their own lives. Somebody else is. The imposer is surrendering to the other people they need to agree with their impositions. Those imposed on are surrendering to the self-centered imposers. Both are blaming the other for the inadequacies of their lives. Both are behaving like ninnies. And we're surrounded by them. Sometimes we even join them.
The truth is, we're to blame. Somebody is to blame. It's us. Pogo was right. So was Jack Welch.
The words are powerful. They're clear. Accurate. Truthful. But until we get the resolve to do something differently our lives are going to go right on being the hot mess they may have always been. The holiday season is a time when I hear more and more of this stuff as families impose on each other, and as tensions and strifes boil over during a time that should be filled with more laughter and good times.
So as you sit down tomorrow to celebrate Thanksgiving here in America, be grateful that you're the captain of your own life and you get to decide who you'll blame, and what changes you'll make. I'm here to encourage you to lean toward wisdom. Encourage others to lean toward wisdom, too.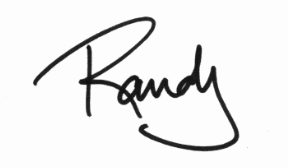 How Can You Help The Podcast?
Leave us a review at iTunes
Pick your favorite way to support us financially
Join the conversation at our Facebook group
Tell your friends. Promote the shows on social media.