Podcast: Play in new window | Download
Subscribe: Apple Podcasts | Android | Email | RSS | More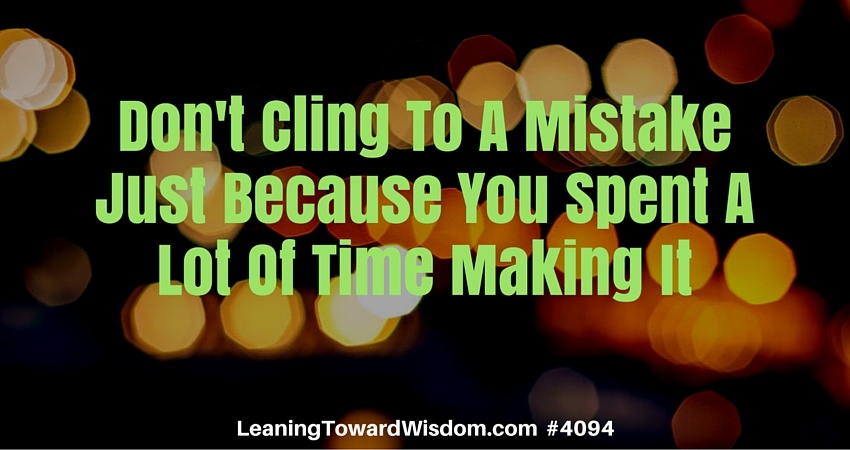 When I was about 18 I started reading books and articles on negotiating. It was the Cold War era. America was in an arm's race with Soviet Russia. Viet Nam was a war more than a country. International negotiations were constantly in the news. Even though I was selling stereo gear while going to school, and negotiating had solid business applications, I was mostly interested in the human dynamic of it – the psychology intrigued me.
One of the first things I learned about negotiating was the need to get the other side invested. The U.S. would sit down with the Soviets and it seemed like the talks would last forever with little progress. Weeks and months would pass, but the talks would continue. Sometimes they'd reach an impasse and walk away for a time, but they'd return to resume talks. News reports focused mainly on the fact that the sides were at an impasse, or breaking off talks, or resuming talks. Rare were the reports where an actual agreement had been reached.
In 1980 I found a book written by experienced negotiator Herb Cohen entitled, "You Can Negotiate Anything." Mr. Cohen had worked for the government and was experienced at high level international negotiations. He's responsible – through the book – of teaching me that you can't just cut to the chase in negotiating. These things take time. By making the other side invest more time in the process, and by making some minor concessions along the way something kicks in that fosters the belief, "I've come this far I may as well keep going." So deadlines come and go. More time passes. Minor points may be conceded. Major points continue to hold things up. It's a grind. A slow-moving slog!
It's happened to you before when you were selling something or buying something. When the negotiation began you went in confident, expecting the price you had in mind. Never mind that the price may have been pulled from thin air. Or maybe it had been properly vetted with tons of research. No matter. You entered pursuit of the transaction with some clear ideas in your head of how you wanted it to go.
At first, you stood your ground. You really wanted to make it happen. Things kept moving…slowly, but moving. The more time passed, the more you wanted to conclude the deal. Your resolve began to wear down because you began to calculate how many hours, days or weeks you had invested. Because the negotiation took so long you were more determined not to walk away empty handed. So you made a deal.
Maybe the deal was a mistake. Maybe not. You may have looked back after the fact and wondered why you spent so much time talking with one prospect who took so much of your time. It's the same sensation we get when we head down a path that we think (and hope) will take us to success…a path we give ourselves to for weeks, months…maybe years!
It makes us hang on too long. Or make bad deals. Or settle for less favorable deals or results. Deep down inside we may even know the present course – or the deal we bought into – was and still is, a mistake. We hang onto it like some important hand hold that will result in saving our life. Fear makes us avoid letting go (that's a topic for another upcoming episode). We refuse to see things for what they may really be – even though our intuition could be screaming at us. Looking into the mirror is hard. We can avoid looking too deeply into it because we know it doesn't lie.
The world – yeah, I know that's awfully generic and seemingly absolute, but it's also true – tries to look at us through their own lens. Seeing is believing. Mirrors never lie.
We can sometimes see others in the mirror, but we're not looking at them. We use mirrors to look at ourselves. They're our perspective tool. Without them we don't see ourselves as we really are – at least physically.
Self-awareness. That's the deal. Some of us have clearer vision than others. Some are completely blind.
I can only speak for myself and relate what I think (I emphasize that word "think" because I'm always checking to make sure I'm close) has worked (and is working) for me. Thoughtful consideration and quietening the noises – external and internal – is paramount for me. Otherwise, there's just too much chaos and confusion. The noise is loud. Or deafening. It distracts me. It makes my self-awareness cloudy. I can start believing other people. Not always – in fact, not often – people who know me well. New people can enter my life who seem to wield too much influence. Do you ever do that? Boy I do. And after all these years you'd think I'd know better, but it just happens. It's not intentional. There's the rub.
I have to be intentional to hold onto my accurate self-awareness. Losing it is always unintentional.
For many years I've known I have two super-powers. Okay, I'm being generous to myself with that moniker – SUPER-POWER. They're my strengths. The things that come very easily for me. I may have more, but my life has focused a great deal on these 2 because they long ago jumped to the forefront.
Empathy
Intuition
Both have served me extremely well. But I confess there have been times when I let them slip. Not because they left me, but because I left them. It's never a wise thing to abandon your super-powers. It's far better to hit the ground running with your strengths. Sometimes, it's like being under fire though — and it's best to hit the ground to protect your super-powers from being diminished by people who'd like to impose their will on you. Or to protect yourself from your own inner critic.
This stuff is important because it speaks to the mistakes we make…and the times we get it wrong. I'm thinking of the times I thought I wanted something, pushed forward with everything I had…only to eventually figure out that I didn't want it after all. Intuition is one of my few super powers. Since I was young I have felt it. As an adult, professionally, I've relied on evidence-based leadership to confirm my intuition. It's positive to make sure we've got it right. My intuition drives me to make sense of things. I often tell people I'm a dot-connector.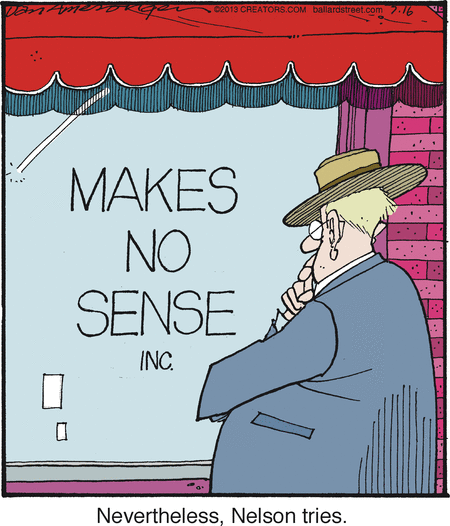 Sometimes there's no sense to it. Just in the past few weeks we've had more scenes of violence, including law enforcement officers here in Dallas who were gunned down during an otherwise peaceful protest downtown. In Nice, France a man drove a big rig truck through a crowd of people killing more than 80. More police officers were ambushed in Baton Rouge. These things – and many others around the world just like them – don't make sense. Sometimes people behave badly.
I continue to press toward making sense of the things in my life. I try to figure things out because deep down inside I'm a problem-solver. Wisdom and experience have taught me that some problems can't be solved. They just have to be endured. But I'm the guy willing to work to exhaustion to figure them out so I can prove they're unsolvable. How do you know until you try? Exactly. So I try. Like Nelson in that cartoon.
It's hard to accomplish this work quickly. Naturally, it depends on the difficulty of the challenge. Or the problem. Or the opportunity. Or what you think is an opportunity.
Greatness takes time. So can discovering something you think may be great — but it's not. I wish I could make short work of it, but it's not always possible. Weeks turn into months, even years before we realize it's a mistake…prompting us to ponder that great question, "What if I knew then what I know now?" Wishful thinking won't make it so.
Thankfully many mistakes are instantly visible. "Ut-oh" moments happen all the time. Maybe most of the time.
No, they're not fun, but they're at least over quickly. Well, to be fair, the mistake can end quickly while the aftermath – the consequences – might linger for a long, long time. I'm thinking of all those failed endeavors chronicled at YouTube where people try something stupid and end up injured. Do you ever watch those and cringe, almost feeling the pain yourself? Yeah, me, too! Some of those people have to spend a few days in the hospital…and maybe months in physical therapy. Then they've still got the psychological injuries, or deficiencies that need attention. Sometimes people behave foolishly.
Then there are those things we chase that seem worthwhile, even valuable. They don't seem so foolish. Their risk is fairly calculated. And we've counted the cost, willing to pay it. The upside seems quite worthwhile so off we go down the road in full pursuit of what will end up being a terrible mistake. At this point, we don't know that though.
Recognizing the signs that it may be a mistake — that's the challenge. And the difficulty.
Gut feel. Spidey senses.
Sometimes they kick in quickly. Other times…not so much. How closely do we pay attention to our gut or spidey senses? It depends.
As I review the times I've gone down Mistake Road for too far, and too long — I realize I felt twinges or saw things that would have served me well if I had only been more in tune with myself. But for some reason I ignored the signs. Not because I'm stupid, but because I romanticized the endeavor. I fell in love with what I thought it would turn out to be instead of facing the reality of what it really was. Everybody does it, especially with something we really want to do. Or something we think we want to do.
I'm an evidence-based guy. Mainly because I know my intuition is so highly tuned. I don't want to rely on my intuition unless there's compelling evidence to prove the conclusion or direction. It goes back to that making sense of things, connecting the dots. I want to make sure I've got it right. Who wants to get it wrong? Not me!
Let me help you better understand by sharing a story of a professional pursuit. Think about a time when you wanted to chase something professionally. Maybe it was a new job, or a completely different career. You may have wanted to start a business, or a side project. It could have been a time when you chased a promotion. Remember how it began. That's critical because at the beginning is when the romance kicks in.
Here's how it goes. It's not unlike romance we feel in the early stages of infatuation or love. A guy has his eye on a girl. They know each other. Not terribly well perhaps, but he's really smitten with her and wants to know her better. While he's working up the courage to ask her on a date he's thinking of what it might be like to have her as his girlfriend. The romanticizing has kicked into high gear.
Truth is, he has no idea what kind of girlfriend she might be. He's creating a story in his head of how it might be. Mostly it's based on how he hopes or wishes it would be.
Well, I've done that before professionally. You have, too. We all have.
We think that new job, or that promotion, or this new enterprise will work out perfectly. That girl will make a terrific girlfriend.
We do reap what we sow generally speaking. But there are some other factors.
During the early years of my career some of us would laugh at all the sales jobs we'd see posted in the newspaper (yes, that's where ALL the jobs were once posted). Some would have headlines like, "You Too Can Earn $1,000 A Week." Come on, give me a break. $1,000 a week in the early 70's was BIG (laugh out loud) money. Well, it was for us because we were still in high school (some of us were anyway). I was making between $1000 and $1500 a month at the time.
I once got invited to come talk to somebody about a sales gig where they pulled a similar line like that on me. Being young and probably a bit naive about such things I blurted out, "Do you have anybody earning that much right now?" The guy was taken aback a bit. He hesitated and sheepishly said, "No, but it's entirely possible."
All that to say this about reaping what you sow and romanticizing things. If you're in sales, or you're a guy looking to have that girl as your girlfriend — you depend on the realness of the opportunity.
That's where I've gotten it wrong before. I saw an opportunity only to find out it was a mirage. I should have maintained that mindset I exhibited when I sat down talking with that guy about a sales job that promised big money. Nobody was earning that kind of money. I even remember asking him if anybody ever had. Nope. Nuff said. I thanked him and left. That's why my buddies and I would laugh at those ads promising big money. We knew they were lying.
But what about when you don't know they're lying? Or it's just a colossal mis-match?
Sure, she's pretty. Yes, she seems to have a pleasant personality. But what if she hates everything you love? What if she's got close friends you can't stand? It doesn't make her a liar, or a bad person — but she may not be quite that ideal girlfriend you envisioned.
Yep, that's what I'm talking about. We all do it. In love. At work. I don't suppose any space is immune. We fall for an idea that may turn out to be completely untrue, or unfit for us. If we could only know sooner than later!
With all the losing going on you'd think we'd be afraid to leave the house in the morning. Some of us are. Listen, I'm fairly brilliant and I've gotten it wrong so many times I can't remember them all. The fact is you can't win them all and if you did, you'd never learn anything. Of course, if you did win them all – what do you really need to learn?
What about a career or business mistake? Have you ever had one of those? Boy I have. Every time I rewind those scenes I can clearly see signs that I should have observed, but ignored. I've no idea why I didn't see it at the time, but I'm supposing that I was blinded by what I wanted to happen, or what I hoped would happen.
Romanticizing is a major problem for most of us. We romanticize the outcome we hope for. We romanticize the experience, or how it'll be.
That's what blinds us – our vision of how things might be. Usually, it's an ideal vision to boot. No, it doesn't often turn out that way, but sometimes we hang on hoping it might.
The other day I was thinking of a business opportunity I once had – and pursued – but one I likely shouldn't have. Months passed with me battling my inner voice that was telling me, "This isn't a good fit for you." I ignored the sounds for months. Too many months.
I reflected back to the early days of the opportunity and clearly saw some troubling things that normally would have caused me to get up and walk out. But I didn't.
I sat in front of 3 people whose job was to scrutinize me. They were rude and obnoxious. Arrogant and pompous. But the opportunity blinded me – or my romantic notion of it. A situation that would have otherwise caused me to simply get up, tell these people what I really thought and make a quick exit…it passed. I sat through it and went on to pursue a dreadful process. Battling misery for months I persisted, refusing to stop because I was hard-headed. And competitive. All the while knowing more and more every day that the culture of the opportunity was so opposite of everything I held dear. And the qualities I valued most.
It took far too long for to hit the EJECT button, but I finally did. My sense of congruency ultimately kicked my butt hard enough to cause me to walk away from the mistake.
I've often thought about it – and other mistakes like it. Autopsy mistakes and you can more easily see what happened. Dead men do tell tales. Dead opportunities – otherwise known as mistakes – do, too.
Investigate your mistakes. Or start with just doing an autopsy on one. Pick one that was significant. Make notes if you want. I'd urge you to.
Go back to the very beginning. Dig deep for what you were feeling. What you were hoping. Were there signs you should have seen – like the ones I just described about my one mistake? I guarantee there were signs. I'm also betting you can now see them. Well, it's time to take a closer look at them. See them for what they were – or may have been. Warning signs that you should stop falling in love with what may be a false notion. Warning signs that you should have tapped the brakes, leaned in and taken a moment (or more) to consider if your choice was wise.
But before you kick yourself for failing to see things more clearly, look for the lessons. I spent months and months in agonizing misery with the pursuit I described earlier. That doesn't mean the mistake was in vain. I learned a ton. Mostly about myself. My self-awareness was high going into that pursuit, but at some point it took a few shots sending me off course. The mistake and my pursuit of it helped me come back to myself though. What caused that mistake to last so long was my resisting and rebellion against my self-awareness. Take a look at your mistakes and see if there's some element of that in yours, too. Trying to be something we're not is a common mistake.
Soar with your strengths.
Donald O. Clifton was the father of StrengthsFinder. He's the guy who led the parade of human potential being based on pushing all your chips into the middle of the table toward what you're good at – or great at. Not on giving too much effort on trying to shore up things that just don't come naturally to you.
I know what I'm not good at. Maybe I know that more readily than knowing what I'm good at. I'll bet you do, too.
"I'm not good at math," is one I hear somebody utter weekly. Lots of us say that. Saying you're not good at something may be true. Or it may not be true at all. Self-awareness is critical when we're trying to figure our way out of a mistake. However, sometimes it's not self-awareness. It's our inner critic, or it can even be somebody in our life who believes something about us that may not be true. For example, a person can get inaccurately pegged as something they're not. It's the proverbial self-fulfilling prophecy that happens when a teacher is convinced – maybe based on some test or assessment – that a student is less capable in some specific subject. The interaction between the teacher and student is built on the bias of the test or assessment. If the student believes it's true, it becomes true.
I see that frequently happen in the workplace, too. A person is hired with a specific viewpoint about their strengths and weaknesses. The accuracy of the viewpoint goes mostly unquestioned. Maybe like the student it was based on some test or assessment that the company puts great stock in. Rather than take that as a tool, a device to provide some insight, sometimes employers take it as gospel truth. They manage and lead the employee based on what might be a mistake, or at best – a mistaken interpretation of information.
Mistakes pile on top of other mistakes. People's lives get caught up in it. Sometimes lives are damaged. All because of getting it wrong, or failing to get it right.
We rely on all sorts of things to find our way. Tests, assessments, books, articles — even podcasts! I've come to think we should probably spend more time examining ourselves. And if these tools help, then by all means, we ought to search them out and utilize them. The challenge is to look inward without comparing ourselves to others. Another challenge is to see ourselves as we really are, not as we hope to be. Romanticizing clouds our view. We fall in love with a notion of who and what we are – or who and what we hope to become. Having a goal, or seeking to improve is worthwhile. Failing to see the true reality is not. That's just piling on one mistake on top of another.
Listen, our lives need the truth. If we're ever going to find our way beyond a mistake, we've got to see things as they really are. When I go to the gym I often see people who think they only need to lose a few pounds of fat. Truth is, they're morbidly obese and need to lose over 100 pounds. But I'm sure that task seems so mighty, it's easier to convince ourselves that things aren't that bad. Part of it may be failing to see things accurately, but another component may be not wanting to tackle a big challenge. So we minimize it.
But this is about finding out way out of a mistake more quickly. When things linger it can be more difficult to escape them. That morbidly obese person at the gym spent years getting into such poor physical shape. I'll see them at the gym and I'll be very hopeful for them. The women often seem especially embarrassed. If we make eye contact, I always smile and try to give a look of "good for you, be proud you're doing this." Sadly, more often than not after a few months I no longer see them. Sure, they could have adjusted their schedule, coming to the gym at a different time. But I know the reality of it. The pain of correcting years of physical neglect is likely too much. Instead of getting out of the mistake of obesity, they surrender. I'm sad for them and for their family.
What about the times when we don't realize it's a mistake until we've gone down the road quite a ways? We're months, maybe years into it before it even dawns on us. And by then we may feel we've got so much time invested, we need to see it through. Through to what?
This is where all the talk of persistence, not giving up and all that can impact us negatively. Quitting isn't always bad. Sometimes, it's the wisest course. Society doesn't celebrate quitting, but sometimes we should. Business people – especially those in the start-up world – celebrate the pivot. You know what a pivot is, don't you? It's quitting one thing so you can pursue something different. But we don't want to call it what it really is – quitting something that isn't working so we can chase something that may work better.
If you're on a hamster wheel of a mistake, jump off. Do it today. Now is better than tomorrow. Sooner is better than later. "Get up off the ground" is a good anthem for those of us who want to shorten our time in the mistake tunnel. We need to embrace starting over again. And learn to enjoy it.
Stop listening to the noise of "winners never quit." Winners do quit. They often learn to quit sooner than the rest of us. While they're adapting and figuring things out, many of the rest of us are sticking with a mistake hoping to turn it into a success. The time you've spent in the mistake isn't an investment. It's a cost. Okay, to be more accurate, it's an investment in your learning, but it's a cost if you keep going past the learning.
The more time we invest in a mistake, the harder it can be let go. It's our resistance to face the truth. We want it to work out. We've come this far, let's give it just a little while more. Maybe tomorrow it'll start succeeding.
Give it up. Quit. Find a better way. Ignore what others think. Ignore what the romantic notions are telling you. In tune with who you really are – and who you're most capable of being. Search for the ideal version of yourself and think about this mistake — it's not helping you become the ideal you, is it? No, mistakes never do. Instead they compel us to be a lesser version of who we can be. That's why we shouldn't waste any time beyond learning from it.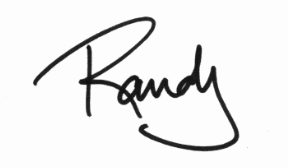 How Can You Help The Podcast?
Leave us a review at iTunes
Pick your favorite way to support us financially
Join the conversation at our Facebook group
Tell your friends. Promote the shows on social media.