Podcast: Play in new window | Download
Subscribe: Apple Podcasts | Android | Email | RSS | More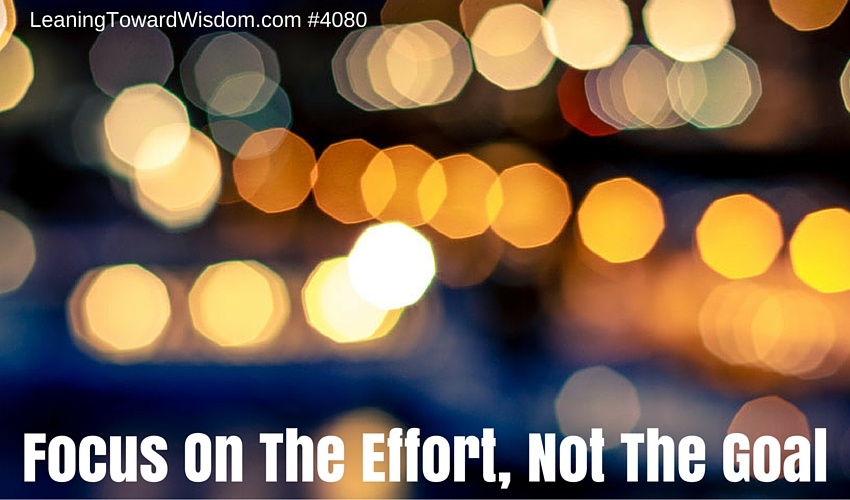 Today's show began as an episode for my other podcast – my business podcast – Higher Human Performance. The more I started developing the idea the more I kept wanting to create the show for LTW. So that's what I did.
The Catalyst For The Idea: The Pain
Back in September I replied to a message from a social media recruiter for Vistage International. I had talked with them about 3 years ago, but timing is everything. The timing wasn't right. Fast forward to September 2015 and now the time couldn't have been more appropriate. So, as a non-gambling man willing to use a gambling metaphor — I pushed all my chips into the middle of the table and went for broke to become a Vistage Chair. Gaining a high national security status may have been easier. I wasn't confident I'd survive "the process," but turns out I did. A few weeks ago I spent the week in San Diego to endure final vetting and training – simultaneously. Then it became final. As final as it can be before you actually do the work.
That's where this notion began. 
Doing the work means sharing the news and attractive candidates to serve. It's a sale, but it's not. It's a purchase, but it's not. It's an investment. Of money. And time. It's also life-changing. Not in some new age sense. And not in some better felt than told sort of way, but in a very real, tangible, meaningful way. That makes it difficult. Only because people have never seen it before. Or experienced it before. It's such a rare thing it can feel like snipe hunting. (There's no such thing as a snipe, some mythical creature, that we southern folks use to trick our younger friends. "Let's go snipe hunting.") Well, the joke's on you because there is such a thing as a snipe when it comes to a remarkable experience that can change your life, grow your business and transform who you are – making you a better version of yourself. It sounds too good to be true. Almost so real it seems fake!
But it's real. Mostly really powerful. I clearly believe in it. You think? 😉
Well, I'm doing the work of getting the word out, trying to talk to CEO's – that's the group I aim to serve. It's not difficult to get my mind wrapped around talking with CEO's. I've been in their role. I get it. No big deal. I'm currently CEO of my own company. Forget the fact that I'm pretty much a one-man-band. It doesn't matter. I've managed millions of dollars of assets, inventory and lots of staff. I understand the pressure of making payroll, paying accounts payable, collecting accounts receivables, driving sales up while driving costs down…and all the rest. It's not so hard to talk with CEO's when you've been behind a desk just like theirs.
"Cold calling."
It's a phrase that can stop grizzled veterans of sales dead in their tracks. It scares the pee out of most people. Correction: I think it scares the pee out of everybody. At some level.
I dove into my bookshelves, filled with business books, including a vast collection of sales books. From classics to more modern tomes. I don't lack for sales books. I've managed sales for as long as I can remember. But this was different. I've spent my life running retailing companies where advertising and marketing were designed to get footprints in the door. The point of it all, for retailers and all brick and mortar businesses, is the same: foot traffic. No foot traffic, no business.
But this wasn't like that. This was personal. This meant picking up the phone to call CEO's you'd never met, or talked to before. A blind – a'hem, COLD – call. (That sound you hear is me swallowing hard.)
I don't know if it was a good thing or not, but I had time to think about it. I don't think it's a good thing really. Dwelling on what might go wrong is never a positive mental exercise. But we all do it. Some more, others less. I may do more.
I realized that this feat I was being tasked with was something pretty different than any skill set in my current tool box. It was "prospecting." Yep, mining for gold. And just as tough. I watch Gold Rush on Discovery. I see how hard they work, often for no gold in the dirt. You know what you get when you just run a lot of dirt with no gold in it? Yep, just dirt!
Well, I knew I'd be dissatisfied with just dirt. I wanted gold. That meant I'd have to get past it all. My fears. My insecurities. All the head trash that disrupts our dreams and ambitions.
I had already written this down and dated it.
You'll find a way to succeed when your desire is stronger than your fear." 11.11.2015
And for deeper inspiration I printed out a picture of my immediate family. There was my son and his wife, and two of his three kids (the baby hadn't been born yet). There was my wife. Then there was my daughter and her husband, and their two boys. Ten people in all, including the baby. My tribe. These were the people I was driven to serve firstly. I slapped the jpg of this photo into a program on my Mac and inserted one little sentence below the group picture:
This Is Why I Do It.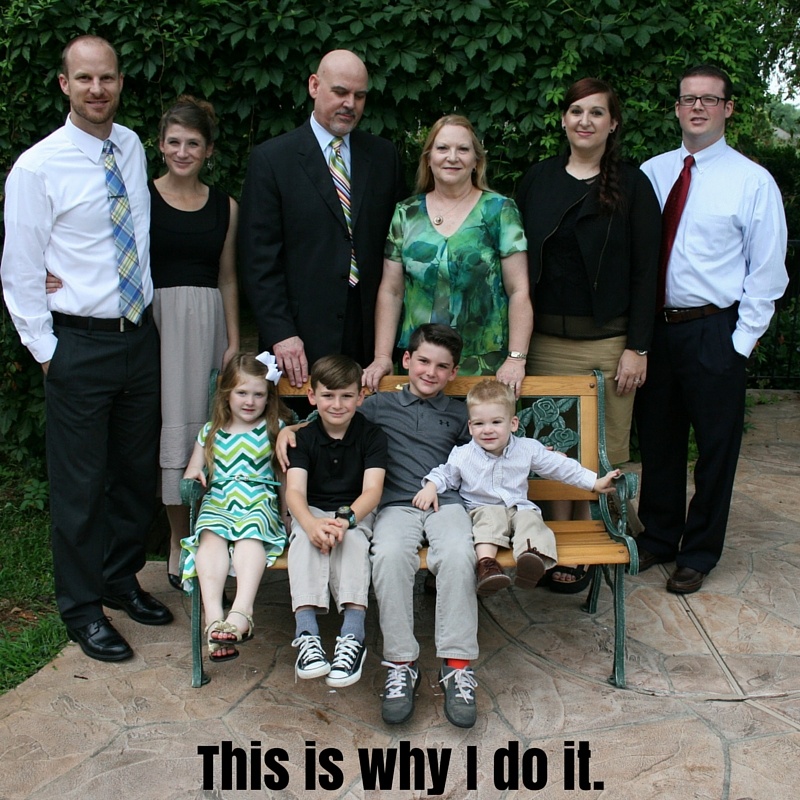 Then I made that jpg my computer monitor wallpaper on my 2nd monitor – a little 17″ screen to my right. After that I printed out the picture and taped it to a door here inside The Yellow Studio where I could easily see it. It's taped right below my whiteboard on a door. Part of this particular journey of my life involves answering the question, "Why?"
Namely, why do you do what you do?
Why do you want to do whatever it is you want to do?
I don't have to wish I had the why because I've got a really clear why. I even wrote on my whiteboard a really strong admonition about my why: DON'T LET THEM DOWN. And it involves even more people who serve as the WHO, which is really my WHY. God, Church, Family, Clients.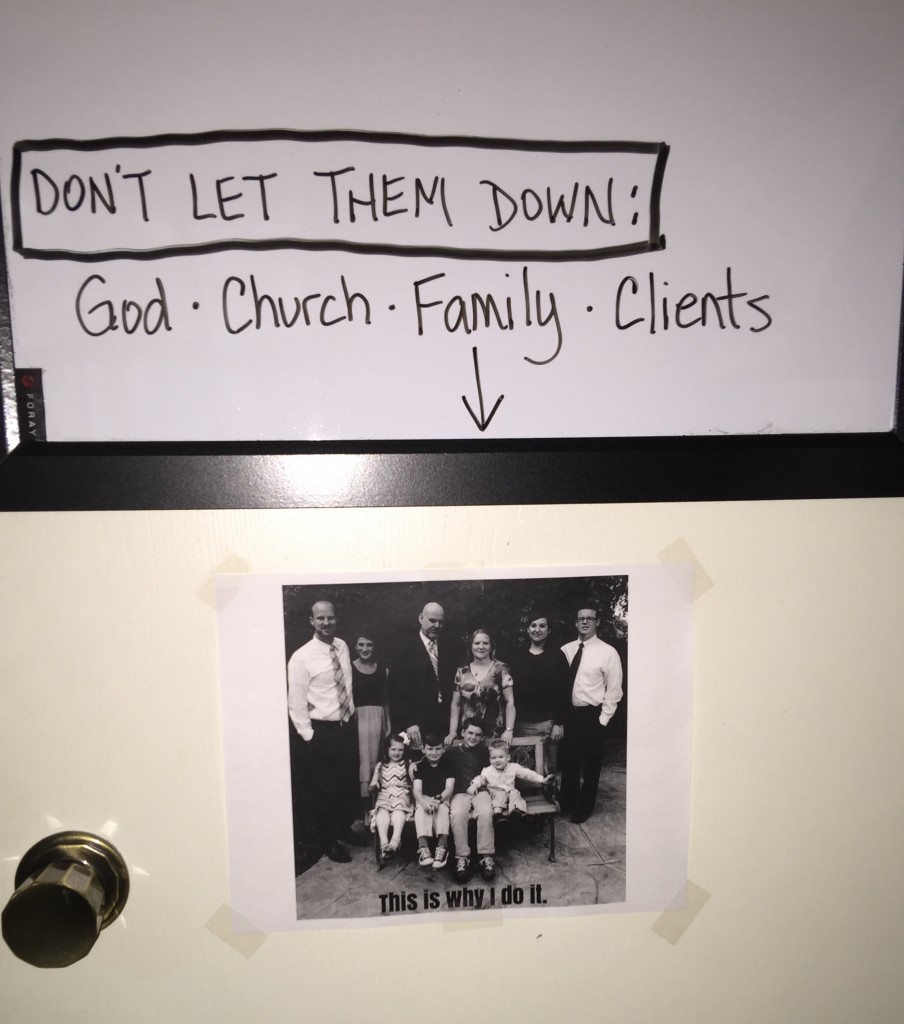 Let's focus on that last one, CLIENTS. First, they're prospects. This is where I began to think, "My LTW community might benefit from this more than my business crowd." I'll leave it to you to decide if I choose wisely or not.
Here was my thought process. Fear is such a universal thing. And getting the word out can be very hard. I know some of you are looking to improve your job situation. Others of you are launching enterprises. Still others of you are hoping to turn a hobby into a full-time occupation. And all of us are having to overcome obstacles every now and again. We're all needing to do a better job of taking advantage of our opportunities. So the message is universal I think.
I went over to Amazon and started snooping around at the books that dealt specifically with the sales activity of prospecting. In the US store 6,608 books came up as a result of that search. I owned the first 2 books listed. I bought the number 6 book on the list. I figured 3 was bound to be enough to spur me forward. Even a stubborn jackass like me could likely find enough inspiration from three books on the topic. You'd think.
Book #1 on my list: Fanatical Prospecting: The Ultimate Guide to Opening Sales Conversations and Filling the Pipeline by Leveraging Social Selling, Telephone, Email, Text, and Cold Calling by Jeb Blount
Book #2: New Sales. Simplified.: The Essential Handbook for Prospecting and New Business Development by Mike Weinberg
Book #6: Sales Prospecting: The Ultimate Guide To Finding Highly Likely Prospects You Can Close In One Call by Claude Whitacre
I admit I bought that last one just because the guy's name is Claude Whitacre and his picture looked like the kind of guy I'd sit down and have a laugh with. Claude just seemed like my kind of guy. Not a slick willy. Just an ordinary, good 'ol boy. Okay, maybe a good 'ol boy you'd see in a used car lot, but fun none the less. By the way, Claude didn't disappoint. The Kindle version of the book needs some hardcore editing, but I enjoyed the book.
The point isn't my reading list, or even prospecting. Well, okay the point might be prospecting, but it's really about having meaningful conversations. Mostly, it's about having fun and making a difference. It's about having a BIG IMPACT on others – not by holding forth as a guru, but by having conversations. By exchanging ideas and information. By learning about each other. Now I didn't know this at the time. Not very clearly anyway. And that's the point of this whole story.
An Epiphany In The Car, Alone
I wish I experienced more epiphanies in the presence of others, but it rarely happens. Mostly it's when I'm alone. And talking to myself. Out loud. That's right. I do that. You don't?
It's no big deal. I've confessed it before so it's not news. Unless of course you've never listened to me until today. In that case, surprise!
No, I'm hardly alone in the universe, but when I'm alone in the car I may as well be. And if I'm willing to talk aloud – and I always am, if I'm alone – then I can vet issues with myself. Talking out loud doesn't make me smarter, but it does give me a chance to hear my thoughts come out of my mouth so I can determine just how stupid or how stupidly brilliant my thoughts may be. Try it sometime. It's easier than ever these days. Just insert your earbuds from your cell phone into your ear and drive. People will think nothing of seeing you jabber away with nobody else in the car. They'll assume you're on the phone. It's great. Of course, I rarely do it that way because I'm fearless when it comes to talking to myself. I honestly don't care if people wonder who I'm talking to. That just adds an element of fun to the process for me.
There's a paradox. Or is it an irony?
I'm not sure. It's one of those. Maybe both. The fact that I'm fearless in talking to myself, but fearful in picking up a phone and talking to a stranger. Okay, maybe it's neither a paradox nor an irony. Maybe it's just stupid.
Okay, just now I opened my daily email from Dr. Henry Cloud. I'm on his list. You should be on it, too. He's quite brilliant. It was a simple email message and I'm willing to share it.
Unless someone has a gun to your head, you probably have more choices than you are aware of.    – Dr Henry Cloud
Now, that's ironic. I think. I'm talking about fear and all this head trash, and talking to myself and BAM! Out of the blue comes this email from Dr. Cloud with THAT message.
Take that however you'd like. I think it's a sign. Of what I'm not sure. But it's from Dr. Cloud – CLOUD, I said. Okay, nevermind.
I get in the car and head to run a few errands, then go to the gym. I've been delinquent in going to the gym for over a month now. It's the longest stretch of not going that I've had in 10 years. I'm sad to report that I made it to the gym, but I never made it out of the car. That's how these conversations with myself go. Sometimes they're quite engaging. Riveting even.
At this point I don't even know where to begin to tell this tale and make you understand why I think this is an important message.
Let's think about this and I'm sure I'll find the words to express why I thought this should be content for the LTW community. We all need to have meaningful conversations. It's how we exchange ideas, persuade people, learn, teach, express feelings, convey needs/wants/desires and connect. I have no way of knowing what you're thinking or feeling unless you tell me. Admittedly, we can text each other, email each other, use contact forms at websites, Tweet, send Facebook messages…but nothing trumps talking with each other. Hey, it's why I podcast. Audio has always been important in my life. That transcends more than music. It's human interaction. Dialogue. Conversation. I crave it.
A universal need is the need to connect. And I think it's mostly universal that we want to influence others. Whether we want that job of our dreams, or a better deal on that car, or to gain a new customer, or to get that promotion at work – we want to positively affect what happens in our life and in the lives of others. At the heart of all those activities is the art of dialogue – the art of having a conversation!
That's why this matters.
From here on out I want you to apply my little story to your own circumstance. I don't know exactly what you want, but I want you to think about it. For the rest of our time together in this episode I want you to listen to my story while you make application to your own need to have conversations. Maybe it's improving your selling skills. Maybe it's being more effective at work with co-workers, or your boss. Maybe it's in your relationships at home. Maybe you want to be a better husband, father, wife or mother. This has a universal fit. It's just up to us to make the connection and learn all we can as we lean toward wisdom.
How Much Do You Believe?
Every single week I have multiple conversations with people about one subject more than any other. It's a topic that's easy to talk about, but tough as nails to incorporate into your life. And it's life-changing because it's so powerful.
You spot it every time you watch a sporting event. You notice it when you watch a great TED talk.
You can easily spot it at work, or in social settings.
Confidence.
Nothing can replace it. All the preparation in the world falls short when confidence is missing. I tend to replace the word "confidence" with another word: belief.
It's what we believe about ourselves and how we fit in the world. And it's about what positive impact we believe we can have…coupled with our belief in what we have to offer.
It's hard because it comes from such a deep place. Fake it until you make it might work, but it's trite – and fake! It's not the same as belief. Not nearly as powerful. Or effective.
Belief – your belief in yourself and your offer – takes time, commitment and real focus. Google the term "mindset" and you'll find more than 45 million results. Common wisdom says success depends on mindset.
Here's what Wikipedia says about it…
is a set of assumptions, methods, or notations held by one or more people or groups of people that is so established that it creates a powerful incentive within these people or groups to continue to adopt or accept prior behaviors, choices, or tools
That sounds awfully complicated to me. I just go back to what I wrote in my notebook…
You'll find a way to succeed when your desire is stronger than your fear." 11.11.2015
I know there's more to it than that, but for a simple guy like me – I'd prefer to keep things simple. That means I'd prefer to focus on desire than fear.
Fueling a desire isn't chasing a lust. Not the way I mean it. I'm talking about something powerfully significant. Something meaningful, not selfish. That doesn't mean you don't benefit, but it does mean you're not selfish or stingy. It means there has to be some grander purpose.
Intentional purposes fuel intentional work. Intentional work produces intentional results. It's the opposite of just hoping things work out for the best.
There are a variety of ways we can figure these things out. I've already shared the main things – the people – who fuel me, but there's more to it and we both know that. The people – my why, which is really my WHO – doesn't answer, "What?" As in, what will you do? What dreams will you pursue? What work will you accomplish?
I could serve the people I love and care about by doing any number of things. They're not a terribly demanding tribe. And they're not even all that financially demanding, but none of that matters to me because I want so much for them that it often doesn't matter what they want. Hello, did I just say that out loud? Yep. Boy, talk about selfish!
You know what I mean. Don't you?
Does your family – or the people who matter the most to you – really care if you paint houses or architect them? As long as you're doing what you want and what you feel is in your wheelhouse, I doubt your family cares. Naturally, we all want to earn our keep in the world. It takes money to live and our families want a degree of security and then some. But unless you come from a long line of doctors, lawyers or college professors I doubt your family is overly concerned with what you do to earn an income.
Me? I knew as a young man that I needed something more than a paycheck to get me out of bed every morning. It's a curse. Well, it feels like a curse. I've often wished I could just spring out of bed willing to do whatever was necessary to earn a living. And I can, but only for very short periods of time…or only if I could see it leading to a more meaningful place.
For me, it's all about WHO I spend my time with and HOW I spend my days. The window of my life is closing so it's urgent that I make sure I'm spending and investing my time left in the universe wisely. I still fritter away more time than I should, and neglect to do important, lasting things. Sometimes life's trivial pursuits get in my way. Part of my leaning toward wisdom needs to incorporate greater discipline to make my time here count for something more meaningful. Something more intentional. Something more lasting.
Are you doing something worth talking about? Worth telling others?
Let go back to me sitting in the gym parking lot, sitting inside my car. The epiphany dawned on me about my new endeavor and spreading the word. All I want to do is have a conversation. I want to get to know people and find out more about them. In the process, I know I'll likely have an opportunity to have a good dialogue. No calls to action. No hype. No bait and switch. Just an opportunity to make one more connection.
When you're trying to "make sales" it can be a daunting task to make cold calls, read the script like you're not reading the script, make the presentation feeling like your life depends on it. That's why there are so many books and blogs devoted to the topic of selling. The pain is extremely high. Universally. Lots of people are looking for answers.
I don't care if you claim you're not in sales, you are. We all want to share our ideas and have others approve of our ideas, or thoughts. Daily we're working to convince people. Teenage boys are sweating bullets over how to convince teenage girls to date them. People looking for work are diligently trying to get career advisors help them craft resumes that will convince prospective employers to just give them an interview. Trial attorneys are working late hours trying to figure out effective strategies to convince juries or judges to rule in their favor. All over the world people are engaged in acts of persuasion and influence.
Shyness, apprehension and fear can overpower the best of us. We'd do better if we could just get past our own fears. Logically, we know it makes no sense, but we feel the way we feel. We're scared of what we're scared of — even if we know it doesn't make much sense. It can paralyze the best of us.
I've felt it. My heart has gone up into my throat before when facing reaching out to a stranger.
But here I am sitting in my car and it hits me plain as day. "You're just reaching out to people to have a conversation. That's it."
How where's the pressure? People are either willing to have that conversation or they're not. My epiphany was really this – if a person won't have a conversation with me, then what chance do I have to help them? Answer: I have no chance. First, a conversation must happen. So now all the pressure – the only pressure – is on trying to have a conversation.
Think of being in a social setting where you spot somebody standing alone. You approach them, introduce yourself and try to engage in a conversation with them. They're either going to reciprocate by introducing themselves, followed by dialogue…or they'll be rude. Maybe they'll walk away without saying a word. Maybe they'll tell you they've no interest in talking with you. That's not likely to happen. But on the phone, they might just hang up the phone. Or blurt out, without knowing anything, "I'm not interested," then hang up.
Fine. The result is no conversation. And it dawned on me that people unwilling to have a conversation are going to unfit for what I'm doing. A prerequisite for letting me dazzle somebody with great service that could potentially change their life hinges on being open enough to have a conversation. The conversation – the willingness to have it – is mandatory. So in a way, it's a vetting process to figure out who might be willing to take this first step versus those people unwilling. Isn't it good to know who you can serve and who you can't? Of course it is.
Just like it's good to know who isn't willing to give you an interview for that job versus somebody who is anxious to talk with you. Which person would you really rather work for – the unwilling person or the anxious-to-talk-to-you person? See how it works.
I realize there are other issues at play. Things like timing – catching a person at the wrong moment. But I'm not in control of that any more than I'm in control of what may be happening in that lone wolf in a social setting. Maybe they've had a horrible day that causes them to blow me off. I can only control how I react to their response to my overture. If they're rude to me, I can own it and let it destroy my time. Or I can write it off to timing, which isn't my problem, or under my control. I accept it and move on. That's what I should do. That's what I intend to do.
Do What You Gotta Do
Who's going to do what must be done in order for you to succeed? That's the real subject of today's show – your success.
It's not about anything else. My goal – one thing that I have to do in order to do the work that means a lot to me, is to have conversations. Earl Nightingale recorded a message entitled, "One Thing You Can't Hide." It was a track on his famous recording, Lead The Field. I'm not sure why I remembered that when I was planning today's show, but it popped into my head. I could hear Nightingale's deep voice echoing in my ears even though I confess it had been years since I'd heard his recordings. The language is very old school, but I used to listen ever so often to him. Do you know what the one thing is that you can't hide? Your language!
But there are so many other things we can hide. Many of us are busy hiding the one thing that's preventing us from achieving the success we want. One thing that just scares us to death. One thing that if we could conquer would change it all to our favor. One thing that we've never been able to do…yet. One thing that has stopped us over and over and over. One thing that we're finally sick of letting rule our life.
Today's the day. The day you're going to find the courage to embrace your desire to succeed. Finally. Today's the day you're going to refuse to be stopped. The day you're going to refuse to stop yourself. It's time for all of us to get out of our way – and out of our head – to embrace the one thing we know is necessary.
Do the one thing. Right now.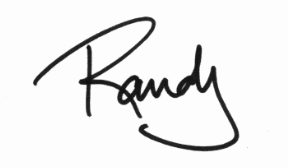 P.S. I'll tell you what works when you're focused on the obstacles standing in your way. And that includes whatever fears are paralyzing you. Focus on the effort, not the goal. Stop thinking about what you need or want to accomplish. Just think about what you need to do. Think of the actions you need to take. Think of them at the lowest level, too. Life isn't so complicated when you concentrate on taking action without too much concern for the outcome. It frees up your mind. There's no guarantees with anything, but it can sure make the work easier and your mind more free to perform better! Besides, other than failure…what have you got to lose?

How Can You Help The Podcast?
Leave us a review at iTunes
Pick your favorite way to support us financially
Join the conversation at our Facebook group
Tell your friends. Promote the shows on social media.