Podcast: Play in new window | Download
Subscribe: Apple Podcasts | Android | Email | RSS | More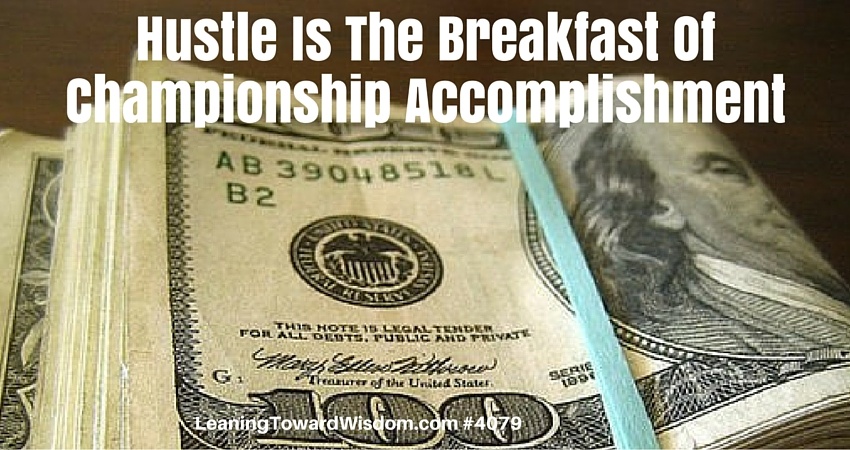 You don't have to take what life gives you. Every day you get results. Mostly, they may be the ones you deserve. Not always, but mostly.
The product of our choices determines our actions. And our actions garner some kind of result or outcome.
Hustle is synonymous with putting in good effort, working hard to chase success and doing what's necessary to accomplish something worthwhile. Well, it's that, or it's conning people (as in a "pool hustler"). I don't mean it like that. I mean it in the good way – the best of ways.
Let's not bury the lead this week. Easy just doesn't work. Ever.
We want to think it does. Or that it will. But it just won't. Ever.
The reason so many "systems" are available as online courses for everything from selling to website design to podcasting to producing killer online videos — is because people want it to be easier than it really is. And it's not. At least not at first.
Everything is hard, until it's easy.
I know, I know. We don't like absolutes. I'm right there with you. Never do this. Always do that. This will never work. That will always work. Absolutes are just rarely true. I'd love to be able to accurately say that absolutes never work, but that would be another ill-spoken absolute.
Truth is, everything is hard. Hard is relative. Some things are less hard for you because of your natural aptitude, your existing skills and all the other things that make you who you are. Other things are extremely hard for you because you lack the natural aptitude…and all those other facets of your personality. But make no mistake, it's all hard. There are merely degrees of hard.
The sooner we accept that, the better off we're going to be. So many of our problems are caused by our own false expectations that something is going to be easy…or easier. Then, when it's not, we get down and out, dive into a funk and lose confidence. Those eggs in your refrigerator aren't as fragile as your true confidence. I'm not talking about bravado, or hubris. I'm certainly not talking about your delusions – if you have any – about being all that and a bag of chips. I'm talking about that confidence you've got down deep in your heart. Yep, that confidence that's wrapped in an egg shell thin skin.
Bad outcomes aren't our fault. We're all subjected to the idiocy of others. If only they hadn't done this. Or that. Our life would be so much better. But that moron co-worker got the promotion instead of us. The boss refused to give any of us the raise we deserved. I should be the one who got that job. The company should have sent me to that training instead of him. On and on goes the defeating self-talk. Mostly, because we just don't think our future is in our hands.
Hustling is doing the hard work. Searching for easy is an avoidable distraction. Controlling the distraction…well, that's also hard. Very hard. The gamification of social media makes it even harder. We're busy liking, plusing, favoriting and giving props. Fueling our crazy need to always be connected to complete strangers, social media platforms know how to make themselves addictive. Then there's the avoidance of hard. Procrastinating. It's one of the most active verbs in human language – procrastinate.
"I'm so busy I just haven't gotten around to it," is code for "I didn't do it because it wasn't as important as the other things I've been doing" OR "I didn't do it because I'm afraid (or I don't know how or any number of other reasons)."
We put off the things we hate to do, things we don't see value in doing, things we're not quite confident in doing or things we fear doing. Hustle is one of those things. Lots of people are afraid to hustle. Many aren't confident in how to do it. So it never gets done. Oh sure, people talk about it. They plan on it. They even formulate plans or strategies to do it. They just never get around to it. And it ruins any chance they have to succeed.
They think it's luck or serendipity. That's the missing ingredient for their success. Or so they think.
They think it's opportunities that go to others, not to them.
They think their circumstances or situation put them at a disadvantage.
Daily they live by a two-word motto.
If only…
If only this were different, or that were different…THEN I'd be able to find success.
Think of what you'd most like to accomplish right now. Just one thing. One BIG thing. Got it?
This is an interactive episode today so you're going to have to participate. Don't worry. You can do it while you're driving or working out. You won't need to take your eyes off the road while you do this. You just have to think. And be honest with yourself.
Now that you're holding a thought about the one big thing you most to accomplish – something you've wanted to get done for a long time, but for some reason, you just haven't been able to do it. In fact, you've not even been able to start it, much less finish it. You're paralyzed. Whenever you think about this one thing you feel like a person trapped in a mine field, afraid to step in any direction. So you stand still. You avoid taking a step. Any step. You think the worst will happen.
Do you ever wonder why you couldn't see something before? Something that looks so clear to you now, but in the past — it just seemed concealed or camouflaged. Like those hidden words in some graphical image, you stare and stare without seeing it. Suddenly, you see it. Now it's unavoidable. You can't go back to not seeing it. You just glance at this image and the words pop out at you. Instantly.
A 62-year-old man slumps over at his desk while working. The office calls 9-1-1 and scrambles to help him. He's conscious, but in a lot of pain. And he's sweating. Within minutes emergency personnel are hovering over him as the entire office stands a safe distance, hoping he's okay. Off he goes to the hospital lights and sirens blaring.
Two weeks later he returns to the office. He's survived his first heart attack. It wasn't severe, but it was severe enough. He's different. By all accounts, he was a workaholic. A pleasant workaholic. Staffers reported that he'd arrive early, leave late and often be found there on weekends. "Hard charging" and "focused" were the words most used by his team to describe their boss. The harshest critics reported how competent he was and the worst thing they could say about him was how he was "all work."
Even before the first day back is half gone the staff notices he's a different man. Something has changed. Sure, they know it's the heart attack, but they don't know exactly what it is that's changed. His demeanor is different. They know his priorities are different. You can just tell he's not "all work" now. He calls a staff meeting to end the day, his first day back. He assembles the team in a conference room to thank everybody for their well wishes, hospital visits and support. It's short, but emotional. Then, he shows glimpses of his old self by pulling up their current business. But it's not like prior times when he's reviewed their monthly progress. It's different. Very different.
He tells the team to go home tonight, spend a nice evening with their families. "Tomorrow morning, come in and spend the first hour taking care of whatever is on your agenda. Then take 30 minutes to think about what we've done so far this month and what you think we need to do to hit our goal. Let's get back together here at 10:30 in the morning. I want us to have a real candid conversation about what we can do better, then at noon I'd like to take everybody out to lunch. And at lunch I only have one rule: we can't talk business. I want us to spend 90 minutes here before lunch focused on solving our problems, then I want us to get away for the next 90 minutes and not even give it a second thought. I want us to enjoy each others company during lunch. Now, go home. I'll see everybody in the morning. And thank you again for everything you do."
He was always respectful, but this was very different. He's a changed man. Months later, he's still changed. No, he hasn't gone soft, but his focus isn't singular any more. It's not just all business. He's found some balance he never had before.
You've either got a reason, or you don't."  -LeRoy Jethro Gibbs
The boss has some different reasons now. Work is still important, but his approach has changed drastically. All because of a major health episode one afternoon at work. He sees life very differently now. The team is more than a team. They're people. They have families and dreams. He's bent toward helping each of them and all of them accomplish all they can – not because life is all business – but because their lives, even at work, represent the lives of their families, too. The purpose of it all seems so clear to him now. Before, it was just "all work." Now, it's work for a reason.
What's your reason?
That's the issue I'd like you to wrestle with. And don't say, "To make more money." Well, you can say that, but then I'm going to ask, "Why? What do you want more money for?"
Let's get to the heart of the matter.
What do want and why do you want it? That's really at the heart of it all. And that's where you'll find the motivation to hustle.
I don't know what looks like for you, but I know you need it if you're going to reach your goal, achieve your dreams or improve your lot in life. You're going to have first figure out the answers to those questions. What do you want and why do you want it?
There have been times in my life when I thought I knew what I wanted and other times where I had no clue. Neither one were particularly helpful really. To think you want something that you may not really want has proven as ineffective of not knowing at all what I wanted. If you're expecting me to talk to you about passion or chasing your dream, well, tap the brakes 'cause that ain't gonna happen. Rather, I'm going to ask you to reframe it by taking the attention off yourself and putting it onto somebody else. I'm going to ask you to consider – maybe for the first time in your life – aiming at what you can do to help the people you love the most.
What do you want for your family and why do you want it? I'm not saying that's the question for you, but that's my question. More specifically, my question today is, "What do you want for your wife and why do you want it?"
My why question isn't because I love her and care about her. It's more specific than that. And I'm taking about financial or professional goals. Yes, how I accomplish those goals is important to me, but that's the process part of things and we're not yet to that. Right now we're focusing on the people side of the equation. My wife is my who. After that are my kids and their families. But my wife trumps them. She's my who.
So if I start thinking about what I need to do (the process) to hustle in order to reach my goals, I have to concentrate on her. She's the subject of the goal. She's largely who I want to do it for. I'm not saying you can separate yourself from the people you love most, but I am saying that I think hustling to achieve for somebody else can be more powerful than doing it to serve yourself. I know others may not agree with me on that, but that's okay. They're wrong. 😉
Ask anybody who is bashful about self-promotion to explain to you why they have trouble putting themselves out there. You'll hear all kinds of troubling thoughts and notions. Ask them what lengths they'd go to serve the people they love the most. Those same people suddenly become quite fierce and determined. Odd, isn't it? They might take abuse, verbal or otherwise, from most anybody. But let somebody start in on their family or a close friend, they break out the brass knuckles. Where does that courage come from? Why the sudden change of attitude? And when you have this conversation with them you can feel it and see it. Their entire demeanor changes when they talk about the prospect of having to defend the people they most love. They go from coward to fearless in a nanosecond.
There it is. The bigger focal point of our service. It's not us. It's the people we most love. We'll do things for them we wouldn't otherwise do. Rightfully so. The people who are dear to us empower us. They elevate our resolve. At least they should. If you're not hustling for achievement like you should, then I'm asking you to consider who you need to do it for. Who are you trying to serve? Who do you most want to serve?
I'm clearly approaching this from a man's perspective. I've got a wife, grown kids, grandkids. There are plenty of people in my life to motivate me to hustle more.
Here's the big paradox. And you hear it all the time.
You've got to do this for yourself.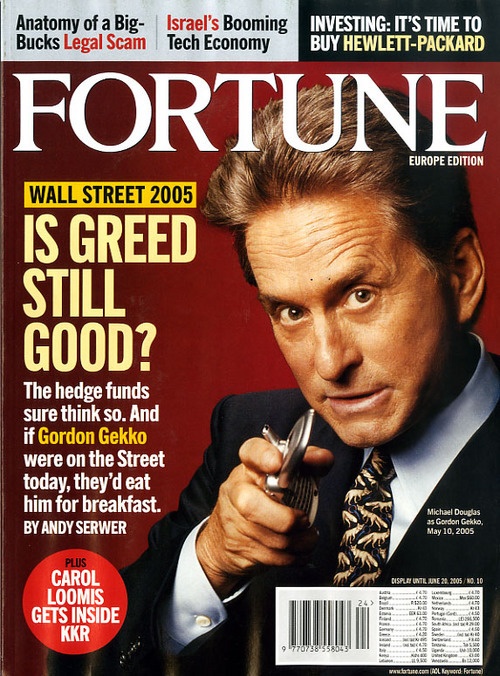 Are you sure about that? I'm not. Could it be just more fuel for our self-centeredness? Society reinforcing the notion that we're #1? Sort of reminds me of the Michael Douglas character – Gordon Gekko – in Wall Street, "Greed is good."
If greed is good, then selfishness is even better. Is it really the best idea to just do something for yourself?
Cory Wells founded Three Dog Night back in the late 1960's. It's fitting to play a snippet of their song because he died on October 20, 2015. He was 74. And like me, he had 5 grandchildren, a wife and two grown kids. I was about 14 when I went to see Three Dog Night play a live concert.
I'm betting he left the planet thinking about the people he loved instead of thinking about himself. No way to really know, but one is the loneliest number.
So do you hustle – or need to hustle – just for yourself? That's fine. It's just not something I can quite relate to…or want to relate to. I'm not interested in being alone. To each his own.
So let's think about what hustling looks like. What is hustle?
It's doing the hard, arduous work of achieving something. It could be anything. It doesn't have to be some high brow accomplishment. Let's just call it something you want to accomplish. But first, there's the hurdle, the constraint, the problem – the reason you can't (or think you can't) get it done. Something is standing in your way, preventing you from succeeding. This is the "if" part of your challenge.
You'd get it done if this would happen. Or that. Lots of if's prevent you from being as accomplished as you'd like to be. Well, that's what you think. And we both know it doesn't matter if it's real or imagined, it's still powerful enough to stop you in your tracks. I won't bother trying to talk you out of believing that whatever it is you fear is real. For you, it is real. That boogie man is lurking in the shadows of your bedroom ready to pounce. Go ahead, believe it.
Let me tell you why I don't care if you believe it or not. Because it doesn't matter! You've still got to do the work, boogie man or not. Besides, we've all got dragons in our life. Real or imaged. And we both know the imaged ones are often way more powerful than the real ones. Still, we have to do something. Or do nothing. Even the zaniest of us know that doing nothing won't work. It never has.
Whatever dragons are challenging you are manifested in one big thing we all share – FEAR.
We're afraid of all sorts of things. I love to hear those people, usually pro athletes, who proudly declare, "I ain't afraid of nothin' or nobody." Yeah, keep telling yourself that, moron. I'd wager that cat is full of fear. That's why he's showing off all that bravado. He's acting like I did as a little kid when I'd go walking down a dark hall in our house. I'm hum or whistle. For some idiotic reason I thought me making noise would make the hallway safe. Something about the sound coming out of me made me feel, ever so slightly, braver! Be loud Mr. Pro Football player. Show off. Brag. Let us see how fearless you are. You're no braver than I was as a 4-year-old walking down a dark hall in my house.
Don't expect me to tell you there's nothing to fear. There's plenty of stuff to fear. Sickness. Death. Lost jobs. Broken careers. Busted relationships. Financial disaster. Just open up your home page on your web browser and you'll see tons of stories of bad things. This past weekend up in Stillwater, Oklahoma an awful incident happened that killed four and injured almost 50. Every second of every day and night – bad things happen. Still, we go about our business. As awful as things are for those families in Stillwater, people in Stillwater and elsewhere, are going about their business today. What are we to do? Be paralyzed? Do nothing? Not go about our daily business? Not live our life because four people lost theirs? It doesn't mean we don't care. It doesn't mean we're heartless. It just means it's impractical for the world to stop at every occurrence of something bad.
Fear is realized for some. For the rest of us, we're anxious that we may be next. Enter an ambition. Something we want to accomplish. New fears enter our world. It all piles on top of our shoulders like a weight bar filled with enough weight to drop us to our knees. We can't move. Not an inch. Much less take a step. Or go fast.
Fear is the biggest thief of all. 
The other day I told my wife, "If Chris Farley can do that idiotic shirtless dance I think I can find the courage to do whatever I need to do." I was referencing a skit he did about a Chippendale audition. It was a funny sketch, but I remember watching it live in 1990 thinking, "The man has no shame."
I don't think it's wise to be shameless. I do think it's wise to be brave though. And I think it's wise to take meaningful action in spite of whatever fears you've got. This isn't carelessness. It's not a lack of caution or exercising prudence. It's the refusal to let some unknown outcome stop you from pursuing something worthwhile. And the unknown outcome – the fear – is almost always a far lesser negative thing than the positive outcome we hope to achieve.
Years ago I got certification to instruct sales call reluctance. During that time in my life (circa 1997 or so), I was wrestling with some professional drives. Namely, I was wondering if I wanted to keep doing what I was doing. I knew I had my own fears. And since I'd been involved in sales and sales management my entire adult life, I knew how real that fear was for me, and almost everybody else. But I knew I was smart enough to know, "What's the worst thing that can happen?" Answer: the person will refuse to buy? Or, they'll ridicule me? Or, they'll dog cuss me? Those last 2 have NEVER happened to me. The first one has happened quite a lot. But here I am, alive to tell the tale. Yes, people have refused to buy whatever I was selling. And yet I'm still alive.
But other people did buy from me. And if I hadn't made the offer, what about those people? By having the courage to make the offer, I was able to make some people happy – even though others just said, "No."
If you're not in sales, then you may not relate to that fear — but you have your own fear. Think about it. Keep thinking about it.
That's your enemy. That's what's killing your hustle. And it's that lack of hustle that's killing your accomplishments. The reason you don't achieve more in life is because of that. Nothing more.
I know you want to think life is more complicated and sophisticated than that, but it's not. It's actually pretty simple. Not easy, but simple. Losing is easy. Winning is hard.
Fear of failure. Fear of success. Fear, fear, fear. Who cares what you're afraid of? Not me. Shoot, I don't even care about my own fears! I know my fears have killed more dreams, stopped me from accomplishing more than any other single element in my life. There's not even a close second. I know that's true. And I also know Mark Twain was right.
"I've had a lot of worries in my life, most of which never happened."
Can't you relate to that? Isn't that true in your life, too?
This is urgent because nobody can achieve a dream without hustle. And if fear is what prevent most hustle, then I guess today's show is really about that – hustling in spite of our fear.
Mr. Twain left us another great quote.
All you need in this life is ignorance and confidence, and then success is sure.
And we know he's right. Sometimes we outsmart ourselves. We know so much and that's what sparks our fears.
Over 15 years ago when we got our two Westies, Rocky and Rosie, Rosie climbed on top of a retaining wall in our backyard. It's one of those railroad ties walls. She went under the guard rail from our deck onto the top part of this retaining wall. Fearless. We watched her anxiously, but we left her alone. Even then she was adventurous – and still is. She didn't know how dangerous it might be IF she fell. But she didn't fall. She was a puppy and didn't know better. It was Twain's magical combo of ignorance and confidence. I think about stuff like that often and know that sometimes I fancy myself being too smart. I often wonder how I can unlearn something I already know. No, I haven't yet figured it out. I have the hack my own head trash some other way.
Hustle abounds every time you see accomplishment. Every time!
Losing can abound even in spite of hustle, but you can't succeed without hustle.
That simple math is always in play. No hustle = no chance for success. Hustle = no guarantee for success, but at least you give yourself an opportunity to win. So what's it going to be? No chance? Or chance?
Then there's this – the more you hustle, and the longer you hustle, the odds swing to your favor. That's pretty simple math, too. It's made even more simple because most people are going to quit. Even the ones who started out hustling. In time, they'll get discouraged and quit. Others will give it only a half-hearted effort fooling themselves into thinking they're really hustling. Those are the folks gathered in the break room at work griping about things. They whine and complain, devoting more energy to finding sympathetic listeners than to doing the work.
Fact: Success – or any worthwhile accomplishment – is arduous work. Rewarding, but tough. Wishing isn't hustling. Dreaming isn't either. It's dialing the phone. Making the appointment. Writing the book. Submitting it. It's playing music on the street. Or in a rinky dink joint where nobody is listening. It's in taking action, not in thinking about taking action.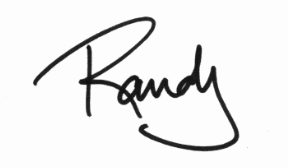 How Can You Help The Podcast?
Leave us a review at iTunes
Pick your favorite way to support us financially
Join the conversation at our Facebook group
Tell your friends. Promote the shows on social media.