Podcast: Play in new window | Download
Subscribe: Apple Podcasts | Android | Email | RSS | More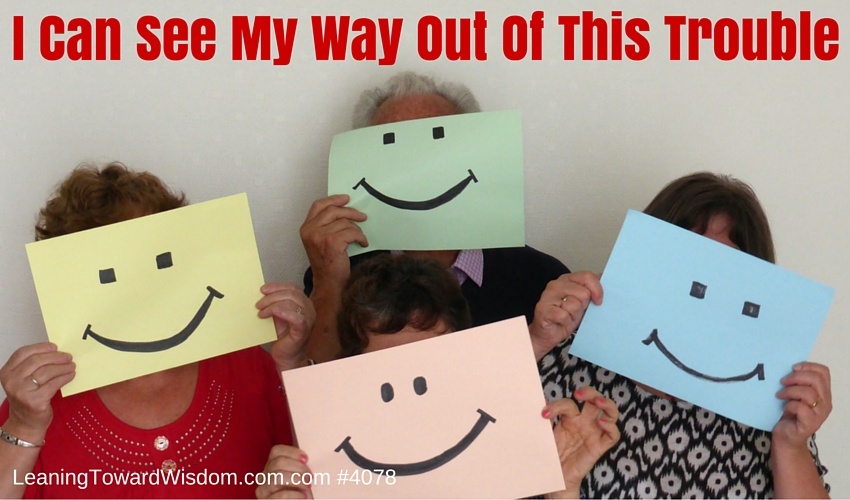 "I can see my way out of this trouble" sing Moon Taxi (how can you not love a band name like that?). But it begs the question for you. Can YOU see your way out of trouble?
If you're like most of us – sometimes you can, sometimes you can't. It kinda depends on how big the trouble is, and your resolve or resilience at the time. We've all been punched in the gut with some problem that blindsided us. It can take a bit to catch your breath and get the cobwebs out of your head – and to get that nauseous feeling out of your stomach.
I'll warn you right now that this episode and the next one are going to focus on optimism. So if you want to embrace gloominess, get lost 'cause you're not going to enjoy this two-part trip toward the Sunny Land of Optimism.
That opening track is the last track of the new record by Moon Taxi. They're going to serve as the house band for today's episode and their new record, Daybreaker, is going to be the soundtrack. I want you to go to iTunes and buy it right now. Here's the Apple iTunes link. Do you prefer Google Play? Then click this link. It's only $7.99 at either place. Eleven tracks of pure goodness for under 8 bucks!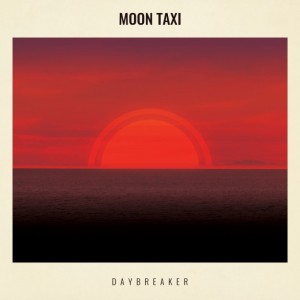 Before we get underway let me introduce you to the boys in the band:
Trevor Terndrup – vocals, guitar, harmonica, didgeridoo, Native American flute
Spencer Thomson – guitars, tenor banjo, Wurlitzer, vocals
Tommy Putnam – electric and upright bass, vocals
Tyler Ritter – drums and percussion, vocals
They're from Nashville. Well, since high school. They met while attending Belmont University in Nashville. This is their 4th studio record and I'm predicting it's gonna help 'em break out from the pack. Like a brave cyclist in the Tour De France, I'm looking for these guys to sprint ahead and leave others gasping for breath to keep up. I hope they're all holding up smiley faces with the release of this album. It came out October 2nd and I snapped it up immediately.
Okay, let's get on with it. It's about changing how we view the world and our circumstances. Instead of automatically thinking of all the things that can go wrong…let's see if we can find ways to consider all the ways it might go right! It's optimism.
I believe in positive talk, but I think optimism demands more. If you suffer depression seek out a mental health professional. Don't go it alone. Don't beat yourself up because you're unable to remedy things alone. Depression is serious and I don't want you to trifle with it. It's not the same thing as being pessimistic. If you're in a place where can see no way out of your trouble, I want you to love yourself enough – and your family and friends enough – to get some help. None of us can go it alone. We all need help. There's no shame in it. In fact, it's probably the most courageous thing you can do…to let somebody serve you. And I'd remind you that there are people who live to serve your needs. Don't deny them the opportunity to do what they love. I know that feeling as a guy who coaches leaders and executives. I'm flattered and honored when clients let me serve them. I guarantee mental health professionals feel the same way!
Life, like business, can be broken down into a SWOT analysis. Strengths. Weakenesses. Opportunities. Threats. We've all got these things in our life. It's just that sometimes we get too focused on the Weaknesses and Threats. We shove the Strengths and Opportunities to the back of the bus where we ignore them. I guess pessimism is our ability or tendency to let the challenges loom larger than anything else. It's that "can't see the forest for the trees" kind of a thing.
Someday someday
Out of the dark we go
Someday someday
Into the year zero
Pick me up when I'm down
Get my feet back on the ground
Holding on with our hands
I need you here to help me stand
We all go into the darkness every now and again. Don't we? I know I do.
I don't know what the boys were thinking when they wrote or recorded this song, but I know what I think of as I hear it. I think of how we ought to pick ourselves up and help other people get to their feet so we can start over. So what if we got knocked down? Everybody does. There's no shame in thinking we're weaker than anybody else just because we find ourselves on the ground every now and then.
When my son started playing hockey he was already a good skater. Part of being a good skater is staying on your feet. Turn on any NHL hockey game and watch just a few minutes. These guys are world class skaters. Since hockey is a physical sport with checking, where opposing players are trying to knock the guy with the puck off the puck, you'll see the guy with the puck get abused as much as legally possible. You'll see him, and other players on the ice, get knocked down every single shift. You won't see an NHL player go to the ice, stay there, slowly get up, embarrassed that he lost his balance. No, they pop right back up and keep going. Being knocked down is part of the game. It's not about being knocked down. It's about how quickly you get back up and get back into the play.
Well, Ryan didn't like being knocked down when he started. He avoided the physical contact. I suspected it wasn't because of fear of the contact, but it appeared fear of shame of being knocked down. I think in his head he associated falling down (even it was from being knocked down by an opposing player) with being a poor skater. Nope. Got nothing to do with that. It's just part of the game. Every single NHL player gets knocked to the ice many times every game. All of them. I don't care how good they can skate. If they don't get knocked down, it means they're not engaging the opponent and playing as hard as they can. It doesn't happen…because NHL teams won't allow any player to be a slacker. To play at that level, you've got to give it all you've got every time you play.
For Ryan, it wasn't physical. He was a gifted skater. It was head trash. He had to find a place in his mind where he understood that sometimes his feet were going to be knocked out from under him. The question was, "What are you going to do now?" And, "How long are you going to stay down?" The longer you stay down, the more opportunity you give to the other team. The greater your threat if you stay down.
Isn't that how it is in your life? I know that's exactly how it is in my life. It's hard to defend yourself against the struggles of life when you're flat on your back and you've given up. That's what life wants you to do. But you've got to be more tenacious than that. You have to get back up without embarrassment knowing that YOU can't focus on some false shame you might feel, thinking people are looking at you, laughing at you. Trust me. They aren't. They're too busy watching their own life, worried that they'll fall flat on their back. Besides, the longer you lay there the longer you give people the chance to see you laying there (see what I did there?). 😉
Resolve. Keep going…all day, all night.
Do people sometimes see you hanging by a thread? Probably. But here's the thing. That's a moment in time. It just doesn't feel that way. But think about it. You can look at your troubles as lasting all day, all night. Or you can think of your resilience lasting all day, all night. Isn't that a choice we can consciously make? We can unless we're battling some mental health issues. I once coached a young man who was struggling with depression. He wasn't able to see resilience. He didn't have any. Instead, he couldn't get his focus off his problems. He needed help and thankfully, at my urging, went to a doctor who prescribed some medication to help him. It wasn't a crutch. It was the help he needed to turn the tables on his problems. His problems weren't any worse than yours or mine, but he just couldn't see how to get back to his feet. The doctor helped and it made all the difference in his life.
When we can see clearly, we have to realize that even our worst problems – maybe the death of somebody very special to us – is a moment in time. It's a moment in time when the pain seems unbearable, but still we bear up. The loss remains, but the pain lessens. We're consumed with thoughts of our loss, at first. But over time, those thoughts are broken up with other thoughts. Joyful thoughts. Productive thoughts. We may never get over the loss, but we recover. We regain our footing and that loss doesn't define the entirety of our lives. And that's with DEATH. The death of somebody we love dearly.
Few things compare to that kind of problem. So if you're struggling financially, or with your health. Or with the health of a loved one. Or if you're fretful about a relationship like your marriage. The problem – whatever it may be – can seem like it's going to last all day and all night…OR you can decide instead that you're going to make your resolve last all day and all night. That'll make your problem just this moment in time. A time that is sure to pass, if the Lord allows us to live a little bit longer.
I look back at the struggles of my life and even those that seemed to last a long, long time — in the grand scheme of my life, they were days, weeks, months, perhaps just a few years. But they had an end. Sometimes I did a poor job of looking toward the end, immersing myself in my pain and suffering. That only made the pain last longer. I wish I had flipped things on their head and instead chosen to embrace my own tenacity and like those NHL skaters, hopped right back up and gotten myself busy in the play. It would have served me far better.
We all have our stories
We all made it through
Oh but I don't know if I would have made it without you
Oh but I don't know if I would have made it without you
Do you run right back to the people in your life who love you, and are willing to help you? Is that what you do when trouble hits?
Or do you run away and hide?
I know why you hide. I know why I hide. Shame. Embarrassment. Shame of what? Embarrassed about what?
That we fell down. That we failed. That we took a shot and it didn't work out. You know the shame we should feel — the shame of neglect. The shame of being selfish. The shame of our poor conduct. Not the shame of a worthy effort that just didn't pay off. Or the shame of a good attempt to make something positive happen, just because it turned out poorly. No shame in that.
When we run into trouble we don't need to run away. We need to right back to the people who love us and will support us. The people willing to extend their hand and help us back up. But so often those are the very people we lash out at in our anger at our own problems. We take it out on the folks who most want to help us. We can do better. They deserve better. We deserve their help and they deserve our trust and opportunity to help.
You want to be there for your family and friends, don't you? You want your wife or husband to confide in you? Then be willing to confide in them. Run right back to the people who can make the biggest impact in your life. They want you to.
Problems, if we give them permission, can turn into destinations instead of events or circumstances.
We have to get ready to go. We don't want to stay here with this problem. This problem needs to end. It needs to go away, or at the very worst, it needs to be handled and endured. Either way, it's like the old adage said of when the party shuts down or the bar closes, "You don't have to go home, but you can't stay here." Unfortunately, sometimes we do want to stay here and our problems are happy to have us stay. How does nurturing the problem help though? Instead, shouldn't we be busy nurturing a solution, a way out, or a way to better cope?
Preparation, preparation, preparation. Mentally. Emotionally. Physically. That's the stuff we all need. And I'm not talking about procrastination. I'm not talking about prepping, prepping and prepping because we're fearful, or worried we're not ready. I'm talking about putting in the work do we can be ready to go. Optimism is hard work and you've got to be ready for it or it won't happen. It's not some magical sensation that just sweeps over you.
I'll tell you what works for me. Now I'm a faith-based guy so keep that in mind. God is important in my life. Yes, I think He should be important in your life, too. A very good friend of mine is a preacher with a web series of sermons (they're often broadcast on local TV in some markets, too). I help do the webwork for this project because it's an important work. You can check it out if you're interested: Let The Bible Speak TV.
I bring that up because it's an enormous part of my preparation. The heart of my preparation is thanksgiving. I'm not lucky, but I am blessed. When I'm down and out and prone to gloominess, I stop and think of how blessed I am. And I thank God for the basic, but powerful things. Things like being married to a good woman for the past 37 years. Like having two good Christian kids who married good Christian mates. And for 5 healthy grandkids. I'm thankful to be an American citizen where the opportunities abound, the water is clean and food is plentiful. I'm thankful for my family and friends. I'm thankful for the Church that Jesus died and purchased with His blood. I'm thankful for forgiveness of sins and all the spiritual blessings found only in Christ. So many things that I might be prone to take for granted — thanksgiving for these things compels me to be optimistic. How can it not?
That's how my preparation begins. And yes, I pray for wisdom. Leaning Toward Wisdom isn't possible for me without the help of God. I ponder, think and meditate all along the way working hard to prepare to make the best decision I can. But preparation is useless until and unless you take action. What are you going to do to be ready to go? You need a plan. Then you need to execute that plan. Don't camp out in the land of your troubles. Be quick to get ready to go.
It seems obviously a story of a guy asking a woman to make up her mind if she's gonna stay or go. He ends saying he's made up his own mind. But let's apply the song title at least to our point today — to make up our mind to see our way (maybe find our way) out of our troubles. Sometimes trouble lingers because we're just not decisive enough. We loiter around trouble too much. We hope trouble will just suddenly go away all on its own. Or we hope good news will arrive at our doorstep and knock down our front door. Then we're disappointed, maybe even depressed, when none of that happens. Leaving life to chance or hope is a poor strategy. Instead, we need to make up our mind to find a solution to what ails us.
This is where some of that preparation can help. If we're prepped our mind to accept that bad things happen, and that they're moments in time waiting on us to respond, then maybe it can be easier for us to make up our mind. We need to make up our mind to respond in the best way possible so we can get past the problems.
Every adult knows that much of our life is determined by how we look at our life. If we make up our mind to be sad, we're sad. If we make up our mind to be miserable, we're miserable. Why can't joy and happiness and contentment work the same way? They do. They're just harder. They take greater concentration. Choosing the harder way is often more profitable, but just not as much fun. Misery, fun? Sure, don't you know people who aren't happy unless they're miserable? I do. Some people enjoy moaning and groaning about how bad their life is. Folklore would have us believe it takes far more muscles to frown than to smile, but science doesn't seem to bear that out. No matter, it's still better to smile than to frown, unless of course the situation warrants a frown (I'm thinking of my granddaughter who can behave in ways where I need to shoot her a frown to show my disapproval). 😉 But frowning is easier for many people. Why not make smiling a habit? Cause it's not natural for some of us. It's hard.
Everything is hard…until it's easy.
It's one of my favorite quotes. Supposedly it's by Johann Wolfgang von Goethe. I'm also a big fan of that quote attributed to him that supposedly wasn't by him. How that's for a brain twister?
Until one is committed, there is hesitancy, the chance to draw back — concerning all acts of initiative (and creation), there is one elementary truth that ignorance of which kills countless ideas and splendid plans: that the moment one definitely commits oneself, then Providence moves too. All sorts of things occur to help one that would never otherwise have occurred. A whole stream of events issues from the decision, raising in one's favor all manner of unforeseen incidents and meetings and material assistance, which no man could have dreamed would have come his way.

Whatever you can do, or dream you can do, begin it. Boldness has genius, power, and magic in it. Begin it now.
Whoever said it or wrote it deserves a medal. It's still among my favorite pieces of prose. Very thought provoking.
Embrace the hard stuff. Make up your mind to do it anyway. Think of all the things you've never done because you just didn't get started. I'm thinking of the thing that so often comes up here for me – my big barometer of neglect in my life. Playing the guitar. For more than 30 years I've kept a guitar (not the same one, but I've kept at least one around). Yet I've never made up my mind to do the arduous work of learning to play. I'd love to play, but so far I'm unwilling to do the hard part – going through the grind to learn. The result isn't possible without the work. So it goes for our ability to handle our troubles successfully. They won't just magically disappear. We need to make up our mind to jump on them.
Cuz who's to say that I'm crazy
Keep it to yourself
Who's to say what you should do or how you should do it? They sing of going it alone in this song, but when it comes to tackling our problems…no, don't do that. But there are times when you have to go it alone, kinda sorta. Back up there in that making up your mind stuff…you need to decide for yourself. Yes, do it with wise counsel, but in the end…you have to decide. Who's to say you should do this, or that? It's your life. These are your opportunities or troubles. Easy for me to jump in the backseat and tell you how you ought to go, but you've go the wheel of your own life. Take it. Grab it with hands at 10 and 2. Keep it between the lines.
Who's to say you're crazy? Or that you're making a foolish choice? Now, don't be foolish. I'm not talking about choices like drug abuse, alcoholism or some other destructive behavior. Don't choose those. Those are stupid choices. Who's to say? The wise. That's who.
But when life gives you the choices and none seem very obvious, it's YOU who must decide. People may think you're crazy for pursuing a course of action they can't relate to, or a choice they would never make. Happens all the time. Maybe it's a person who wants to perform music for a living, but friends and family tell them they're crazy. Or a person who wants to create art, but everybody tells them it'll never work. They'll never make a living "doing art." Who's to say? It's your life and you have to be responsible for the way you're going to go…and how you're going to do it.
Always with you.
Who is it you're always with. Who is it you want to feel as though you're always with? Think of an important person. A person you can associate the word ALWAYS with.
I've got one prominent person, my wife Rhonda. We're in it together…ALWAYS. It's a non-negotiable relationship. I hope you've got one of those.
But I've got others, too. Admittedly they're not as vital, but they're important. Close seconds. My kids and my grandkids. And I include my son-in-law and my daughter-in-law with "my kids." That's family. My tribe. The people who are part of my ALWAYS. And there are others beyond that, too, but you get the drift.
What about YOU? Who are the always for you?
It's a 2-way street for me. I want to ALWAYS be there for them, and I want them to ALWAYS be there for me. We're always together. That's why the word WITH is so important.
We can only be with each other if we're serving each other. It demands all of us remain dutiful in our service to each other. We don't abuse each other. We don't trample on each other. We behave respectfully toward each other. And we've got far more in common than not.
Everybody need reliable people in their life with whom they can battle trouble. I'm a pretty open guy, willing to embrace candid conversation with people close to me. I'm not hesitant to share with people I care about. I want people who are always with me to share and lean on me. I admit I prefer to be the one leaned upon instead of the one needing to lean on…but I'm learning. And lately I've grown somewhat in this area, but only because I've made it a conscious choice. I've intentionally leaned on people for support recently. I know I need other people. I need their prayers, their support and their encouragement. Turns out I've got quite a few people who are always with me…and it's a powerful thing.
You've got the fight in your eyes
And now we're shining under red hot lights
The truth burns bright as the sun
We gonna come back and show everyone
Do you have the fight in your eyes? Trouble often demands a fight. Maybe it always does. Sometimes it's a bare-knuckled affair with no rules. Other times it's just a leveraged judo throw. Trouble comes in all shapes, sizes and degrees of aggressiveness…and ferocity. Still, you have to fight.
There's no time to sit on your stool in the corner. Trouble will kick you in the gut, knock you down and drag you out back for an even bigger beating. Unless you fight.
Sure, it's often times about showing trouble who's boss. But here's the thing. If you don't fight, trouble will win. If you fight, you may not have to be accomplished, or all that skillful. Trouble can be like the thief looking for an easy score. Sometimes just a little resistance is enough to show trouble the door. And just like the bashful thief looking for an easier mark, trouble will sometimes make a hasty retreat because there are just too many other options. There are way too many people who will lie down and take the abuse so trouble has no reason to linger at the door of a fighter. But you never know until you start to fight back.
Sometimes it's hard to determine how fierce trouble is going to be. Sometimes it's easy. Serious sickness. Death. Horrible loss. These are troubles that reveal instant fierceness. When these hit, we know we have to hit back just as hard as we can. We have to bring out our big guns because these are serious threats. But most of our troubles aren't so intense. Quite often they're worrisome and we hope they don't grow or morph into something more deadly. Fear will grip us if we let it. We'll imagine this trouble growing and multiplying. And it will if we embrace those thoughts. Instead, we need to pull a Barney Fife.
Trouble will knock us down like dominos.
If we allow the first one to fall, it's easier for others to fall. That's why trouble too often gains momentum. We stand by and watch it fall. Then another, and another. And another. But it's not nearly as entertaining as those elaborate domino set ups you can watch on YouTube.
Fight the fight. We're all in this boat together. Let's all lean to the right – toward wisdom and we'll keep this boat afloat!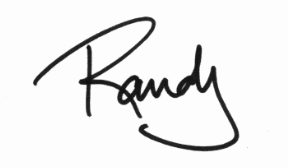 How Can You Help The Podcast?
Leave us a review at iTunes
Pick your favorite way to support us financially
Join the conversation at our Facebook group
Tell your friends. Promote the shows on social media.