Podcast: Play in new window | Download
Subscribe: Apple Podcasts | Android | Email | RSS | More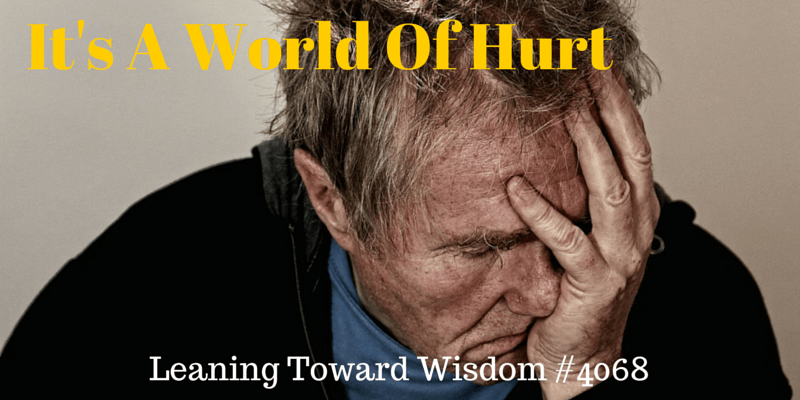 Don't cry. Well, go ahead if you want to, but I'm not going to make you cry. I'm not even going to try. Even though we all know it's a world of hurt. Today's show is mostly about resolve and resilience – two qualities we all need because it is a world of hurt.
Hurt comes in many varieties. All of them foster fear. There are different kinds of fear and equally different ways to focus or deal with it.
Many people play it safe, hoping to avoid hurt. Others run headlong into their fears, exhilarated by the adrenaline. Or something else.
Coping with fear isn't the same as coping with hurt, but I think we can still learn some things by beginning with fear. The skills are transferable and they apply to improving our resolve and resilience.
Learning how to cope with fear doesn't mean the fear goes away. Not completely. The exercise of coping isn't the same as elimination. If you ever reach a state of fearlessness, then I worry for your safety and your ability to live responsibly. Properly managed fear keeps us safe. Makes us wise.
It's about learning how to move forward – how to succeed – any way. Every tough or fearful situation gives us the opportunity to learn. And it gives us the chance to toughen up our resolve to keep going.
Taking Chances, Making Mistakes
"I've had a lot of worries in my life, most of which never happened."  -Mark Twain
Ask any older person (a'hem) and we'll tell you that most of the time – not all the time – our fretfulness was over-amplified. Things rarely go as poorly as our worst fears. Yes, there are absolutely exceptions…true with most things. But it's a bit like riding in the car knowing that fatal accidents happen all the time. It could happen to us, but statistically the odds are in our favor no matter how much we worry. We can elevate our odds for concern by driving poorly, drinking while we drive and engaging in other hazardous behaviors. Or, we can be responsible, exercise good judgment and increase our chances of safe driving.
Foolishness is different than taking chances to succeed. Here, we're all about pursuing wisdom. We want to take chances that will increase our opportunities for success (improvement, greater fulfillment, higher income, more impact, greater influence, etc.).
Some time ago I was visiting with a client. We were discussing an issue he was facing – second guessing a decision he had made to hire a particular person. In my work for the client I had uncovered a few issues with personnel. In some cases, it was merely a wrong person being in the wrong position. Poor fit. But in some other cases, there were people with more severe issues. Some even appeared to be unqualified to perform at the levels demanded by the organization. It happens. Even seasoned professionals can sometimes misjudge candidates and hire the wrong people. I wasn't certain that was the situation in all cases, but this executive was lamenting "a terrible mistake."
"I don't think you should label it a mistake – at least not just yet. And you certainly shouldn't label it a 'terrible mistake,' " I said. "Besides, no matter what happens, it can be fixed."
I decided to share some of my own stories of hiring mistakes with this client. As a consultant, it's easy to appear pretty smart and wise today. I'm a grizzled veteran of building effective teams and organizations. That skill came with a price tag though. I made mistakes along the way. I didn't always get it right. Sometimes I trusted the wrong people. Other times I misjudged people and put them in positions where they failed. Each time I learned a little bit more. Today, my wisdom is stronger because of those mistakes.
Taking chances doesn't mean you should practice neglect. Or foolishness. Just like safe driving, we have to live responsibly. Otherwise, we might experience some soul-shaking mistake that will ruin us and wreck our lives.
Pain Management Isn't Pain Avoidance
You do want to shake your soul so you have the tenacity you need to pursue the best for your life. Few things grieve me more professionally than to see a person – and work with a person – who has the capacity to excel, but they trip themselves up with poor behavior, or they lack the confidence to grab life's brass ring. Sometimes I find myself wanting it for a client more than they want it for themselves. It's a bad situation. For both of us. But I've learned to let people choose for themselves, even though I fight like crazy to help them choose wisely. Foolishness is a choice we can all make.
Everybody has to choose for themselves. And to find their own way.
Hopelessness hits all of us sometimes. Life hurts us. Fear blows in like a big wall cloud and darkens our whole world. Careers go south. Money gets tight, or disappears. Health issues beset us. Relationships hit the rocks. Hurt and fear can be pretty comprehensive problems in our lives. So much so that nothing else matters. Ask any cancer patient. It dominates life, forcing every acquaintance to politely (and with all the best intentions) to inquire, "How you doing?" Most would probably enjoy smacking every person who asks. But like so many of life's hurts and problems, escape is hard. Maybe impossible. Coping and enduring are sometimes our best options. And it sucks.
But I'm going to be the voice telling you that it doesn't have to be that way. No, I think that space between your ears can determine quite a lot about your life. Including your health – whether it's cancer or something else. Including your career, or money, or your marriages.
Is life what we make it, or does life happen to us? Both.
Life is what we give it. And the older I grow the more convinced I am that what we give to love – others – is among the most powerful things in our life. We just sometimes fail to recognize it.
Love begins with your love for yourself. Self-respect. Self-worth. Self-control. Important things that determine how you're going to choose between foolishness and wisdom.
Over the weekend I was catching up with old friends that I'd not seen in many years. When you've gone years without seeing people the decisions and circumstances of life are compressed. That is, you catch up by hearing the bullet points of life. There are stories without details. It boils down to statements like, "I got married. Ten years later we divorced." A choice was made. Another choice was made. No details. No other information. We're left to wonder and fill in the blanks with our surmising. Maybe we get scraps of additional information that clarifies things. "She cheated on me with a co-worker." Enter foolishness. And hurt.
Time gives us perspective and the opportunity to see the self-respect, self-worth and self-control — in ourselves and others. Maybe it's most notable as we're looking at others, and their choices.
A once beautiful young lady in her 30's. She looks at least 5 years older than her age due to the drugs. She's hard. Empty. Vacant. She wasn't always like that. You look at her and wonder "What happened? How did she allow her life to go so wrong?"
She didn't leave her family in suburbia for the back alleys of a downtown big city. It was gradual. One poor choice followed by another. And another. And another. Gone is the resolve to create a different life. She's lost and that first step into the woods was so long ago she can't even remember taking it.
Her body is now filled with piercings and tattoos that serve as a roadmap chronicling her poor choices. Permanent markers of her foolishness. It's as though her only resolve is to keep going down this path until life is over. And I wonder if that resolve might have been refocused somewhere earlier in her path. I think I'm wise enough to know that if she could have found resilience earlier in life, then her current resolve would appear quite different – with a very different aim. Today, the resolve is simply to get more drugs and fall deeper into a world of hurt.
She's been in the darkness so long she can no longer discern light. There is a light, but she just can't see it.
Let's turn this thing around. This isn't about despair or being lost. It's certainly not about staying lost, even though we can all get lost every now and again. The point is to avoid staying lost. The point is to find the courage to get back on our feet when life has knocked the crap out of us. It's not about avoiding all the hurt because in spite of all your wisdom you will feel hurt – maybe more often than not. The point is to embrace the strength you already have – even if you don't think you do – to punch life back and avoid giving in.
It's about me providing you whatever encouragement I can to urge you to hold on.
Many years I sat down with an employee who wasn't performing up to expectations, but he wanted to propel his career forward. Mostly, he wanted to get a job with a manufacturer as a sales rep. I decided it was time to teach him how life really works in hopes that he could find the success he wanted by being successful for our company. I gave him a "grow where you're planted" sermon. I told him how every day he was coming to work 8 or 9 hours a day. I asked him, "How are you helping your career by doing mediocre work during those hours, when you could be using those same hours to being excellent?" He had no answer. "You're going to be here anyway, " I reasoned. "You may as well give it your all while you're here 'cause the time is going to pass no matter if you do well or if you do poorly."
This young man wasn't going to ever get a bigger opportunity because he wasn't handling the one he had. He was looking past the present opportunities hoping to get a bigger one.
Sometimes we do that with our hurt. We get down in the tube of despair. We embrace our pain and plant our face in our hands. Then we stay there wondering why life never gets better.
Because we're not growing where we're planted. We're not learning to deal with our current condition. We're surrendering to the hurt and that doesn't make us stronger.
Do you exercise? How about walking? Do you do that?
If you don't, then try walking 2 miles in 30 minutes. You'll experience some pain…if you can even do it. Or you could make a smarter, wiser decision and just start today. Walk around the block. That's it. Just do that today. Then tomorrow, do it again. Do that the rest of the week. Then next week walk around the block twice. Do that every day next week. Then in week 3 walk around the block 3 times. All week 3. Resolve will grow. Resilience to the pains of physical ill-fitness will intensify. It will get easier. You'll find yourself pushing yourself harder and feeling good about it.
Every day won't be fun. You'll want to gripe, whine, moan and make excuses. But if you'll put a smile on your face with the determination to do all you can, with what you have, then you'll find yourself growing tougher physically and mentally, too. So you might as well smile.
It's not easy, but it's a choice you can make. People are often shocked at their inability to smile in adversity when they've never developed the habit to smile when things are good. Resolve and resiliency are habits that need to be developed. And exercised.
Don't walk. Ever. And be prepared to suffer when you try to walk around the block 10 times. You've never grown accustomed to walking around the block once, repeatedly – day after day.
A guy is telling me about losing his job. Never saw it coming. He's devastated. His world is wrecked. He's not smiling. I don't expect him to. Hurt takes time. We're humans, not Terminators, capable of instant self-healing. Healing takes time.
Weeks later though and now he's bitter. Things haven't improved. They've grown significantly worse. He's without a job and now he's rapidly becoming unemployable because he's wrecked more than his finances. He's trashed his attitude, his spirit and whatever resolve he had to get back on his feet. Self-respect, self-worth and self-control have all given way to loathing life because these horrible things have been "done to him."
Face plant time. Would you hire that man in the picture? Me neither. Sometimes that man is us though. Sometimes we've just had enough.
How do we sharpen our resolve? How can we improve our resilience to hurt?
First, we can't say we've had it. Well, we can say it — we just can't mean it. So we shouldn't say it. Unless of course, we're saying we've had it with being down and out.
It's good to be sick and tired of being sick and tired. Unfortunately, lots of us say that, but few of us act accordingly. Mostly I think we hope things will get better. Another day will pass and maybe tomorrow that headache will pass. Maybe that job interview opportunity will suddenly appear. Maybe that client will behave like a moron fish and jump into our boat of business all on his own.
One lottery winner takes the spoils of 10 million or more losers. Those suckers! Those millions of losers clamoring to be winners by doing nothing more than being selected by random chance.
Even those of us who don't gamble – or believe in gambling – can be prone to the folly of thinking our lives can be improved mostly by random chance. Or in the case of Mr. I'm-Bitter-Cause-I-Lost-My-Job, we think our lives are wrecked by some universal conspiracy to hold us down. Yes, the world is intent on crashing your life 'cause if you succeeded…well, that would just ruin it for the rest of us. So we all got together behind your back to make sure we took you out of the race altogether. You were such a threat! 😉
Personal Accountability
This is big. No, it's HUGE. GINORMOUS even. That's why I've been on this theme for the last few episodes. But it really permeates most episodes because it's crucial. It's the most valuable element of what we can learn together. To take responsibility for our own lives and to do the best we can to change what isn't working. We need to opt in on better choices.
It's a hard realization to know that our lives are mostly – not entirely, but mostly – a result of our choices, actions, behaviors and habits. That doesn't mean that we've not been hurt. Maybe badly.
I don't know the cards you've been dealt. I'm still trying to figure out the cards in my own hand. But I do know we don't all have the same hand. Some have it better than others. This past weekend the royal family in Britain celebrated the Queen's birthday. Prince George is the 22-month old son of Prince William and Catherine. I suspect when it come to financial success, that 22-month old got a better hand then you! Just guessing.
So because you weren't born a Prince you're going to commit yourself to derailing your life with utter defeat and surrender? Of course not. You're going to do what you have to do to figure it out and find the most success you can. And you'll define that for yourself if you're wise. Compare yourself to the highest achievers on the planet and you'll just suffer more hurt. Look deep within yourself, embrace contentment and you'll be successful and feel good about yourself.
But it'll take all the tenacity you can muster.
You'll have to quieten the noise in your head that's telling you, "I suck."
You'll have to stop watching others with envy. They're not all doing as well as they'd like you to think. And if they are, so what? How does that impact you? It doesn't unless you let it. Ignore the success of others and pursue your own.
You'll have to examine your choices. That means you'll have to weigh your options and decide wisely. The pretty young lady who once choose drugs should have never made that choice, but she did. After making that choice she should have corrected it. Instead, she kept making the same choice over and over until she lost herself to that foolishness. You'll have to do better.
You'll have to commit yourself to the process of improvement. Don't get too attached or attracted to the goal. Start walking one block at a time every single day. Then do it again tomorrow. And the next day. Until you can walk two blocks at a time. Then three. Until you're strong enough – and in the habit long enough – to perform consistently well. Forget the goal of running a marathon. The goals will happen if you just do the right things no matter what.
Resolve and resilience are choices. And like lifting weights, they can be increased with regular use. There are no short-cuts. If you're not committed to do the work, then you'll never be able to fix yourself.
We can help each other. We can encourage each other. But each of us must choose to do the right thing 'cause we've all got work to do.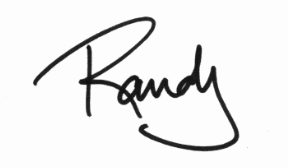 How Can You Help The Podcast?
Leave us a review at iTunes
Pick your favorite way to support us financially
Join the conversation at our Facebook group
Tell your friends. Promote the shows on social media.