Podcast: Play in new window | Download
Subscribe: Apple Podcasts | Android | Email | RSS | More
New Year's Day 1974. That's when Bantam Books published this book. I can't be sure when I bought it, but it was in 1974 – the year I still maintain was one of the best years for music.
That plain paper, which was once notebook paper with lines on it (look closely at the holes and the red margin line), is old and faded. It's at least 40 years old, along the book under it. I covered it because I'd often read it at school. Sometimes, in class.
It's a thick paperback with 783 pages. I carried it to class that entire year. I'm sure I read from it daily, too. Nobody ever asked, "What are you reading?" A book covered should garner more attention than the cover…or so you'd think. I wasn't terribly wise at this point because it never crossed my mind that by trying to make it less obvious, it might actually become more so. Turns out I knew something though 'cause nobody questioned me. Not even teachers. Mission accomplished.
The writers: Ben Fong-Torres. Jann Wenner. Cameron Crowe. Hunter S. Thompson. Dave Marsh. And others. The music: Bob Dylan, Joni Mitchell, Buffalo Springfield, Led Zeppelin, The Rolling Stones and Creedence Clearwater Rivival.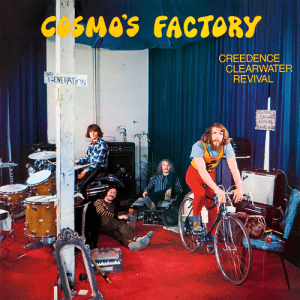 Since 1970 I had nearly worn out my copy of Creedence Clearwater Rivival's Cosmo's Factory. It was such a terrific record with classic songs including Before You Accuse Me, Lookin' Out My Back Door, Run Through The Jungle, Who'll Stop The Rain and I Heard It Through The Grapevine. But it also contained this classic song, Long As I Can See The Light.
It was in the pages of Rolling Stone that I learned that record, a record I loved, had been produced by one of my favorite bands in the midst of bickering. John Fogerty was alienating the rest of the band, including brother Tom. I remember being sad that these guys seemed headed for a break up. It was the first time I ever felt like knowing too much about the people who created the music sort of hurt the mystery behind the music. But still I read.
I read Rolling Stone and Melody Maker, a UK music tabloid, with great regularity. During the Viet Nam war Rolling Stone was filled with political articles and I read them. Mostly I found Hunter S. Thompson's ongoing feud with the Nixon Whitehouse pretty entertaining.
I don't remember the first time I read Hunter, but it was likely in Rolling Stone. Or maybe it was when I picked up a copy of Hell's Angels: The Strange and Terrible Saga of the Outlaw Motorcycle Gangs. It was sometime around 1972 when I first read Hunter because I was beginning to drive. In Louisiana you could get your full blown driver's license at 15. Thompson fascinated me with his first-person journalism, gonzo journalism.
I wasn't into drugs or alcohol. To this day I've never tried either. But it was the 70's and everybody I knew smoked grass (today's hip term is "weed"). Quaaludes and other pills were popular during my high school days, too. Smoking, swallowing and snorting were the three S's of drug consumption. The 4th S, shooting, wasn't very pervasive. The kids of my high school weren't fond of needles.
Thompson was entertaining. I thought he was ridiculously clever. Today I can still read him and laugh aloud at certain passages and images. He was weird, but as he was fond of saying, "When the going gets weird, the weird turn pro." He was a pro, especially at being weird. And in the early 70's I anxiously waited to see if the current issue of Rolling Stone had anything written by him.
Had it not been for Viet Nam and later on Watergate, my interest in national politics would have been non-existent. I had never picked up Rolling Stone for political news. I was there for the music. The interviews with musicians and producers. The reviews of the latest records. Those were the things I gobbled up.
During these years there were a few songs that stood out because music was heavily listened to in our cars thanks to 8-track tapes. In 1972 every teenager's music collection included Deep Purple's Machine Head. We must have played this song at least a handful of times every single time we got in the car.
Rolling Stone and Melody Maker are always filled with news of the major names in the music biz. Chief among the super groups was Led Zeppelin. Nobody was bigger than them to a teenager in the 1970's. The Rolling Stones may have held the title in the 60's, but not the 70's. Not among the crowd I ran with anyway. The Who were getting there, but I remember mostly being intrigued with Pete Townsend's destruction of guitars. Led Zeppelin had it all though. Robert Plant had the ideal rock 'n roll voice. Jimmy Page was the world's greatest guitarist. John Bonham was the mad dog, crazed drummer. And John Paul Jones, the keyboardist and bassist – well, come on…with a name like that even American teenagers knew he was a rock 'n roll star. And in my circles, nobody knew the bass player in bands except me.
Cameron Crowe's name as often the byline of the stuff I mostly loved. And I was shocked when I found out he was my age, 16 (at the time). Talking with Jimmy Page on a tour with Led Zeppelin. And just about every other major rock 'n roll star of the day. "How was a kid doing this?" I wondered. Crowe was a bigger mystery to me than the stars he was writing about. Years later he'd win some awards for his movie, Almost Famous.
The worldly heroes of my youth were musicians and writers. These guys weren't business people. Mr. Wenner had started Rolling Stone, but I didn't think of him as a business guy. He was a publisher and writer. Music and words. Those were the two things that mattered – for as far back as I can remember. Two areas of human pursuit that smote me the most.
The Rolling Stone Rock 'N' Roll Reader circa 1974
I'm not sure why I covered it, except I wanted it to be an anonymous read. I didn't want the jellyheads to see it. They were the guys who smoked, snorted and swallowed anything to get high. Later, we'd call them "stoners," but in the early days I remember calling them jellyheads 'cause that properly described their brain power. They were quite a few rungs lower than a dimwit. High school classes were more entertaining when they were present…and awake. Especially if the teacher happened to call on them. Fast Times At Ridgemont High by Cameron Crowe was very, very close to realistic. Jeff Spicoli was a jellyhead. If you were in high school in the early 1970's you knew a Jeff Spicoli. If you didn't, then YOU were Jeff Spicoli. 😉
My family moved in the middle of my junior year in high school. I went from Southwood High School in Shreveport to Broadmoor High School in Baton Rouge. The class of 1975 wasn't forced to wait on me 'cause at the end of the fall semester in December 1974 I closed out the year by walking into the school's office and picking up my diploma. I was done with high school. By January 1975 I was riding my 10-speed around the campus of LSU as a college student clueless about what my life would be life.
But I was still reading sections of this book with the cover still in place. The book was a collection of articles that first appeared in the pages of Rolling Stone. There were articles about bands I cared nothing about…like The Doors. Jim Morrison was an idiot and I had no use for them. Still don't. Lots of harsh feelings soften over time, but not disdain for music. If anything, my intense hatred of The Doors is hotter than ever!
There were articles about bands and musicians who were very important in my musical collections. Joni Mitchell. Crosby, Still, Nash and Young. Led Zeppelin. Eric Clapton. Edgar Winter. Steely Dan. Little Feat. Jackson Browne. ZZ Top. The book includes articles written in the early days of Rolling Stone, long before it was on my radar. The magazine started in 1967. It was around 1972 before I had started reading it regularly. My passion for listening to music was hitting top gear by then.
It wouldn't be long before I walked into a stereo shop and got a job selling hi-fi gear. I still remember the smell of sound rooms. Red shag carpet. Speakers on one wall. Racks of gear on another. Comfortable chairs strategically placed near the middle of the room. Amplifiers. Preamps. Turntables. Open reel decks otherwise known as reel-to-reel decks. A few cassette decks.
I brought my musical tastes with me to the stereo shop, but I quickly got creative. It wasn't about the music I loved, or the gear. It was about what the shoppers wanted. I wanted customers – paying customers. In order to convert shoppers into buyers I knew the music had to be all about their experience, not mine. Besides, it was fun watching people get excited about a variety of music. Rolling Stone, Melody Maker and this Rock 'N' Roll Reader helped me talk intelligently about the music, including the people who made it. I was a lot more than some techie guy with a working knowledge of the latest hi-fi gear and their specs. I loved all that stuff, but it was – after all – just a means to an end. To listen to great music! To be moved by the music we loved.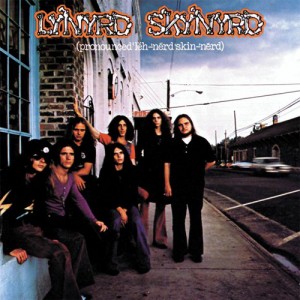 The summer before this reader was published a band emerged out of Jacksonville, Florida. No, it wasn't Tom Petty. He'd come on the scene later. It seems famed producer Al Kooper (a guy whose name on a album jacket compelled me to buy more than a few records from people I'd not yet heard of) had helped discover these southern rockers who took the name of their high school gym teacher. Lynyrd Skynyrd hit bigtime about the time school started back in August 1973 with their album, (Pronounced 'Lĕh-'nérd 'Skin-'nérd). For some reason I remember them when I think of the times I sat in school reading this "under cover" paperback book.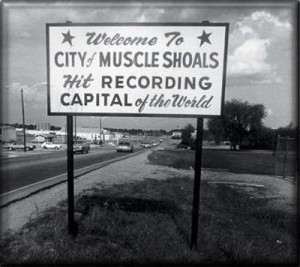 The Allman Brothers had invented "southern rock." It wasn't just the Muscle Shoals, Alabama sound coming out of the Muscle Shoals Sound Studio. It was having two lead guitars and dual drummers. It was a point of view, a frame of mind. Being from the south I could relate. Friends from more northern climes may not have been able to relate as much, but they certainly got the music. It's hard to argue with Free Bird.
All the writing about music influenced me. It helped me feel like I knew these people creating these songs that meant so much to me. Whether any single article or review fully revealed the truth of them or not didn't much matter to me because my consumption was pretty broad. When you read every article that comes out about an artist – and you've got a cynical streak like me – then you're able to distill enough truths about them to create a fair version of who they might really be.
Sometimes notions were confirmed. Sometimes they were dashed.
I owned some Jimi Hendrix records, but for me he was a once-in-awhile listen, not an everyday thing. I knew he was into drugs, but so were many of them – or most of them. There was just something about him that didn't ring for me though. That mystical thing. I'll tell you who strikes me that way today. He's not a musician so much as an actor. Johnny Depp. I enjoy his acting, but watching him in interviews, or reading interview with him remind me of that smoked-filled brain I sensed in Jimi Hendrix. I've always been put off by such eclectic personalities though. A little too weird. Which is saying something given how fond I was of Hunter S. Thompson, played by Johnny Depp by the way in the movie, Fear And Loathing In Las Vegas. I preferred Bill Murray's version of Hunter in Where The Buffalo Roam. Murray is quirky and I like him. Depp just tries too hard to be cerebral and mystical. Hendrix struck me the same way. And I thought Billy Gibbons and Robin Trower was more capable guitarists anyway. So there!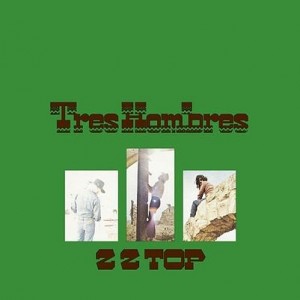 In 1974 I was listening to three harder rock records more than any others. A little band out of Texas had released a bright green album, Tres Hombres in 1973. Now, this is rock 'n roll and we did indeed like it. We didn't play it and put it away. We played it and played it some more. That record still stands up today, 42 years later.
I was a fan of old blues guys like John Lee Hooker and this ZZ Top bunch had it going on. I was a big fan until they got so cheezy the bits took over the music. Guys gotta make a living I suppose, but I bought my last ZZ Top record in 1979 when Deguello was released. They were awesome back in the day though.
The other record was released in 1974 and I was quite interested in this guy who had once played for Procol Harum. How did I know that? Rolling Stone. Procol was a band of the 60's and I admit they weren't on my radar, but Robin Trower sure was. Which came first, driving fast or listening to Robin Trower's Bridge of Sighs? It's a trick question. I can't do either of them without the other.
The trilogy of harder rock records for me during these Rolling Stone Rock 'N' Roll Reader days was another record that made driving fast easier, Lou Reed's Rock 'N' Roll Animal. The record opens with a Steven Hunter guitar lick that is still among the most notable guitar riffs in rock 'n roll history. The introduction to Sweet Jane.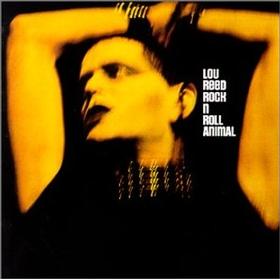 How did I know it was Steven Hunter's guitar riffs? Because I knew he had played with Alice Cooper on that record every teenager owned, Billion Dollar Babies. Other than the liner notes on the record, I knew that Steven Hunter and Dick Wagner, another Alice alumnus both played on this record with Lou Reed. See, you can't just know that stuff by listening to the records. Musical education involves knowing who these people are and as much about them as you can. Well, in 1974 it did for me. So I kept that book covered, my reading private and my conversation filled with enough rock 'n roll knowledge to dazzle even the most skeptical of my friends.
Want to know what's crazy? How much of that I still retain in my puny brain. Probably because unlike the folks I was reading about I never took drugs and never drank alcohol. Somebody's gotta remember this stuff, right?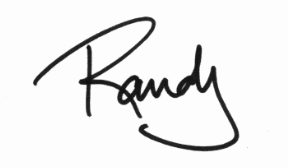 Please, Please, Please
Leave us a review at iTunes
Pick your favorite way to support us financially
Join the conversation at our Facebook group
Tell your friends. Promote the shows on social media.