Podcast: Play in new window | Download
Subscribe: Apple Podcasts | Android | Email | RSS | More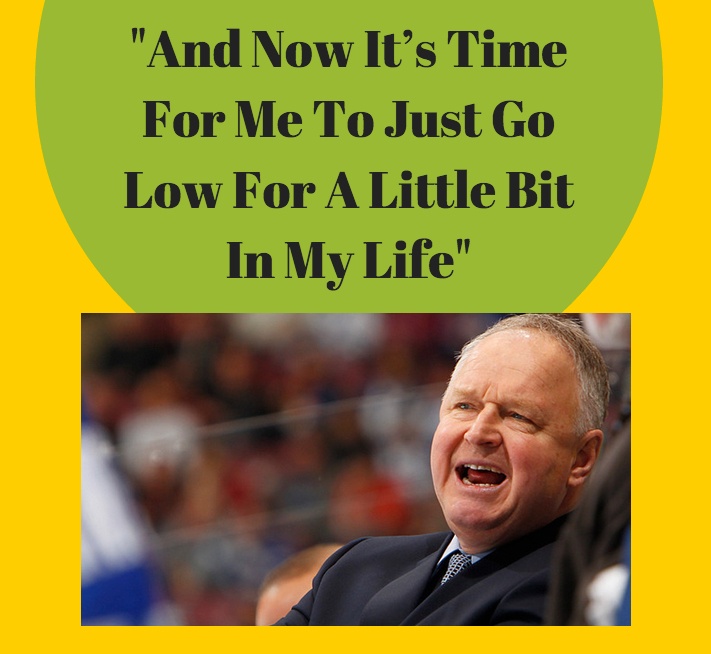 There's a time to go big. And a time to go home.
It reminds me of those famous scriptures of Ecclesiastes chapter 3 that indicate there's a time for everything.
To everything there is a season,
A time for every purpose under heaven:
A time to be born,
And a time to die;
A time to plant,
And a time to pluck what is planted;
A time to kill,
And a time to heal;
A time to break down,
And a time to build up;
A time to weep,
And a time to laugh;
A time to mourn,
And a time to dance;
A time to cast away stones,
And a time to gather stones;
A time to embrace,
And a time to refrain from embracing;
A time to gain,
And a time to lose;
A time to keep,
And a time to throw away;
A time to tear,
And a time to sew;
A time to keep silence,
And a time to speak;
A time to love,
And a time to hate;
A time of war,
And a time of peace.
Randy Carlyle was fired recently as the head coach of the Toronto Maple Leafs hockey club. This season he had a record of 21-16-3. It wasn't good enough. Firings coaches of professional sports teams is commonplace. Randy is among a handful of coaches who've been fired in the NHL and we're still months away from the Stanley Cup Playoffs.
In the National Football League, there's a veritable league wide version of musical chairs about now. We're about 3 weeks away from the SuperBowl though so it's that annual time of year that college and professional football coaches in America begin to shift around. It's still a bit early for that in hockey circles. Carlyle just got a head start and was able to go home early.
Fired on a Tuesday, then on Wednesday Carlyle's brother-in-law died of ALS. He had fought the disease for over a year. When Carlyle spoke to a Toronto Sun reporter, he remarked how awful ALS is.
You're just trapped inside the body. Your mind and everything is still there, but you're just trapped."
It's a matter of perspective.
This (losing my job) is so minute when you spend the time with your family and see the heartache that's just gone on in their life and the hardships that are coming and the loss of a loved one and a family member. But that's a reality of life. That's life. My experiencing losing my job is minute."
To make matters worse, Carlyle will have back surgery later this month and he's battling some credit card compromises. He's a long way from the 2007 Stanley Cup winning season when he was the head coach of the Anaheim Ducks.
"It's all about winning. Winning makes your life easier and makes it better. The thing about when you lose here in Toronto, you don't breathe for a couple of days. When you win, you can exhale."
A Time To Lay Low, A Time To Rise Up
Randy Carlyle didn't plan on starting out a new year by being fired 6 days in, but it happened. He didn't foresee somebody getting his credit card info and running up a bunch of charges. He knew his brother-in-law was dying of ALS, but I doubt he thought it was coincide with loosing his job. And there's that numbness in his legs caused by a back injury he suffered as a player. A lot of stuff happening all at once. No wonder the man wants to lay low for a bit.
He needs some time to catch his breath. And get his bearings.
He said he'd likely sell his house there in Toronto and go back to San Diego where he's got another house. Who can blame him? Winters in San Diego easily beat winters in Toronto. He admitted to the reporter that he was confident he'd be anxious to coach again, but first he's got some thing to take care of.
He's a league veteran who has coached a Stanley Cup winner. That means he'll get more opportunities.
Randy Carlyle is 58. He's got plenty of money. But he's no different than you or me. He's not immune from bad things happening to him. By all accounts, he's a good man. He's a successful man. Right now he's suffering. He has seen better days.
I have a relationship with those people. It's courteous, it's professional. Do I like what happened? No. But that's part of the business and now it's time for me to just go low for a little bit in my life."  
What does it mean to go low for a little bit?
For Carlyle it clearly means regrouping. It means burying and mourning the death of his brother-in-law. It means getting that credit card problem solved. It means have back surgery. And it means selling the Toronto house and moving back to San Diego. He's got a pretty long list of things he needs to handle now that he's not behind the bench of an NHL team. Thankfully, he's in a space where his contract insures continued payments. The irony of professional sports is that he went from getting a 2-year contract extension last August to being fired this January. Not even 5 months passed between the two major events in his professional life.
Something happens when you get older. Experience gives you pattern recognition. It's hard to explain, but you know it when you see it. Or when you feel it.
Some call it "gut feel." It's the ability we gain, over time, to see things that enable us to make decisions. There are no guarantees that every decision is correct, but the talented people have honed their pattern recognition enough to improve their chances for a good decision.
It's not flying by the seat of your pants. It's not some willy-nilly cavalier behavior. It's methodical and strategic, but it's not belabored.
Randy Carlyle has seen stuff like this before. It's not his first rodeo. That's why he knows it's time to go low for a bit. I suspect he's gone low a few times in his life. The older we grow, the more we're liable to encounter times that require it.
Going Low Doesn't Mean Falling Out Or Going Away
At least not permanently.
On October 26, 2000 Garth Brooks announced he was going to lay low. Actually, he announced he was retiring from recording and performing. He had long been conflicted between the demands of family and the demands of his career. Fives years later in 2005 Garth signed a deal with Wal-Mart to give them some rights to his back catalog and he also said he was going to continue to stay low until at least 2015.
Aside from some lives shows here and there, he did stay low. Until 2009 when Las Vegas offered him a weekend schedule and a casino full of money to perform at Encore Las Vegas. But mostly, Garth Brooks has laid pretty low. Certainly compared to that rigorous schedule he had to maintain while he was Nashville's hottest star.
So between 2000 and the summer of last year, 2014 – Brooks performed sporadically, but he had confirmed in 2011 that when his youngest daughter entered college…he'd be back. Fifteen years is long enough to stay low if you've sold more albums than Elvis. And when your net worth is estimated to be $150 million. If that doesn't sound high enough, it's because his first wife Sandy got one of the biggest settlements of all time in 2001, $125 million.
This past November Garth released his newest record, Man Against Machine. He's touring to promote the record. And he's breaking records again, too. He's sold 135 million records, about half a million more than Elvis, according to the Recording Industry Association of America. The new album has gone platinum and concerts sell out in minutes. Garth ain't laying low any more. He's re-energized and seems rested enough to appear on as many early morning and late night shows as will book him. Garth Brooks, 2.0.
Garth decided to go low. He had his reasons.
Carlyle decided to go low, a choice made available because he got fired. He's also got his reasons.
It doesn't much matter if you make the choice willingly – like Garth. Or if you make it after life has delivered a blow – like Carlyle.
It doesn't matter if you've got a solid comeback plan or if you have no plan at all. Going low for awhile is about regrouping, re-energizing and figuring out your next move.
Maybe it's about going low because you don't know what to do. Or maybe it's because you've got pressing matters that are putting new demands on you.
Simon Gagné is an aging hockey star for the Boston Bruins. His dad died recently and he just can't go back to playing yet. He's stepped away from his team, by mutual agreement, to not return the rest of the season. He's technically in the same position he'd be in if he were a suspended player. That gives the Bruins the opportunity to maintain a full roster while he's away, but I'm certain it has a negative cash impact on him. He doesn't care. Right now, he needs to go low for a bit.
Lots of people are going low. Simultaneously others are emerging from going low. They're coming back. It's the cycle of our life activity. And maybe like the seasons of our life, it's natural. Necessary. I suspect so.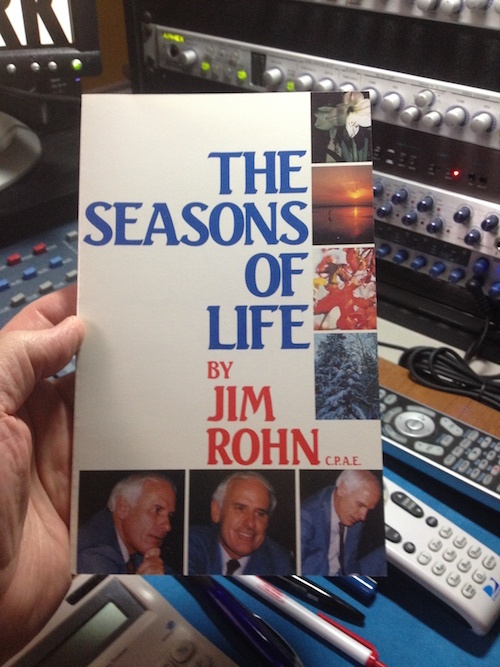 I've got a signed copy of Jim Rohn's 1981 book, The Seasons of Life. Our lives involve flux and growth, and death. Rohn argues that we may not be able to fully control the seasons of our life, but we can control what we make of them.
Spring is a time, according to Rohn, where we take advantage of opportunity, friendship, love and ideas.
Summer is a time to protect and nurture.
Fall is a time for harvesting the fruits of our spring work.
Winter is a time that can occur in life at any time. Rohn correctly points out we're either prepared or unprepared. But that's oversimplifying things really.
Simon lost his dad in December. Carlyle lost his job this month. His brother-in-law lost his life. Not all winters are survivable, but most are. Rohn writes that winters happen because somewhere we've neglected Spring. That's crap. Farmers work like crazy in the summer and spring only to be laid low if the winter is too harsh (too dry, too cold, etc.). Yep, crap happens. Hello, Winter!
Garth went through a divorce in 2001, within a year of announcing he's encountered a winter – a time when he was going to step away. You could say it was a 15 year, $125 million winter but that would be an oversimplification I think. Life isn't that tidy.
Besides, money doesn't make winter go away. It can just help keep you a bit warmer. But that can be a bad thing making you too comfortable, complacent to stay low longer than you otherwise might. Necessity is the mother of invention and all that.
It's About Respite, Rest and Restoration
Matthew 14:23 depicts Jesus taking a moment here and there to go low for a bit.
And when He had sent the multitudes away, He went up on the mountain by Himself to pray. Now when evening came, He was alone there."
Solitude. Time alone with God. Time to gather thoughts, maybe some courage. Time to figure it out. Or to try. Time to just sit and see what life may throw our way while doing all the above.
How long it lasts depends on lots of things. Garth took his time 'cause he could. Besides, this past fall is when his youngest daughter entered college and left home. The man said this is how it would be. Good on him.
Simon is 34, ancient when it comes to professional athletics. Boston is his 4th NHL team in a 15 years. Maybe he's done as a player. I don't know. He'll figure it out, but he won't be able to take as long as Garth. Different profession. Different situation. Different Winter.
Carlyle's situation is more like Gagné's except he's 58 and a head coach not a player. The NHL will come knocking on his door during the off-season, if not before. He's a Stanley Cup winning head coach. One Cup garners many opportunities. Multiple Cups guarantees pretty much being able to call your shots. He's not done. Just going low for a bit while he gets healthy, figures a few things out and decides what he most wants in life.
And you knew it would get here eventually…that buried lead I'm so fond of. The point of it all. The reason we all need Winter. The reason we all have to have moments of going low. Time to figure things out.
We all need time to figure what we most want. It changes. Like the seasons.
So whether it's Winter for you right now or not…it will be soon enough. Prepare. 'Cause Spring is coming and you know what happens then?
Blooming happens.