Podcast: Play in new window | Download
Subscribe: Apple Podcasts | Android | Email | RSS | More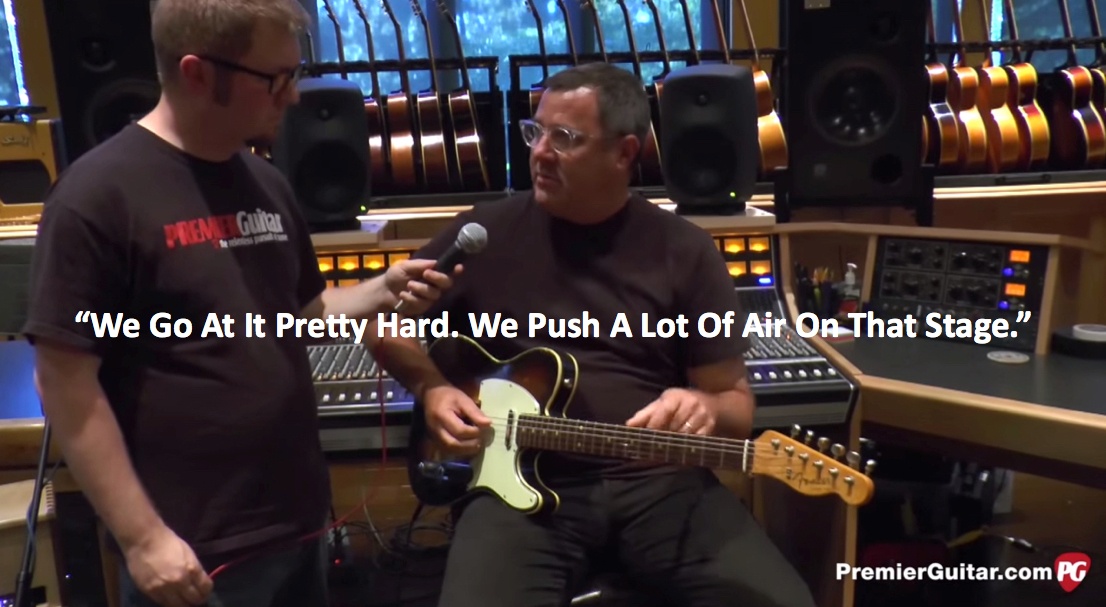 Oklahoma, where the wind comes sweepin' down the plain,
And the wavin' wheat can sure smell sweet
When the wind comes right behind the rain."
Gordon MacRae and Shirley Jones sang it in the Rodgers and Hammerstein musical, Oklahoma. I was born in Oklahoma. Some famous people have come from Oklahoma. Quite of few of them are musicians.
Brad Pitt, Carrie Underwood, Reba McEntire, Garth Brooks, Chuck Norris, Blake Shelton, Toby Keith, Dr. Phil, Ron Howard, Mickey Mantle, James Garner, Will Rogers, Gary Busey, Hoyt Axton, JJ Cale, Roy Clark, Woody Guthrie, Roger Miller, Ben Rector, Ryan Tedder (OneRepublic), B.J. Thomas, Paul Harvey, Johnny Bench, Troy Aikman and Vince Gill. Today's show title comes from Norman, Oklahoma's own, Vince Gill.
PremeirGuitar.com interviewed Vince in his home studio in July 2013. At some point Vince is asked about his amplifiers on stage.
Going At It Pretty Hard
Vince Gill is an extraordinary talent. I first saw him play live in Norman with Pure Prairie League. Just last month the Country Music Association awarded him the 2014 Irving Waugh Award Of Excellence (only the 2nd one ever awarded; Johnny Cash got the first one). He's sold over 26 million albums, 18 CMA awards and 20 Grammys. And he ain't done yet.
"The attendance at your funeral will be largely dependent on the weather." That's what Vince said a governor of Tennessee once told him. And we all know it's true.
In the meantime, Vince has been going at it pretty hard. And that's the point of today's show. Going at it pretty hard.
I could have focused on another Okie, Blake Shelton. We were both born in the same town of Ada. Blake's been going at it pretty hard, too. In fact, he's still going at it a lot harder than Vince, but Vince is my age. Blake is only 38. You can go at it harder when you're younger. Vince did. Now it's Blake's turn (along with a host of other country music stars).
Me? You already know how much I love music. And how much I love the guitar, even though I've never learned to play one. Vince Gill simply has mad dog skills. He's a player's player. And the voice is as smooth as they come. He's easy on the ears. Being an audio guy, I get a lot of guidance through my ears.
I can relate to Vince Gill. Maybe it's because we're both from Oklahoma. Maybe it's because we were born the same year. That's about all we have in common because I can't play anything other than a kazoo. And singing, well, I wouldn't make the cut of American Idol had a dinosaur version. But I love his story and I think we can learn a thing or three from it. Some of the sound clips in today's show come from an interview Vince did with Achievement.org about 5 years ago.
Vince didn't always go at it hard because he had a deaf drummer. He did it because there was something he wanted very badly. When he got out of high school in 1975 he'd already been playing bluegrass music with some local success. So he moved to Louisville, Kentucky to play in a bluegrass band. After awhile he moved to Los Angeles where he continued playing bluegrass. In 1979 he joined Pure Prairie League where he stayed for 3 albums. "Let Me Love You Tonight" was a hit in 1980 with PPL. And by 1981 he was gone, playing in Rodney Crowell's band until 1983. That's when he went to Nashville to pursue the real dream of being a solo country music artist.
You could say it took him 8 years to really figure out what he wanted to do. I'd say it would have taken him longer had he not been going at it hard.
The benefit of going at it hard as soon as possible is that it can help accelerate our progress to figuring out what we really want.
I haven't known many people who knew exactly what they wanted right out of the gate. Are you trying to figure it out? Maybe it's a business idea. Maybe it's a bigger, life idea. Sitting around won't help you. Going at it pretty hard will.
Vince's dad taught him to play guitar. Along the way he learned how to play the fiddle, mandolin and other stringed instruments. He clearly loved bluegrass music. So that's what he chased hard at first.
His dad was a judge. The kid grew up in Norman, Oklahoma – home to the University of Oklahoma. But higher education didn't figure into the mix. Vince was all in on music. That's what he went pretty hard at.
What are you going at pretty hard? 
Some are going pretty hard at money. We enjoy hearing how that's a failed strategy, but I know guys who wanted to be rich and got rich. They didn't much care how. I'm not sure they're outliers either. I rather think if a person has some talent, enough drive and is obsessed with being rich…they stand a fair chance of getting it done. They may be miserable otherwise, but building a bank account is like building anything else. Get the right resources, find the right skills and get busy. I'm not convinced that people can't get rich simply because that's their goal. The high brow thinkers would have us believe you need to chase a passion, not money. But for some, money is their passion. It's their god.
Vince wanted to play music. Going at it pretty hard involves verbs. The verb for Vince was PLAY.
What's your verb?
That's where merely chasing money can be tough for all but the most devoted. Imagine the obsession necessary to do anything in order to get rich. Tough, right? No, I can't imagine it, but then again…I'm not devoted to getting rich.
Think of a verb. Just a single verb. It could be anything, but it needs to be singular.
Write. Speak. Teach. Draw. Paint. Design. Code. Carve. Engineer. Preach. Record.
Write down the one verb that depicts what you want to do most. You're going to want to write down a list of them. That's okay, but only if you're committed to whittle it down later. Narrow it down to one. It may be like Vince and his stringed instruments. The verb for Vince was play, but that involved singing, too. And it meant not just the guitar, but the mandolin and other instruments, even though the guitar was the primary tool. All rolled up, it meant MUSIC.
What's your subject? What's the noun to your verb?
Vince's was MUSIC. So his goal was to PLAY MUSIC. That's what he went all in on. Pay attention to the tense of the verb. PLAY. It's present tense. It's right now. It's not in the future. It's not in the past. It's right now.
I've never talked with Vince, but I've followed him almost his entire career. I'm confident he'd say it'd be proper to say he was all in on PLAYING MUSIC. Ongoing. Doing it today and tomorrow and for as long as he could see into the future. He wanted to be playing music. He still wants to be playing music. Do you doubt he'll be playing music until he dies? Me neither. In a video he shows off some of his extensive guitar collection and remarks about an old guitar his wife bought him for his 50th birthday.
Vince went at it hard. He left home when he was still a teenager. All to pursue the goal to PLAY MUSIC.
After some success it would seem Vince was figuring out what was working and what wasn't. He veers from bluegrass to alt country/rock with Pure Prairie League. He's lead guitarist and singer for the band. He's writing and recording songs he wrote. It's not the bluegrass crowd. It's younger. More hip. It's got way more rock 'n roll in it. It's still got country, but it's not bluegrass.
I don't know what made him shift, but I know enough about music to know that bluegrass and Pure Prairie League music both share country music ties. But they couldn't be at more different ends of the country spectrum. My theory is that Vince was learning country music was where he wanted to be. Country music would allow him to enjoy years of session playing with rock musicians and bluegrass musicians. He was likely hearing in his head the kind of country music he most wanted to play.
That clarity is important. It kept him on track. It removed distractions. It made other choices easy to decline. One day in 1989 Vince had to make what we might think would have been a tough choice.
By 1989 Dire Straits was a well-established major rock band with a bit of an "on again, off again" history, but still…this was Dire Straits calling. Joe Walsh said YES to the Eagles when they called in 1975, but you may not know he said NO to Humble Pie that same year when Peter Frampton left. Vince and Joe both had enough clarity to know what to accept and what to reject. Walking away from something so you can walk toward something else isn't as easy as it sounds though. When you're going at it pretty hard though you're doing that because you know where you're headed. And even if you've just got the big picture clear in your mind, going at it hard can help when the details start coming at you.
Joe Walsh knew going to the Eagles was the right fit for him. Vince Gill knew Nashville and a solo-career in country music was better than Dire Straits. Okay, let's forget about Joe being hopped up on drugs and alcohol, the man was a rock and roll guitar hero. Maybe moving to London to join Humble Pie wasn't so tempting as joining a bunch of southern California-based guys building the next supergroup. But if you know enough about Joe and Humble Pie you know Joe was ready for a musical change. He wanted to rock, hard. But he also wanted more diversity. The Eagles provided him the ideal platform to PLAY MUSIC that suited him best. And he also had the ability to keep doing his solo stuff.
Back in 1989 Dire Straits was pure rock and roll. There was nothing country about them. Mark Knopfler has gone on to work with the likes of Chet Atkins and Emmylou Harris, but that would tough to see in 1989. And that sound never cross over to Dire Straits in any major way. Vince wanted to PLAY country MUSIC. He pushed hard and remained true to what he wanted most.
Pushing A Lot Of Air On Stage
There's two ideas I'd like to examine. One is what it means to push a lot of air, and the other is the stage. Vince just means they play loud. Speakers make sound by pushing air. Volume increases when you push more air. So Vince is saying they play really loud. On stage.
One of my all-time favorite bands is Barenaked Ladies. Some years ago Ed Robertson, one of the founding members, would do YouTube videos he called, "Bathroom Sessions." Playing and singing in the bathroom is very different I imagine then being on stage. Bands that practice in a garage don't likely perform that same way once they get up on a stage in front of a live audience.
That's Ed alone with his guitar recording in his bathroom. Now here's the same song played live in a concert with the full band.
Same song different performance. The stage matters. It affects the performance.
It takes COMPETENCE and CONFIDENCE to push a lot of air on stage. Not everybody can do it. And some can't do it consistently.
Years ago when I was coaching a lot of hockey I was constantly searching for insights to help me teach players how to perform better. I knew a few minor league professional players. These guys were all star players back home. From the time they were little kids they were the best players on the best teams. Until they weren't. What was the difference I wondered in their talent and the NHL or major league talent. Over and over again I heard the same refrain from these guys.
I can play at the NHL level sometimes, but I can't do it night in and night out."
NHL guys can play at a high level on the biggest stage of their profession more consistently than those minor league guys. Is the stage too big for the minor league guys? Is the competition too stiff? Yes. All those things. The bigger the stage, the bigger the performance must be if you're going to hold up. You'd better push a lot of air. Minor leaguers just can't push a lot of air all the time to stay up on the big stage. So they're relegated to ride buses with a $25 a day per diem while the NHL stars get hundreds a day per diem and ride in customized airliners, staying in world-class hotels. The fine line between consistency and inconsistency creates a cavernous value gap.*
*Speaking of value gap, do you ever visit Celebrity Net Worth? I confess I checked Vince Gill's listing there. $30 million. Not bad. Then I checked out his wife, Amy Grant. $55 million! She's talented and all, but that shocked me. 
By the time Vince Gill moved to Nashville in 1983 he had been playing live for over 10 years. He was only 8 years out of high school, but he benefited from starting early. Not all of us are able to do that. Some of us don't have a clue what we want to do. Shoot, some of us are decades away from high school and we're still trying to figure it out. Vince was lucky. He knew early what he wanted to do, but it wasn't clear in 1975. It looked like bluegrass then. Then it looked like alt country. Eventually it looked like country. And if you're going to go all in on playing country music there's only one place to go. Nashville.
When I think of the trajectory of Vince's career it's easier to look now and see some major pivots that worked to his advantage. He didn't waste 4 years going to college. Instead, only a few years removed from high school he was a professional leading Pure Prairie League. He was recording records that included his own songs. He couldn't have done that sitting in a classroom at OU. But that wouldn't have happened if he hadn't left Kentucky and the bluegrass scene. He went to Los Angeles. And by 1980 he had top 10 country hit with that band, "Let Me Love You Tonight."
He had two remarkable talents: guitar playing and an easy-to-listen-to tenor voice. Competence fueled his confidence. Too many seem to reverse those. They're rather push more chips in the middle of the table when the stakes are confidence. You see it every time there's a new season of American Idol. Guys like Vince didn't have American Idol. They had to prove their chops every week by playing somewhere live. Some place that would let them get up in front of people. It was mostly about getting better, forging your competence. It wasn't about walking into a club or some small venue with a cocky attitude, then being unable to play well. Remember the goal? PLAY MUSIC. The verb was important. The verb demands skill.
Watch any beginning guitar player. Or try it yourself. I have. You won't go at it hard. You won't push a lot of air. You don't know what you're doing. You're timid because of it. You're unsure of where your fingers go. And you know you suck. People who go at it hard and push a lot of air, but they're incompetent — well, they're just crazy!
Simon Cowell breaks the tension once Mary has finished butchering Carole King's hit song.
Vince Gill was once asked about an American Idol winner, Carrie Underwood.
You gotta have talent. You gotta have something of value, more so than the next guy. Life is a competition. At some level. Vince Gill has had extraordinary success. He's an extraordinary talent. Watch the video of young Vince playing with Pure Prairie League and you see some semblance of who the man is today, but he's pushing a lot more air today. He's going at it pretty hard. Maybe harder than ever.
It's the beauty of a person figuring out what they're really good at, what they most want to do, who they most want to be…and going all in on it.
Think about verbs first. Think about what you're really good at doing! Think about what you most want to do. Those two need to be congruent or else you'll wind up like Crazy Mary on American Idol. Your life will be lived to the Psycho theme music.
What's THE ONE BIG VERB you can embrace as your special power? What's the one special verb you're working on non-stop to improve? What verb are you fully devoted to? Vince Gill's verb was and still is, PLAY.
But there was another verb that impacted his life, LISTEN. He listened to records. He bought records just like I once did, back when they were all vinyl and had great information on the back cover.
Vince's life so far as been defined by his commitment to his verbs. He's also been committed to the process of improving. He didn't just want to play and sing and listen…he wanted to BE a player, a singer, a songwriter and a participant in making music. Years ago when I was very young, dreaming of writing I remember reading a few important sentences that stuck with me.
Writers write. If you want to write, then write.
Well, Vince wanted to PLAY, SING and WRITE. So that's what he did. That's how you become a player, a singer, a writer – an artist.
Vince learned the power of the process. The wisdom he's found is that all the relationships he's made along the way, all the records he's played on and the improvements he's made…that's the stuff of significance! It's the stuff of achievement.