Podcast: Play in new window | Download
Subscribe: Apple Podcasts | Android | Email | RSS | More
Before I start, do me a quick favor. Click Here and join our little closed Facebook Group. Approval is a manual process, but I'll approve you. It's a way for us to connect, interact and spread our wisdom. Thanks!
=======================================
I was nearing the end of an hour on the treadmill when he walked in. Probably 6′ 3″ and nearing 350 he was wearing a weight vest over his shoulders and a weight belt around his waist. The contraptions were barely strapped in place because they looked like they were meant for somebody much smaller. He was a man of some girth.
I immediately thought of the line from Larry The Cable Guy when a large woman approached him in the gym asking, "Can you spot me?"
I'm watching this guy walk up to an elliptical with these weight garments on and I'm thinking, "So the extra 75 pounds or so you appear to have in body fat isn't enough?"
Today's show isn't about resistance or weight training. Most of us understand the value of putting enough stress on our muscles and bones to make them stronger, but what value is there in lugging around other kinds of weight – baggage? Is there any benefit to holding tight onto emotional baggage? Things like resentment, bitterness, insult, envy and all those other emotional suitcases we sometimes enjoy taking everywhere we go?
A former Navy Seal who goes by Mark Owen wrote a book about his experience as part of the team that took out Osama Bin Laden, No Easy Day. He's appeared on CBS 60 Minutes a couple of times, most recently this past Sunday evening. In this most recent interview he mentioned something that made me think of today's topic – handling only what you can and ridding yourself of the stuff that would distract you, or ruin your odds of success. We all have things that propel us and other things that hinder us. This ex-Navy Seal made a strong point about controlling only what you can.
Staying Within Your 3-Foot World
"No Hero" is about the lessons that Owen learned as a SEAL, usually from failing at things. The most important, he says, came during a rock climbing trip, when he froze 300 feet up. The instructor made his way over to him.

Mark Owen: And he's like, "Hey buddy. Stay in your three-foot world." "What are you, what the hell are you talking about?" He says, "Look, you can't affect anything outside of three feet around you, can you?" I'm like, "Well, no." "So stay in your three-foot world. Look inside your three-foot world, find the next hand hold, and climb your way out." I climbed my way out, and I've applied that analogy to so many things in my life. If I can't affect them, don't worry about it. You can't. People waste so much of their time and– and effort worrying about things outside of their control. Learn from them, move on, and don't worry about it.

Staying within his three-foot world has helped Mark Owen these last two years. He would still have written "No Easy Day," he told us, but now he says he would have done it by the book.
Controlling what we can is a common desire, even though I have met a few people who would rather somebody else make decisions for them. Then there are those people who don't seem driven to think. They'd just rather have somebody tell them exactly what to do. To each his own.
Are you fascinated like I am with people who claim to never experience fretfulness? How is that even possible?
For as long as I can remember my father has regularly answered, "Nothing" to the question of "What are you thinking about?" Me? I have no idea how that's humanly possible, but he vows it's true. Good for him, in his empty-headed sort of way. 😉
That all just proves how different we really are. And how varied our baggage can be, too I suppose.
At the moment I have in front of me a stack of assessments about 3 inches tall. These are all kinds of assessments like StrengthsFinder, IOpt, Standout, DISC and who knows what else. No, they're not mine. They're clients. I'm hopeful they'll help me better serve some clients who already invested in them. They were kind enough to share their "results" with me so it could accelerate any help I might offer them. I'm sure they'll help, but I've spent a lot of time with tools like these. I know that the big thing I'm going to see is what I always see – just how different we can be and still share the same problems. Our baggage mostly comes from the universal store, The Past.
All The Stories You Could Tell
We do it for the stories we can tell. Okay, maybe not exactly. But the stories help. Donald Miller's popular book, A Million Miles in a Thousand Years: What I Learned While Editing My Life, put forth the premise that if you want a better life then you must write a better story. Not literally, but figuratively. Live a different story.
It's not easy to live a different story though because most of us feel like somebody else is doing the writing. In the grand scheme of things we feel like just one character in the story. Has the thought struck you like it does me…that perhaps those prominent folks among us, you know…the ones who take center stage clamoring for more attention than the rest of us…that they're more skillful perhaps at recognizing their own "writing" skills? They are the center of the story. Their own story. The rest of us may be guilty of letting others collaborate too much on crafting our story.
But the point is baggage. Life experiences. The past. The present. What we think about the future. 
You take a trip. You need to pack. The question is, "What will you take with you?"
Some people travel light taking only the bare essentials. Others travel light because money affords them to buy whatever they need once they get there. Most of us aren't so fortunate, or rich. We need to pack.
Some people pack like hoarders, taking way more than they'll ever need or use. They overthink it and assume they "may" need things that even they know, deep down inside, they'll never use. I've been guilty. Especially when it comes to books. Especially before the Kindle craze. I'd jam a book bag with about 15 books knowing full well that I wouldn't crack more than 2. The problem I always suffered was not knowing which 2. That's why I took 15. Imagine the extra weight of 13 hardback books! Stupid, right?
About as stupid as a 350 pound overweight man packing on about 50 pounds in a weight vest and belt. I watched him for about 10 minutes as I cooled down on the treadmill. I wanted to go ask him, "Hey man. Why did you pack on more weight?" But wisdom got the best of me and I didn't ask him. Instead, I was left to wonder about it. His very slow speed on the elliptical didn't help matters much. Knowing what little I do about kinesiology I just couldn't figure it out. So I assumed that he got the idea from somebody, or some place and assumed it was a wise way to go. Of course, the dilemma presented itself because of his apparent body weight. Had he been a buck forty five it would have made sense to me. But my fat senses, heightened by my own battles with fat, told me he was easily 75 pounds too heavy without the added weight.
How many of us carry extra weight unnecessarily? Maybe we're like him, we think it'll help us. Or maybe we don't know how to travel any other way. We don't know what we don't know.
Nearly every week this gif seems to appear in my Google + feed. It's simply a picture of a group of penguins figuring out how to get past a rope that's tying off a boat. It's funny, but powerful. Unable to easily jump, one of them just pushes into the rope, falls over on the other side of it, then gets back up. One by one the others follow suit. That rope may not seem like much of a constraint – or a weight – but you know the whole pack could have just looked at it, frozen with bewilderment as to how to get over it. But one of them figured it out and showed the rest of them the way.
Many ropes block our path. A lot of things weigh us down. We have 2 fundamental choices: freeze, assuming you're just blocked or figure something out. Look at those penguins looking down at that rope. There's a better way to get over that rope, but does it matter? Not really. The only thing that matters is that they get over it. As long as they get over it without hurting themselves, what difference does it make how they do it? It's not a timed event. It's not a competition. It's an objective and they figure it out.
Over at BehaviorGap.com they published a post this week entitled, Building Wealth Means Doing Something Constructive. They posted an illustration that properly depicts the cycle we all need to use to make improvements – to figure things out.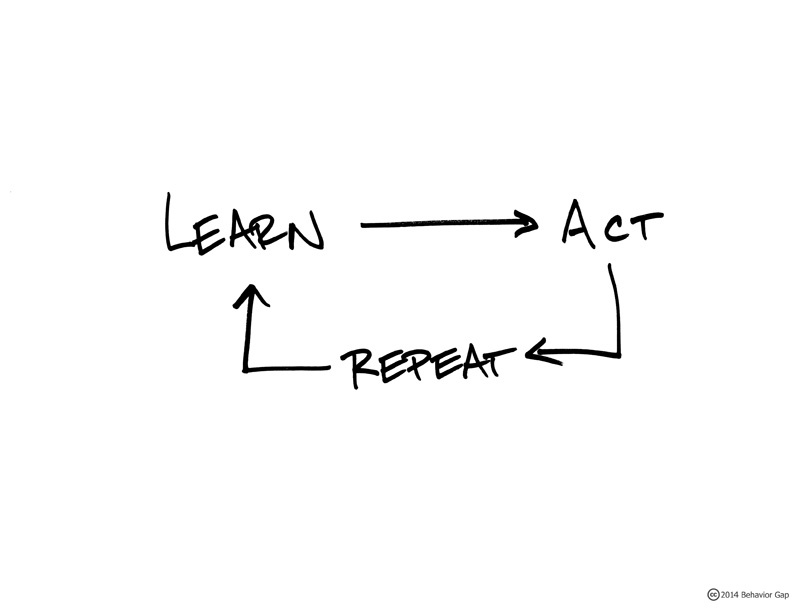 Maybe things aren't that complicated. Maybe our weight and baggage is more like that rope challenging those penguins. It's just unfamiliar and that makes it more daunting than it really is. And maybe the solution is no more complex than their approach. Learn, act then repeat. Keep learning. Keeping taking action. Be persistent in repeating the process. That last one may be the toughest of all.
Repeating Is Hard, Even When You're Winning
It sounds odd that repeating is tough when you're winning, but it is. I suppose there are many reasons for it. For starters, we have trouble leaving well enough alone. And we don't always know precisely what is working. Success is rarely binary enough to identify the precise action that makes the difference. I mean, if we suddenly take one single action and a seismic shift happens, it's easy to assume that the single action made a substantial difference. But if we're hustling we're likely doing all kinds of things to make things happen so it's tough to get a feel on which action. Or, if we're not hustling we may be sitting around waiting for something to happen and  repeating that behavior seems all too common. People can sit around doing nothing day after day. All the while thinking that success is totally random like lightning strikes. Big mistake!
Makes no sense, but we've all been guilty of doing it. We keep doing things that just don't work. We neglect to do things that might change our outcome. We just hang onto the baggage of doing the same thing.
It's a habit. Changing our habits is hard. That's whole 'nother can of worms. Charles Duhigg wrote a terrific book if you want to learn more. His book, The Power of Habit, was published a few years ago, but you should read it. And there's a great flow chart he's got available over at his website. I'd encourage you to spend some time on it. It'll require everything you've got, but it's always wise to spend time reviewing our habits – good and bad – then figuring out which ones we need to change (and which ones we want to change).
Carry weight or lugging around obstacles is a habit. We've all got our own unique reasons for them. Or excuses. No matter, it's time to wise up, don't you think?
Figuring It Out Means Doing Some Things Differently
My daily visits to the gym teach me lots of things about people, and about myself. Two years ago I did a video on one lesson I learned in the gym, It Pays To Be The Confident, Swaggering Girl In The Gym. Rarely do I go where I don't observe something noteworthy.
One thing that often hits me is how people who haven't worked out in years come in quite regularly, but nothing about their appearance ever changes. It's safe to say that the guy wearing the weight vest and belt won't likely change his appearance. The odds are he'll neglect making the changes necessary to bring about long-term improvement. I'm not picking on him. I've just seen this movie before. People dreadfully out of shape come to the gym and do things that don't help them. And they don't look for anybody to help them.
There's an incredibly large woman who I see regularly. She'll get on the stair climber at a snail's pace for 10 minutes. Then she'll migrate to a treadmill and get on it for 10 minutes at a leisurely pace. Then she'll go back to a different stair climber for 10 minutes. Again, at a really slow pace. I'm not sure about her, but I've watched her for almost a year. No change in her appearance. Of course, I don't see her diet. But I see her in the gym for an hour or so and my main thought is, "Doesn't she know she could spend that hour in a more meaningful way? Somebody should show her." Maybe they've tried. Maybe she's deluded. Maybe she thinks she's doing all the right things.
I'm thinking how depressing it must be for her and how discouraged she must be. I feel badly that she's investing all this time without visible results. I suspect she's doing what she knows. She just doesn't know enough. Not yet anyway.
And she's clearly been able to establish a new behavior because I didn't see her until about a year ago. Something happened in her life. I don't know what it was, but something drove her to the gym. And to her credit she's showing up. She's putting in a degree of work. But there's something still in her way – some weight (besides her own body fat) – that's preventing her from really making progress.
The poor guy in the weight vest thinks he's doing things right. And maybe he is, but I have my doubts. I've seen guys like him before. Inside the gym we see who is really putting in the work. And we clearly see the results.
The guy with six pack abs is hitting it hard. He's putting in the work and his work doesn't look like ours.
Or the girl who is the envy of the other girls in the gym. She's doing a routine that is just exhausting. We see her effort. The results are clearly visible. But that's not our routine.
One hour or 90-minutes spent together under the roof of the same gym. Those guys and gals are doing things very differently than what we're doing. They're also getting very different results.
Yes, we know the old moniker of doing the same thing expecting different results…but still we do it. And we're constantly disappointed that we still get stymied by the same 'ol things.
So we keep carrying the stuff that foils us. Like my book bag, maybe we're thinking we may need that sometime down the road. But mostly I think we know we're never going to look at them. They provide us comfort and security. It's just a feeling though…it's not real. The real thing is they're spoiling us and harming us. They're keeping us comfortable in our failures and weaknesses.
Mr. Weight Vest feels better about himself for wearing that weight. The poor fat lady is still fat after a year, but she's feeling comfortable because she still shows up at the gym day after day. So what's the harm? The harm is the mental damage that will eventually – in their cases – likely result in the physical failure to get fit. They're doing what's comfortable. A slow steady pace on a stair climber or treadmill or elliptical. What would really rattle them both would be to shed the baggage (literal or metaphorical) and start doing things very differently. If I walked up to Mr. Weight Vest and challenged him to take off that ridiculous contraption, but sprint on that elliptical for 20 seconds, then go slow for 60, then repeat the sprint…and so forth, for about 15 minutes…he wouldn't want to do it. That's what I'm betting. Cause lumbering around with a weight vest on is easier. Doing what we've always done is easier. Even if the results suck and make us miserable.
The Baggage Is Whatever Stands In Our Way Of Being Our Best
Something is in your way. I don't know what it is, but there's something. There's always something. A weight vest and belt that makes us feel like we're doing something when it's not doing anything profitable at all. A rope between where we are and where we'd like to be. Some obstacle or hurdle that makes us want to hang onto whatever is comfortable. And safe. And it looks daunting at first. Besides, we're a lone penguin most times so there's nobody to watch make a first attempt to get over the rope. Nobody to watch. And when we do watch others it's like everybody is succeeding, but us. That's all just how it seems. That's not really how it is.
The other day I was talking with a friend. For some reason a name of a guy came up in conversation. We don't really know him, but we know of him. By all outward appearances he's got it going on. A big social media following. A book. Some conference appearances. But he's broke. Struggling. Working hard to hold up the facade. The conversation morphed to the topic of leverage and using what you've got.
My friend and I are both clear thinkers. That is, I don't think either of us is delusional about what it takes to make it in life or business. And we're not prone to embrace platitudes or high-brow thinking. We're both more like street fighters, guerillas. But we're just like you. We get frustrated at our failures because we feel like we're smart enough to figure out how to be better – how to be our best. And we are…smart enough. That doesn't mean it's any easier though.
And as we're talking I'm thinking of something I read awhile back when that ex-military sniper, Chris Kyle, got murdered right here in the DFW area. Between that and all the hubbub about Seal Team 6, I started reading some things about the Navy Seals. For a long time their training has intrigued many people. Countless TV shows have been done on it. But I came across this little article and being the simple-minded guy that I am, it struck a chord with me. Four simple steps for surviving hand-to-hand combat. It's not that I'm interested in hand-to-hand combat, but you know me…I'm always interested in a good story and a possible great metaphor.
The article says it's an excerpt from another website, SealSurvival.com. Here's the main thrust of the strategy as quoted from the article:
As with most things survival-related, fighting has its own set of priorities that need to be addressed at lightning speed.
1. Protect your face.
2. Stay on your feet and keep moving.
3. Hit hard.
4. Haul ass (a.k.a. get off the X.)
About that last step, the article ends like this…
Although this is the last step in this section, avoiding fights altogether needs to be your first priority. Get off the X and save your fighting techniques for the gym. But you might need to strike first and hard to have the chance to get away. Don't stay engaged if you can escape. The moment you have an opening, take it and leave the scene, because fights can change instantly and drastically.
Being prepared. Intentional practice. Knowing how to react in an instant. Knowing how to haul away…to flee and avoid a fight. If you're running for your life you don't need to take anything with you 'cause nothing you're carrying is worth dying for, unless it's another life. Instant priorities. The penguins know the rope isn't a threat. It's just an obstacle. They're pretty defenseless animals on land, but they usually feel safe on land. Had that rope been replaced by a man with a threatening club in hand, I hope they would have fled, but I'm not an expert on penguins. And since you're not a penguin, I'm hoping you'll recognize the weight for what it is, an obstacle or a threat.
So I'm thinking of our popular pauper as I'm talking with my friend and I say to her, "He just doesn't know how to leverage what's he's got. Maybe he doesn't want to do the things he'd have to do to leverage them. Maybe something is holding him up."
And for the umpteenth time I bring up the brilliance of the Kardashians who can teach all of us a thing or two about how to leverage what we've got. If ever a family figured out how to adapt, morph and change to make the most of an opportunity, surely they have! The popular pauper hasn't yet figured out how to do that. I don't know what's standing in his way, but something is. While most of us would let the rope of "Who am I?" stand in our way, the Kardashians have no such hang up. They've succeeded in dumping whatever baggage prevents most of us from shameless self-promotion and they've become world-class experts at it.
Daily Behavior Is The Likely Culprit
I don't watch the Kardashians on reality TV, but I do watch Million Dollar Listing Los Angeles. Josh Altman can sell millions and millions of dollars of LA real estate year in and year out, but he can't maintain a strong relationship with a woman he loves. When it comes to the area of his life where he's failing miserably, it's because he's got baggage he just can rid himself of. His weight is his ambition. He can't walk away from any deal. Deals always come first. Always. He finds them more irresistible than her. It's sad to watch because you just know that if doesn't figure this out he's going to be extremely wealthy and successful, but alone. So far, he's willing to pay that price, but something tells me he'll grow weary of paying it. I hope for his sake he does anyway. We'll see.
Yesterday was Sam Shepherd's birthday. You know him. He's a famous playwright and actor. A writing blog that I follow did a post listing 7 quotes Sam's made about writing. Number 6 is, "When you hit a wall – of your own imagined limitations – just kick it in." Sam must have been through the Navy Seal school of creative writing.
But listen closely to number 3 on the list:
You start out as an artist, I started out when I was nineteen, and you're full of defenses. You have all of this stuff to prove. You have all of these shields in front of you. All your weapons are out. It's like you're going into battle. You can accomplish a certain amount that way. But then you get to a point where you say, "But there's this whole other territory I'm leaving out." And that territory becomes more important as you grow older. You begin to see that you leave out so much when you go to battle with the shield and all the rest of it. You have to start including that other side or die a horrible death as an artist with your shield stuck on the front of your face forever. You can't grow that way. And I don't think you can grow as a person that way, either. There just comes a point when you have to relinquish some of that and risk becoming more open to the vulnerable side, which I think is the female side. It's much more courageous than the male side.
It's not about business. Or money. Or careers. Or marriages. Or friendships. It's about ALL of those things. And more. It's about the sum total of our lives. It's about who we are and what we are.
It's not about being better than the next guy. Or making more money. Or being more popular. Or having more friends. It's about how much value we provide to the people who matter to us. And it's about making sure that more people matter to us.
In recent years I've found myself repeating the same refrain to younger man – ambitious, hardworking men. Men who I see working as I once did, obsessed with achievement and success.
Your life is a finite resource. Invest it wisely.
Don't invest yourself in schlepping around weight that burdens you down. Don't invest it in toting around baggage that isn't helping you become better. Whatever IT is, get rid of it as fast as you can. Find a way to get away from it or fight it off. Do whatever you can – and must – to become more highly maneuverable…because that's what it's gonna take to get over that rope.