Podcast: Play in new window | Download
Subscribe: Apple Podcasts | Android | Email | RSS | More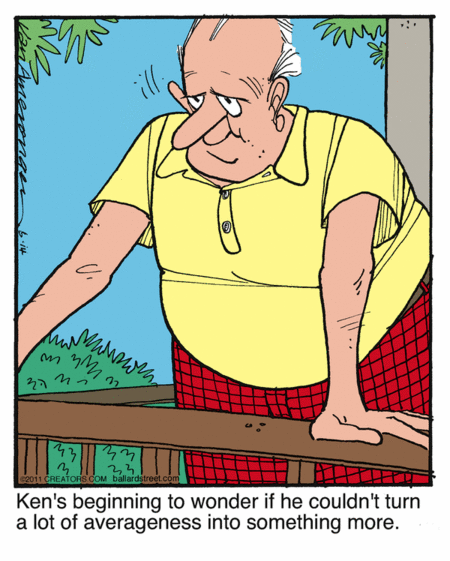 Tenacity. Persistence. Drive. Determination.
Those don't work when you're up against a fortified wall that stands between you and success.
Flexibility. Curiosity. Analytical. Responsive.
Those work better. Wall or no wall.
Mediocrity will fail, but winning doesn't require excellence. At least not at first.
From Malcolm Gladwell's "Outliers" to Seth Godin's "Purple Cow" we love stories of remarkableness. I'm lifelong lover of words. Some of my favorites are:
extraordinary
remarkable
unique
outstanding
dazzling
Entrepreneurship is experiential. Aristotle said,
For the things we have to learn before we can do them, we learn by doing them.
Push hard. Now push harder.
Don't quit. Never give up.
Outwork the competition.
Innovate.
How often do you fail? How much failure does your employer allow? How much do you allow failure in your company?
Perfectionism. Many people claim to have it. Wouldn't you think if that many people had perfectionism that we'd experience more of it. Doesn't seem to work that way, does it?
The absence of failure translates into the absence of innovation. Innovation necessarily demands a high failure rate.
Ask customers what they want, then give it to them. WRONG.
Customers aren't innovative. They mostly want it faster and cheaper.
There's a logic to how companies and organizations provide value. It's the stuff of crafting valid business models.
a. It starts with the customer. Who are you going to serve?
b. It moves to the value proposition. What problem are you going to solve? What need or desire are you going to fulfill?
c. Then there's the channel or distribution. How are you going to deliver the value to the customer?
d. All along the way is the ever-important relationship with the customer. It has to be established and maintained.
e. The organization needs revenue. Customers must be willing to pay for the value provided. If they don't, the enterprise fails.
f. Resources require management. The assets necessary to build and deliver value to customers have to be properly managed for the enterprise to work.
g. Activities require management. The company must create processes and work flows that get the job done. The people who perform the activities need leadership. People need accountability.
h. Partners are important. Enterprises need financial partners, vendors and other outsourced resources.
i. Costs and expenses have to be properly managed.
Things can go wrong at any step along the way. And they often do. Sometimes they go wrong in many areas all at the same time. Failure can happen at any point along the way.
So Now What?
I'm not trying to discourage anybody. Rather, I'm trying to encourage people. I'd like to encourage people to understand that this is more about experience and less about "how to."
Gathered around kitchen tables all over the world, and sitting in beds with laptops perched atop…well, a lap…are millions of people dreaming the dream of entrepreneurship. For some, it's their dream. For others, it's the dream they think they're supposed to have.
Let's try a quick word game. Just blurt out the first thing that comes to your mind after I say each word. Sure, say it out loud. Why not? Let your own ears hear you say it. Ready?
Success
Freedom
Money
Lifestyle
Independence
Time
Leisure
Value
Hustle
Scramble
Hustle? Scramble?
I get those other 8, but not those last two. Not really. Sure, you've heard Gary Vee (Vaynerchuk) use the word "hustle." Others of us – old school fools – we remember the disco hit from the summer of 1975, Do The Hustle. Disco. Now that was innovation. And I hated every minute of it. 😀 It was ridiculous then. It's more ridiculous now. But it did plant the term "hustle" into everybody's vocabulary.
Hustle is something you must DO. So is scrambling. One sounds right, positive. The other sounds less right and more chaotic. NFL quarterbacks flushed out of the pocket scramble. Roaches and rodents scramble when exposed to a bright flashlight. I'd like to be an NFL quarterback, but what if I'm just a roach?
Scrambling sounds so out of control, but if you ever watched Bret Farve play football you know it can be crazy effective. Or disastrous.
Sometimes it works. Other times it fails. Mostly because it's improvisation. It's veering away from the called play. Or it's reacting to a busted play. No matter what, it's reactionary because it happens as a result of new information or stimuli.
The defense rushes more men than we have blocking. Our quarterback scrambles to avoid the tackle.
Our quarterback fumbles the hand off to the running back, but regains possession of the ball. He scrambles.
Our quarterback is barking out the signals and suddenly the center snaps the ball when he's not expecting it. He scrambles.
It happens in our businesses, too. We're expecting to make 10 sales. We make 2. We scramble.
We open our launch. We expect 1000 sign ups. We get 82. We scramble.
We launch a podcast. We expect 1000 downloads per episode by the time we get to number 14. We get 33. We scramble.
The thing about hustling and scrambling is they're joint workers. No, not THAT kind of joint. Joint as in partners. They work together, in tandem. If you're not going to hustle there's no reason to scramble. Not if you're chasing success.
By the way, you don't have to be chasing the entrepreneurial dream for this to apply to you. This applies to your career, too. It can even apply to your home life. Because things rarely go as planned. Because stuff happens.
All those business model steps – there are about 9 of them – can be applied to any situation of your life. Go ahead. Test it.
At home, who are you going to serve? Your family.
What's your value proposition at home? Are you going to mow the lawn, earn the income, clean the clothes…what are you going to do to serve?
How are you going to deliver that value? Will you hire a lawn service, or are you going to do it yourself? Will you get the kids to help you vacuum?
How will you establish and maintain the relationships with the family you're serving? Will you tell them you love them? Will you hug them? Will you spend time with them?
Family members will need to reciprocate or pay you back for your service. What will that look like? What will you expect, or demand? No, it won't be money, but it'll be much more valuable.
You've got to manage the resources. The bank account is limited. Monthly income is, too. That's what budgets are for.
Activities need oversight. The kids have to be given training and instructions. And discipline. Everybody has a job to do and there's got to be accountability throughout the house.
Partners matter. You've got lots of outside relationships that impact your house. There's the mortgage company, the utility company, the insurance companies and a host of other providers who make your house run. You have to manage those.
Expenses really matter. Boy, don't you know this all too well? You can't spend more than you make. Everybody has to understand that rule.
There it is. In a nutshell. The business model applied to your house. A model that can fail at any point and bring your house down financially.
Marriages fail a lot. More than half. And that's not counting all the common law versions.
Parents fail a lot. Kids get in trouble. Act stupid. Misbehave. Kids fail because too often parents fail.
Careers fail a lot. Sometimes they implode under the weight of an ego, a hot temper or any number of ill-mannered behavior. Sometimes they implode under the weight of incompetence.
But sometimes things fail in spite of our best behavior and efforts. It's the crude, but true saying, "**** happens!" Indeed it does. And sometimes when you least expect it.
I can't end today's show without the realization that bad things happen to good people. And bad things happen in spite of us doing all the right things. That's because we're not in full control. Other people enter our lives, sometimes to help us. Sometimes they disrupt us.
Beyond Your Control
He's a business owner who is in trouble. For years he's run a successful company, but in recent years things have turned south. Way south. It didn't start with anything he did wrong. His longtime landlord died. A daughter who lives four states away inherited the property. She wants triple of the lease amount. The details of the lease give her wide latitude. The business owner has 6 months to execute a new lease at these higher rates or make other arrangements. Stunned, our business owner knows tripling his monthly lease amount will cripple his business so that's not an option. But finding a suitable place to relocate his entire business within 6 months is not ideal either.
He begins to negotiate to buy some time. At the same time he begins to earnestly find another location. The move is going to be expensive, but not as costly as tripling his monthly overhead. He moves and the business suffers. And so begins a tailspin from which he can't recover. Decades of business success foiled by the death of a landlord and a greedy survivor. Such is life. Or death.
More than a landlord died. So did his business. And the only thing he's thinking is how deadly that lease agreement was, but as he reviews the last few years he realizes the wealthy landlord held all the cards. Should he have signed that lease? He didn't have a choice if he wanted to remain in a location he'd had for years. The landlord was growing older and they had a great relationship, but things change. Death happens.
Things beyond our control foil our success sometimes.
I was not yet 30 and running a multi-million dollar retail company, a subsidiary of a much larger company. The owner was older, 39. We were on a roll. Barely did a week go by where he didn't tell his inner circle the big, audacious goal. "We're gonna go public and we're all gonna be rich," he'd say.
One Friday I had a scheduled meeting with him in my office. That morning his secretary and assistant called to tell me he had decided to travel to Houston for the day. "No problem, " I thought. I'll talk to him next week. We saw each other almost weekly. He was a terrific guy and great mentor.
That same Friday night he was killed in a car accident shortly after leaving the airport. My phone rang in the wee hours of the morning with the news. I remember driving to his house to see his wife and a few fellow co-workers. None of us planned on our founder dying. We had big plans. We were going places.
I won't bore you with the struggles of the next 18 months, but they were some of the most stressful, taxing times of my life (and my young family's life). I went from loving my work to hating it. Dreading it. And finally walking away from it.
I had done nothing wrong, but it didn't matter. Professionally, many of us were wrecked through no fault of our own. It happens.
Nobody Will Take Care Of You
My day work focuses on helping people with a variety of problems and challenges. Some of them involve generating revenue. These days, most don't involve that at all, but they all involve people's work with and for other people. The business arena calls them the "soft" skills. Think of me as a soft skills expert.
Most weeks I catch myself urging people to avoid the false notion that "the company" or "the organization" will take care of them. It's fool's gold. As I sit in people's offices and see pictures of family I regularly remind people that those people in those pictures are depending on YOU – the people I'm serving – to take care of them. Don't entrust their success (or failure) to your employer, or your company. Assume responsibility for yourself and those you love. Put yourself in the best position possible for success, knowing that lots of things can happen beyond your control. Even so, you can control your own behavior, conduct and choices. The wiser we can make all those elements, the better our chances of success.
Who cares if failure is more common than success? Somebody is out there succeeding. It may as well be us.
Over 30 years ago an old business guy told me, "Somewhere, in a bad location and a bad economy is a store that is setting new sales records. Somewhere, in a great location and a good economy is a store that is dying. You know the difference? The guy who runs the place. Leadership makes all the difference."
Be a leader of your own life and your own career. Make all the difference you can.