Podcast: Play in new window | Download
Subscribe: Apple Podcasts | Android | Email | RSS | More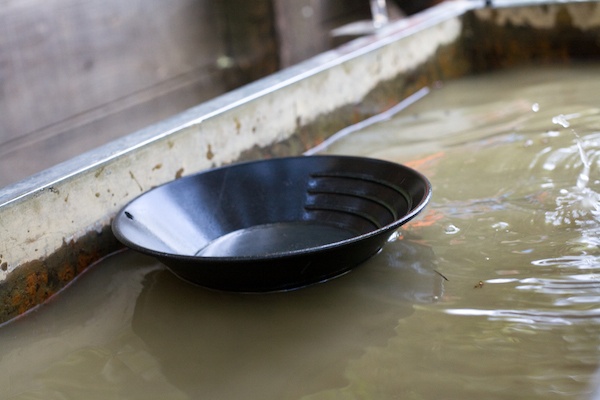 Fool's Gold, a brassy yellow mineral, especially pyrite, that can be mistaken for gold. It's about as valuable as that empty gold pan in the picture. The difference is, you know that empty pan is worthless. An empty gold pan doesn't fool anybody, but a pan with some fool's gold…well, it'll fool the fool every time.
Salting is a con job where people insert valuable evidence where there isn't any. In gold mining, it can happen by putting a bit of gold into a drilling sample, making investors think there's gold in it.
Bre-X was one of the more recently infamous cases of "salting." This Canadian company was once a penny stock, until they announced they had discovered big amounts of gold in their Borneo drilling. The stock split and reached a peak of $286.50 CAD with a market cap over $6B CAD. About a year later, in 1997, they went bellyup when it was discovered the gold samples were fraudulent. Bre-X conned lots of people out of millions of dollars. As with most cons, people wanted to believe they'd get rich by investing in Bre-X. It's the same reason people buy lottery tickets. We all enjoy dreaming of being rich, or richer!
We see what we want to see. Con men have long relied on our own human nature to betray us. We want to believe the deal is too good to be true. But we want to believe it will be true for us because we're special. Our dreams can often lead us astray. Sometimes we salt our own gold mine.
From the Powerball lottery drawings to the Publisher's Clearinghouse Sweepstakes to the case studies of your favorite IM (Internet marketing) guru, we could care less about what the FTC calls "typical results." It's the outliers that drive our brains crazy.
If I can do it, anybody can do it."
It just might be the most used sentence in all of guru-ism selling. Whether we're talking about building websites using WordPress (the platform this site uses), or using YouTube to drive business, or using guest blogging to build traffic, or opening our own dining room table affiliate marketing business…the person selling us the know-how will tell us, "If I can do it, anybody can it."
It's a lie. Not just anybody can do it. Fact is, most people aren't doing it. Most who are trying are failing.
Who is to blame? Well, the people who are failing, of course. Had they followed the instructions meticulously, and had they done exactly what the teacher said, in the exact way the teacher prescribed – and worked harder – then they certainly would have had some success. It's the out used by every unscrupulous marketer to explain why their customers didn't achieve the success they expected.
Depending on who you ask, you'll get a variety of answers to the question, "How many people out of 10 really do the work?" That is, for every online course that's offered to teach us how to make money online, or how to perform better SEO (search engine optimization), or how to shoot better video, or anything else…how many students out of 10 actually use the instruction by doing anything (and sticking with it long enough to make a go of it)?
It's always a very low number. I've heard 1 out of 10. I've heard 3 out of ten (about the highest I've heard). I've heard 0 out of 10. Naturally, it depends on the subject matter, the instruction, the instructor, the target market, the price point and a host of other variables. For example, I know of some technical training online that has a very high rate of students who actually incorporate the training into their lives and do the work. But I also know of many others where the course creator will admit, "Nobody ever follows through."
Is the course creator at fault? Not necessarily.
Does it mean the course creator is a con artist? No, of course not.
Does it mean the course creator is doing everything they can to help the students take action? No, it doesn't mean that either.
All of that proves the point. There are almost always so many moving parts that it's impossible to make hard and fast statements. But we like hard and fast. We love absolutes. Even though absolutes are often wrong.
Are you a podcaster? NEVER record your podcast into a computer using audio recording software. ALWAYS record into a free-standing digital audio recorder.
ALWAYS use WordPress to create your website or blog. NEVER use anything else.
ALWAYS leave the comments on your blog open. NEVER close them.
ALWAYS collect email addresses on your website.
Content is ALWAYS King.
NEVER cold call.
I could list tons more, but you get the idea. You're likely thinking of a few that I missed, too. Because we hear them every single day. And as we hear them repeated over and over, by a variety of sources, we tend to believe them to be true.
What if they're not true?"
Fool's gold lures us because we so desperately want to believe it's real gold. And because we don't know the difference. Sometimes we salt our own mine because of what Zig Ziglar called "stinking thinking" and because we want fast and easy.
Unscrupulous marketers bank on a few fundamental facts of human nature:
Most people are greedy. Well, most of us are greedy enough that we'd love some easy money.
Most people are lazy. Well, most of us are lazy enough that we'll take the easy way over the more difficult if given a choice.
Most people accept the face value of a thing. Well, most of us just don't know enough to know what's real and what isn't so we may tend to think a thing is real, or true.
Most people will swallow #3 if the person telling us seems credible and likable. Or, if he comes across like an expert. Or appears extraordinarily successful.
Most people want to be something they're not. Most of us have no trouble dreaming of being something bigger, more popular, famous and wealthier.
Most people feel they deserve to have it better.
It's not an exhaustive list, but it's comprehensive enough to give us an idea of the psychology of the sale, or the con – as the case may be. We're all suspectible to a con. Maybe not the same con, but we can all be duped. Few people can deceive us as well as we can deceive ourselves.
The Deadly Anecdotal Evidence Lures Us To Think There's Gold Where There Is No Gold
Salting a gold mine works because people are looking for gold. They want to see gold. They want to believe they can get gold. Just watch a few episodes of The Discovery Channel's TV series, Gold Rush, and you'll quickly see that the key to gold mining is to get good pay dirt. It takes just as much work to mine dirt with no gold as it does to mine dirt that's rich with gold. The quality of the pay dirt determines the success. The more money per yard yielded by the dirt, the more money the miner is going to make. It's basic math.
There are two things we have to think about, when we think about success in gold mining — and they're worth thinking about as we chase Internet gold.
1.  You must have gold rich pay dirt. You must know where the gold is.
Work around the clock, be the hardest working miner in the area and based on solid experience think, "This dirt looks really good." If there's no gold in the dirt, your work is in vain. You'll fail in spite of working hard. Tony Beets, one of the more interesting characters in the Gold Rush TV series, never mines an area without first doing test drillings to make sure there's gold in the ground. Here's what his bio says from the Discovery website:
…he believes the key to his massive success is that he has drilled every inch of his property so he knows where the gold is."
2. You have to get the gold out of the ground.
I've heard somebody on Gold Rush say, "We're all millionaires. Now we just have to get our money out of the ground." Well, it sounds good. Unfortunately, most of these guys struggle with adversity and finances. To get the gold out of the ground, assuming it's there to begin with, requires tons of equipment, lots of fuel, thousands of man hours, countless equipment repairs and a bit of good fortune when it comes to things like weather! And that's assuming the dirt has good gold in it.
Just consider some of the most lucrative (and competitive) spaces around.
Diet. Weight loss.
Book after book. Program after program. Infomercials galore. Why? Because the market is enormous. According to a 2013 report by Marketdata Enterprises, Inc., a market research outfit, 2012 revenues in the space were $61.6 BILLION. They estimated there were 108 million dieters in America, 82% of whom were going to try to lose weight on their own. It's a gold rush space filled with all sorts of characters. It's lucrative if you can find some success. That's why so many people are in the space. If you could somehow manage to snag 1% of the market, you'd have $616,000. That's the magic of a huge market. The downside is that it's overcrowded so earning just a smidgen of market share is very difficult.
Making money online. IM (Internet marketing).
The low barrier of entry, coupled with stories of wild success, draw tons of people into the space. The message is intriguing. Make money at home doing what you love. Follow your passion and the money will follow.
Depending on which source you want to cite, and depending on how you'd like to define "Internet marketing" the numbers are equal to or greater than the weight loss industry. $62 BILLION is a number you may see. You might find lower numbers…or higher ones. It's really hard to quantify. When I say IM, I mean the business opportunity (biz opp) or "make money" space. Others include digital marketing when you say, "Internet marketing," which is a very different animal. But anyway you want to look at it, it's a very big market.
Both markets have lots of interest because they fuel two of our top desires: a) to lose weight and b) to make money.
Both industries have come under scrutiny of the FTC (Federal Trade Commission) because they advertise using case studies and testimonials. Today, it's more highly regulated or enforced that it was 5 to 10 years ago. Even so, marketers are always among the most clever people on the planet. And it's not marketing's fault that some people use unethical practices, but the fact is – unethical practices work extremely well. We want to be believers because millions of us desperately want to lose weight and make money. Make it sound easy and we'll whip out our credit card faster than you can say, "Push button easy." A convincing lie can be difficult to resist, even if it's our own lie to ourself.
Enter anecdotal evidence.
Today, marketers will disclose (some more openly than others) that the results aren't typical, but in the same breath they'll tell us a compelling story of one person who achieved wild success. If they have thousands of customers, they'll give us quite a few stories because they only need a few to convert us into believers.
We love outliers and we especially enjoy thinking that they might apply to US. We don't consider them outliers. We don't think of them as being atypical. No matter how often the marketer tells us (or puts text on a screen, or a website), "Results are not typical" we want to believe WE can achieve those results.
Two Honest Examples
I've been podcasting for a long time and I enjoy many fellow podcasters. I'm geeky enough that I enjoy the guys who podcast about podcasting. This year the podcasting space has experienced a big leap in the number of participants. I think it's great because with more people doing it, it's more likely that some great content is going to be released. Truth is, most podcasts suck. You may think this podcast sucks. And that's okay. It's just how things are…and how they should be. We're all free to decide for ourselves what we enjoy, what we think is good and what we want to listen to.
In the world of podcasting – more appropriately, in the world of podcasters who want to make money podcasting (in some form or fashion) – there are two big outliers, Pat Flynn (SmartPassiveIncome.com) and John Lee Dumas (EOFire.com).
Pat Flynn is an affiliate marketer who began his online career after being laid off from working in architecture. I first heard about him on the Internet Business Mastery podcast in 2009. He was a student of Jason and Jeremy. Occasionally, they'd interview some of the members of their academy (an online school that teaches Internet marketing). I've been a listener of their podcast since day 1. I'm not a member of their academy, but they were among the first duo to do a podcast about Internet marketing. They may have launched the first IM podcast for all I know. I still listen to them.
Pat was studying to take the LEED exam (green technology in construction kinda stuff). He decided to put his notes up on the web so he could access them anywhere he was, making study even easier. His notes resided on a free website that his ISP (Internet service provider) gave him. The url was long, ugly and not easy to find, but it didn't matter 'cause Pat was just doing it for his own benefit. Thanks to some search engine magic, others began to find his notes and communicate with him. Seeing an opportunity after losing his day job, Pat decided to sell his LEED exam training online and quickly found himself earning $8K monthly. He'd likely be the first to tell you that serendipity played a big role in his success, but to be fair – he had to see the opportunity and work the pay dirt very hard. He earned success.
But the world is full of people who see an opportunity (and some who think they see one), and who work very hard. There's just no gold in the dirt they're working. Or they just don't get the timely break that might propel them forward.
Along the way, Pat decided to pull back the curtains and be more transparent than most marketers were willing to be. He began to release a monthly income report where he itemized his income and expenses. The Internet world gobbled it up. His business really took off because he attracted hordes of people who wanted to learn what he was willing to teach.
Pat is NOT salting the mine. He is, however, through no fault of his own, serving as an outlier where people can salt their own mine. Maybe better said, they can salt their own mind when they see Pat's success. Pat is sharing his insights, strategies and income. People are making their own assumptions because in his own modest way, Pat sincerely believes that if he can do it, "so can you." That's where he's wrong. Everybody who says that is wrong, even though I think most of them believe it. Some don't, but I like to think most do. Deep down Pat knows his success is far from typical. He's being polite because that's who he is.
Some years ago I began to focus a few people I was coaching on supplemental income. An extra $200 to $500 a month would make a meaningful difference for them. It would make a difference for most of us. Even though I'm a quantum leap guy (who wants to have a rally cry, "Come on, let's work like crazy for a few extra bucks?" | No, we want BIG BUCKS), there's no denying that enough money to cover an average car payment would altar the lives of millions of people. Increasingly I'm seeing people – even Pat – give more time to encouraging people to make a few extra bucks, not a monthly 6 figure income.
John Lee Dumas has a bit of a different story, but he decided to follow Pat's strategy of publishing a monthly income report. John, an avid podcast listener, decided to start a daily podcast focused on interviewing entrepreneurs. The shows are about 30 minutes long and every show follows an identical interview process (every guest is asked the exact same questions). He records the shows every Monday, then schedules them to release throughout the week. He solved a problem he had. He wanted to listen to a podcast every day. People told him he was nuts. They gave him plenty of reasons why it would never work. He didn't listen.
John built a significant audience, which afforded him advertiser/sponsor opportunities that grew to over $30,000 monthly. Strategically, once he had built a substantial following he launched some of his own products/services. Most notable of those is Podcaster's Paradise, a high end one-time purchase that includes podcast training and an exclusive community (no, I am not a member or an affiliate and I've not seen the inside except through watching one of John's webinars about it). Currently, the majority of John's 6-figure monthly income is derived from that offering. And he's got other offers in the works because he knows he has to remain relevant if he's going to make his business sustainable.
Again, John's success, through no fault of his own, serves to spark others to think, "I can do that, too." He's an outlier. Most podcasters earn no money. Some earn a bit of affiliate income. Among the podcasters who do make money, they earn money because the podcast attracts clients to products or services they sell. You could say Pat and John both do that, but it's true that both men are earning serious money as a result of their podcasts. And you know what that means?
It means other podcasters are attracted to their stories. Logically, we may realize they have achieved extraordinary success that is anything but typical. Even so, because of their success it's easy to spot other people attempting to replicate their work. No, it's not likely to work, but it's what we do. We see success and like little kids…we copy cat. Just go to Apple iTunes and you'll spot countless daily podcasts interviewing entrepreneurs. They're doing it because John Lee Dumas did it and gained wild success. John was the first to do it and gain a very large audience. I predict he'll remain in the top spot for that podcast format unless somebody else comes along who can do it uniquely better. Could it happen? Sure. But I don't think it's likely. No matter, people will continue to try because they see John's success. Fool's gold.
It's anecdotal evidence and we gobble it up. We don't care how many people failed. We just care about the 1 (maybe a few more) who achieved wild success! Don't show us the people who made a little bit of money and are working hard to build something relevant and sustainable. Show us the person who made $1M in the first year. Show us the person who went from zero to 100,000 Twitter followers in 6 months.
It's the lottery playing mentality. Or the sweepstakes dreamer. Who can't imagine becoming filthy, stinking rich overnight? What if your door bell rang…right now. And you answered the door to a major sweepstakes where your prize was $1M a year for life? Can you imagine? Sure you can. We all can. It's the power of the human brain to be able to project ourselves into a situation that isn't real. Maybe it's not real yet. Maybe it'll never be real. Still, we can play as many "what if" games as we want because our brains give us that ability.
Which is why anecdotal evidence, fool's gold and stories of outliers is so effective. Even if it's unintentional, or used with subtlety. It's even more effective when unscrupulous marketers knowingly incorporate it into their strategy (and quite a few do).
So, what's a person to do?
Guard your heart. Don't let your emotions overrun your sensibilities.
Stop the hero worship. People with money or financial success aren't inherently better than you (or anybody else). In some cases they may even be insufferable scoundrels.
Look for stories of failure. This is why I'm such a fan of Andrew Warner's work at Mixergy. During his interviews he wants to hear about the failures. Those often provide more insights than hearing about the success.
Realize what you know to be true – just because they did it does not mean you (or anybody else) can. We're all different. Our talents, skills, connections, backgrounds and circumstances are uniquely our own. So are our opportunities and work habits. Every realistic successful person I've ever known willingly admitted that serendipity propelled them toward success, often arriving just in the nick of time.
Average is average because that's where most of us live. The success we aspire to isn't average. We want wild success. Stop comparing yourself to others. Your best is your standard. That doesn't mean you can't learn from the stories of others, but it does mean the specifics may not apply. Learn the bigger lessons like being opportunistic instead of pessimistic.
The road to Success always goes through the city of Failure. For some the city of Failure is small. For others, it's as large as Dallas/Ft. Worth (which covers 12 counties and 9,286 square miles). Failure can be a short-lived illness like a 24-hour bug or it can be a long-term illness where we feel like we'll never get out of the hospital. It is what it is. Our job is to endure it and overcome it if we can. Success goes to the tenacious, persistent fighter who refuses to give up on figuring it out.
Restrict your info diet. Who do you follow? Why? Carefully examine the content you allow into your brain and into your daily habits. Does it fuel your daydreaming or does it compel you to take action? Ditch the stuff that just panders to wishful thinking. That's where the hoards are. You have to breakaway from them because as long as you're with the majority, you're average. Focus on remarkable. Focus on people and content that will encourage you to do something!
Money isn't the only measurement for success. In some cases, it's not money at all. For the person who wants to successfully get fit and healthy, money isn't part of the equation. For the father who wants to become world-class at being a good dad, no amount of money will make that happen. Find more meaningful ways to measure success. Carefully think about success and create your own definitions. Be true to who you really are, or who you really want to become. There's nothing wrong with getting input from the people closest to you.
Refuse to lose. Everybody gets knocked down. No harm, no foul – unless you refuse to get back up! Always get back up. Be ruthless and determined in figuring out your own success. It's your dream so it's up to you to make it come true. Don't relinquish responsibility to anything else or anybody else.
Live a life without excuse. Fix things. Figure things out. Change things. Take action, then keep taking action until you start gaining momentum. Do more of what works. Do less of what doesn't.
Stop looking at fool's gold. The possessive noun is the fool. That's you and that's me when we deceive ourselves into thinking we can avoid figuring out our own success. Spend your time staring at the fool's gold or spend your time taking action to work out your own success. It's your time. You can spend it any way you choose.