Podcast: Play in new window | Download
Subscribe: Apple Podcasts | Android | Email | RSS | More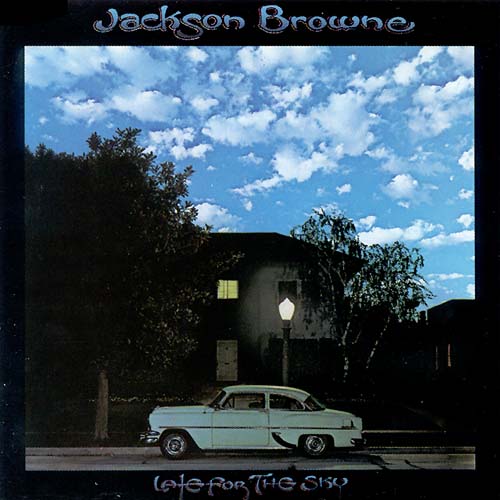 I fell in love with music very early on in my life. Pre-teens for sure.
AM radio was about all there was. Hit radio. FM radio really began to hit in the late 60's, but most towns had a single station. FM broadcasting was expensive so it took awhile.
By 1970/71 rock FM stations were more commonplace. And if you were lucky (like I was) you lived where there was album-oriented rock (AOR). From 1974 through 1976 or so I lived on AOR radio. Mostly, WJBO-FM (it turned into WFMF) in Baton Rouge known as Loose Radio. It was loose and wonderful.
I lived in Leisure Landing, a record shop on State Street just a block from the entrance to Louisiana State University. Spiritual Sky incense burning, crowded narrow aisles, flipping through album covers, reading liner notes and listening to the records playing. Leisure Landing got all my money as a teenager. Every spare dime I had went to buy music. 
It was there I first heard Phoebe Snow, Dan Fogelberg, Ian Matthews and so many others who became part of my musical memory (and consciousness). But I had a high music IQ from the early 70's by being a faithful reader of Rolling Stone and Melody Maker. I never missed an issue of either one. Melody Maker kept me abreast of what was happening in England. It helped me discover and keep up with Leo Sayer, Dave Mason, Traffic and other favorite UK artists.
Music was in our cars as 8-track tapes. Having music other than a radio in your car was great, but the clicking between the tracks (yep, there were 4 of them) was annoying. And it would happen sometimes in the middle of a song. Not the greatest production value on the planet, not to mention the lower fidelity compared to vinyl (especially if the stereo system was really good). We wore out Led Zeppelin II and ZZ Top Tre Hombre.
In the summer of 1972 the anthem for all kids was Alice Cooper's School's Out.
Yes, we had to go see Alice. After all, we'd heard he would bite the head off a live chicken during his shows. Of course, we were too young to understand the theatrics of a rock 'n roll show. We just thought it was cool. Along with our bell bottom pants and crazy collared shirts. It was a time of grand rumors, urban legend and some of the goofiest teenage conversations ever. "Hey, did you know that Alice Cooper is really Wally on Leave It To Beaver?" 😀
Words like "cool" and phrases like "dig it?" peppered our lingo. Well, we were cool, can't you dig it? We could. After all, we wore mirrored sunglasses.
There was car music, then there was sit in your room music. Those weren't the same for me. In the room music included Crosby, Still, Nash & Young 4 Way Street and the soundtrack to Shaft by Isaac Hayes. I think I wore out multiple copies of both. I don't remember listening to either one of those in the car though.
Another in the room favorite for me was John Prine. I heard him sing Sam Stone sometime in the early 70's and knew I had found a guy I could relate to. Prine was given to melancholy subjects and he wasn't a great singer, except for his own songs. Nobody ever sang them better (sorry Bonnie Raitt, not even you sing Angel From Montgomery better than John). I was also prone to bouts of being blue so John was right up my alley. I've been in the alley with John ever since. Far, Far Away, Quiet Man, Donald & Lydia and other tunes from that first record released in 1971 have remained all-time favorites.
By the next year I found Jackson Browne because of his hit, Doctor My Eyes. It was his first album and I had found a new musical best friend to accompany Mr. Prine. By the time 1974 rolled around and Jackson released Late For The Sky, I had found a record that would crack my all-time top 10 albums. Still.
Alt Country was a genre I was falling in love with by this time, sparked in part by exposure given via Loose Radio. It wasn't a hard thing to embrace because I was a longtime CSNY fan. Folk rock was a strong first cousin to alt country. The Byrds were part of my collection already (along with Buffalo Springfield and The Flying Burrito Brothers) so it wasn't completely ground-breaking for me. This was a time when I listened to the same music in the car as I did alone in my room. Pure Prairie League "Bustin' Out" and POCO "Crazy Eyes" were playing alot during these years.
TV shows helped, too, for the first time. Don Kirshner's Rock Concert and The Midnight Special both hit the scene in 1973 and ran through the rest of the decade until 1981. I loved both of these shows. Sure, we all listened to the Rolling Stones and Led Zeppelin. And we absolutely wore out Pink Floyd's Dark Side Of The Moon (741 straight weeks on the Billboard chart), released in 1973.
By this time the music world had buried quite a few stars. In 1970 Janis Joplin and Jimi Hendrix both died. I was a Jimi Hendrix fan, but I didn't own anything by Janis. Sam Cooke and Otis Redding had both passed in the 60's prior to my musical awareness kicking in. I was a big Motown fan and loved that entire genre of music. Thankfully, I got in on the last of it – long enough to cement it into my life.
Brian Jones died, leaving Mick Jagger as the front man of the Stones. Most of my memories are of Mick though, not Brian. Jim Morrison blew up the Doors when he died in 1971, but I always hated The Doors. I owned LA Woman, only because I thought I'd try to see if I could develop a taste for what everybody was raving about. I could not. To this day, if I hear a Doors' tune on the radio, I'll switch stations within mere seconds.
That same year, 1971, brought about the death of somebody I did indeed miss, Duane Allman. The Allman Brothers had a sound unlike anybody else. I was a big fan. Southern rock would catch on again – this time larger than ever – when Lynyrd Skynyrd erputed in 1973. Now that was some drivin' music.
Gram Parsons, Jim Croce (I loved his high harmony sideman, who was also killed at the same time, Maury Muehleisen), Mama Cass, Tim Buckley, Tommy Bolin (there was no record more popular when I was a kid than Deep Purple's Machine Head) all died before I'd finish my sophomore year of college at LSU. Then in August of 1977 Elvis died. I wasn't a fan, but my maternal grandmother was. She would watch all his movies on TV. Funny, huh? Even though I wasn't a big fan his death impacted the entire world. I was at work, at an electronics shop, when the news broke. It was one of those moments.
T Rex had also been a big favorite for driving music. Then a month after Elvis died, Marc Bolan died leaving us to play Get It On from the Electric Warrior album knowing that glam rock wouldn't be quite the same. Speaking of getting it on, I was an enormous Marvin Gaye fan. Let's Get It On was released in 1973 and it seemed to stay on my turntable forever. I could have likely had a separate turntable just for that record. I was saddened by his death in 1984 more than I was for any of those mentioned so far. Maybe because his own dad had shot him, but more likely because I missed his music more than the others. Hendrix was a guy I could only take for so long. Janis, well, like I said, I owned nothing by her. Greg Allman kept the Allman Brothers going. Cass Elliott was an extraordinary talent and I'd suppose her death was next in line for me based solely on "the voice" that was now silenced.
Of course, prior to Marvin's murder, we lost the Lynyrd Skynryd boys, Keith Moon and Donny Hathaway. But the decade of the 70's would end with a death that left a major void in my musical life. In 1979 Lowell George died and Little Feat would never be the same. How could they? I can't remember the year or which of the two rock concert TV shows, but I think it was the Midnight Special that first introduced me to Little Feat. Feats Don't Fail Me Now continues to be in my playlist. Hardly a month will pass that I don't listen to it at least once. And like so many others, I can't just listen once.
Speaking of Midnight Special, I'm certain my first real introduction to Steely Dan also came via that show. To be fair, Little Feat had a hit with Rock And Roll Doctor which drew them onto The Midnight Special. Ditto for Steely Dan. They had a hit with Reeling In The Years. That's a record much like Feats Don't Fail Me Now. It gets regular listens from me still. Of course, Steely Dan went on to record more great music (and still are).
I guess with the passing of Lowell and the end of the decade I put a wrapper on the 70's and knew that this music – all of it up to this point in my life – would likely define my life, musically anyway. For years, I've settled on a single year that mostly defines it for me, 1974. So many great records were released that year. Records that still fill my ear buds, headphones or studio monitors.
Jackson Browne – Late For The Sky
Joni Mitchell – Court & Spark
Queen – II
Steely Dan – Pretzel Logic
Gram Parsons – Grievous Angel
Lou Reed – Rock N Roll Animal
Rolling Stones – It's Only Rock N Roll
Eric Clapton – 461 Ocean Blvd
Randy Newman – Good Old Boys
Linda Ronstadt – Heart Like A Wheel
Robin Trower – Bridge of Sighs (no better driving music ever made)
Crosby, Stills, Nash & Young – So Far
Rush – Rush
Joe Walsh – So What
Ry Cooder – Paradise & Lunch (Ry and David Lindley are two of my favorite pickers, ever!)
Beach Boys – Endless Summer (sorry, was never a BB fan)
Robert Palmer – Sneakin' Sally Through The Alley
Todd Rundgren – Todd
Meters – Rejuvenation
Van Morrison – It's Too Late To Stop Now
Little Feat – Feats Don't Fail Me Now
Joni Mitchell – Miles of Aisles
Marvin Gaye – Live
Gordon Lightfoot – Sundown
Leo Sayer – Just A Boy
Jimmy Buffett – A1A
Doobie Brothers – What Were Once Vices Are Now Habits
JJ Cale – Okie
Average White Band – AWB
Commodores – Machine Gun
Rufus Featuring Chaka Khan – Rufusized
Jorma Kaukonen – Quah (love it)
Supremes – Anthology
Fleetwood Mac – Heroes Are Hard To Find
Smokey Robinson And The Miracles – Anthology
Wishbone Ash – There's The Rub
Ace – Five-A-Side
Emerson, Lake & Palmer – Welcome Back My Friends To The Show That Never Ends…Ladies And Gentlemen
Poco – Seven
Dan Fogelberg – Souvenirs
Leo Kottke – Ice Water
Boz Skaggs – Slow Dancer
Ian Matthews – Some Days You Eat The Bear, Some Days The Bear Eats You
Souther-Hillman-Furay Band – Souther-Hillman-Furay Band
Well, I could wax on and on (no kidding). So many artists. So many great songs. So many great recordings. Now, so many great memories.
It was a time before assigned seating at concerts when you rush the doors, sprinted to the front of the stage and never sat down. Concert crowds weren't filled with successful business types or people with any glamor. It was just us kids. Blue jean wearing, T-shirts and Converses. Ticket prices were cheap (much cheaper by today's standards).
I saw Three Dog Night, War, England Dan & John Ford Coley, Wet Willie and other names from the 1970's – all before I could even drive! I must admit, the performances (including the sound and the lighting) have vastly improved from those days. I do often miss just seeing a band or a musician hit the stage and performing the music with a grit and intensity we used to see. Today, it's polish, carefully orchestrated and completely mapped out. It's the McDonald's approach to large live events. You know what you'll get because the quality is consistent. I guess it's not a bad thing. No matter, I'm too old to go to live music much any more. Tickets are so expensive and most venues aren't ones I'd enjoy. Nothing much is going to compare to paying $1.02 cents to see Jimmy Buffett play Gordon Theater in downtown Baton Rouge for a midnight concert (it began after the last movie let out). The tickets were prices to match the frequency (102 FM) of Loose Radio. The Coral Reefer Band was a lone guitarist at the time. Jimmy has done well for himself, but I'm a fan of the early stuff when he and Jerry Jeff Walker played quite a bit together around Baton Rouge and New Orleans. And back when Willis Alan Ramsey was frequenting the outdoor festivals of southern Louisiana.
As an adult I've seen some terrific bands that are still favorites. Tom Petty & The Heartbreakers, Alison Krauss and Union Station, Jamie Cullum, Jason Mraz, Regina Spektor, REM, Dire Straits and others. I am still a fan of today's music. I'm more discriminating than some perhaps, but that's always been true. I never much cared what my friends were listening to. I did my own thing. There are some terrific artists today and thanks to Spotify and other streaming music services I can hunt around and find great music easier than ever! I'm not stuck in the 70's, but…
Most days – when a mood hits me (any kind of mood) – I revert back to the songs of my youth. It's likely to be John Prine, Jackson Brown, Jorma Kaukonen or something else from the 70's. After an hour or so, I'll come back to myself, step back into the present and listen to more modern offerings.